Lush Landscaping Ideas for Around Your Pool
Escape to paradise: the pool in your own backyard.
A swimming pool can sparkle like a gem—if it has the right landscaping. Without any trees or flowers around, it's more like a stone without a setting: still attractive, but not as eye-catching as it could be.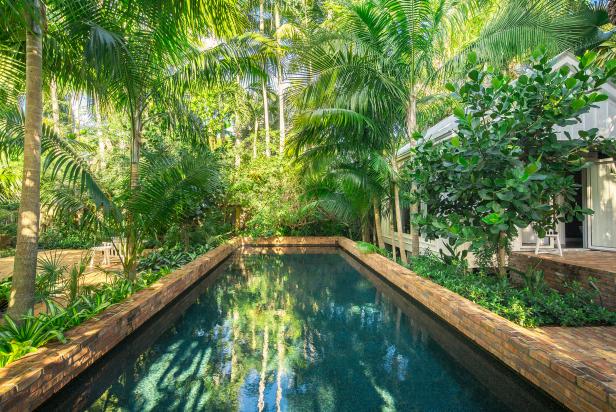 Brick Swimming Pool and Tropical Plants
Brick walls and tropical greenery set off sapphire blue water.
Tamara Alvarez
Brick walls and tropical greenery set off sapphire blue water.
Before you look for plants, think about your landscaping goals. Do you want privacy around your pool, or will your blue oasis be the centerpiece of your backyard?
It's wise to set a budget. If it's limited, start by working with your existing trees and shrubs. They're the long-lived backbone of most landscapes. Over time, you can add annuals and other plants as your budget expands. The money you spend will often increase your home's value.
Also consider about the landscaping style you want. If your home has a coastal vibe, opt for lush plantings of palms, bird of paradise, banana trees, hibiscus, bougainvillea and other tropicals.
Traditional Landscaped Pool at Tudor-Style Home
This landscape design incorporated existing trees and multiple levels in the homeowner's yard.
Daniel Contelmo Jr.
This landscape design incorporated existing trees and multiple levels in the homeowner's yard.
Homes with traditional styles can use hanging baskets, planters of colorful annuals and garden beds filled with dwarf shrubs or small trees. Decks and pavers in natural colors also work well.
Ball Horticultural Company
Magadi Basket Dark Purple Lobelia, Magadi Basket White Lobelia and Magadi Dark Blue Lobelia mingle gracefully in a hanging basket.
Remember to read plant tags and labels to find the best perennials, trees and shrubs for your USDA hardiness zone. While annuals will have to be replaced yearly, they're relatively inexpensive. Ornamental grasses are great for adding height to your plantings, and add movement when they sway in the wind.
Keep your landscaping low-maintenance by avoiding plants that drop leaves, needles, cones, nuts, fruits and other debris.
Here, Doug Dorough, owner of Atlanta's Dorough Landscape Company, shares tips collected over his 50-year career in creating award-winning designs.
"Make your plantings dramatic, with exciting plants. You don't want to overpower the pool, but you do want to soften it," Dorough says. "When you're out there for a long time in the hot sun, you need something pretty and interesting to look at."

For a tropical look, Dorough uses plants with big leaves and ferns with fine textures for contrast. You can find ferns that take shade or sun. He likes shade-loving Autumn ferns, perennials that change from green in summer to bronze in fall, and Sprengeri ferns (Asparagus densiflorous 'sprengeri'), which provide a very different look, thanks to their feathery branches and cascading forms.
"You can plant hostas in shade. If everything else is green, look for the variegated ones." One of Dorough's favorite shade plant is fatsia

, a shrub with dramatic foliage. An evergreen in Southern climates, it needs to be potted up and brought indoors as a houseplant in cold regions.

Among the flowering shrubs, Dorough likes dwarf 'Limelight' hydrangeas, which are hardy to zone 8. "They'll bloom in the shade, but only have about 1/10th the number of blooms. They're loaded with flowers (when grown) in the sun."
"Incorporate some annuals for color—not bright red, but pink and other colors," he adds. "Too much red has a psychological effect. It looks hot and makes you feel hot."
"If you're landscaping around a simple pool, soften and wrap the corners with planting beds. You don't have to do all four. You can do opposite, diagonal corners so the look isn't too busy. Try to get in some plants with height, but avoid big trees. Their roots and leaves can create problems. You can plant palm trees in the ground and replace them after they're killed by the cold, or pot them up and keep them in a heated space over the winter."