How to Plan a Roadside Daffodil Planting Project
Learn how to beautify your neighborhood or community with sweeps of beautiful daffodils.
Every spring, the roadsides around South Salem, New York, turn gold with the blooms of 38,000 daffodils.
Members of the Lewisboro Garden Club started planting the bulbs eleven years ago, and their efforts have blossomed into a beautiful and fun community service project. Similar projects are going on around the country as gardeners plant everything from shared vegetable plots to trees. But carefree, reblooming daffodils are especially popular.
George Scott, who chairs the club, says fall is the best time to plant masses of the yellow, gold and white daffs. His club can handle about 4,000 bulbs in one day, he says, with 50 to 70 volunteers. "We run two shifts of 90 minutes each. We also have a clean-up crew of about five people who put the property back the way we found it." That includes re-seeding any grassy areas that were disturbed. To date, club members and volunteers have helped beautify local schools, fire stations, roads, non-profits and municipalities.
George Scott
The local police deparment sends out a traffic monitor and police car with flashing lights to keep the planting crew safe.
Scott's Daffodil Planting Project Tips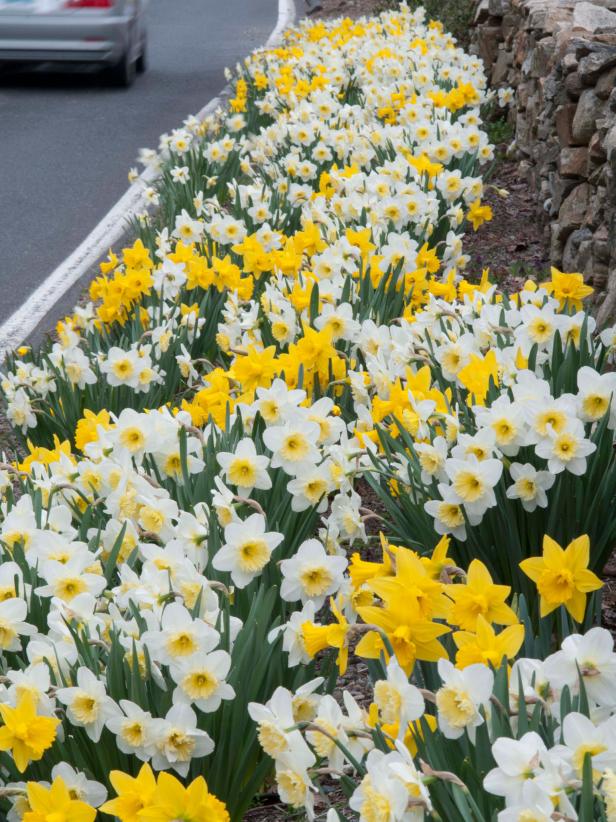 Colorblends Daffodil Blend The Gold Shoulder
This blend of tough, dependable daffodils, 'The Gold Shoulder,' naturalizes in sunny areas with well-drained soil.
This blend of tough, dependable daffodils, 'The Gold Shoulder,' naturalizes in sunny areas with well-drained soil.
Once you identify an area to plant, ask the property owner's permission. "Because our town owned the property we planted, we went to our town board," Scott says. You'll probably have to go through an architectural review for historic areas. For state roads, contact your state DOT and ask about required permits and restrictions.

Once your project is approved, hold a fundraiser or solicit donations. The Lewisboro club sold bulbs at a library fair and other events, and used the proceeds to buy grass seed and large quantities of daffodil bulbs. Big events, he says, are also great places to sign up volunteers. Now the club has enough supporters to sell only at the fair and direct-market to previous customers and donors.
Scott recommends giving buyers and donors directions for a daffodil driving tour, so they can see the beautiful flowers when they open in spring.
Buy from a bulb wholesaler, where you'll usually find the best prices. Combining your order with another organization or neighborhood can also hold down costs.
If you need extra hands, Scott recommends asking Girl Scout and Boy Scout leaders or high school teachers. "We tried to get high school kids involved, but didn't have many volunteers until we planted (around) the school itself. A teacher in the environmental science program, who was also an amateur gardener, gave the kids extra credit for helping."
"Plant in areas without a lot of trees or shade," Scott says. Avoid low areas where water collects, which can cause the bulbs to rot and give them full sun to part shade.
Plant in grassy areas, Scott says. While the grass will compete with the bulbs to some extent, it also helps keep down weeds. "The big danger is people cutting the grass too early" he adds. Removing the foliage too soon can prevent the bulb from re-blooming. "We put small white stakes around the planting, saying 'do not mow' until the foliage dies back. It's harder to control mowing around schools and other places where contractors do the work, so sometimes we email reminders, too."
The Lewisboro club, which is in USDA zone 6b, plants on the last Saturday in October each year. Scott says planting on the same day each year helps people remember when it's time to come out and help.
Plant daffodils in cold areas in late September. In mild areas, plant in late November. Cool soil encourages them to form strong roots.
Scout around for planting areas."Our club has a committee that drives around and identifies possible areas to plant each year," Scott says. "Mark the planting area ahead of time. If the grass is wet, we use surveyor's tape or the kind used on playing fields. If the grass is dry, we use athletic chalk sprayed by machine."
Mark and plant in grids. "We plant 100 bulbs per 40 to 45 square feet, but you can plant as tight as 100 in 25 square feet."

Don't worry about mulching or watering. "Let nature water with rain," Scott says. Don't worry about pests, either; daffodils are deer and rodent resistant.
After the bulbs are in the ground, put the area back the way you found it.
Next spring, apply organic bulb fertilizer. The bulbs won't need it the year they're in the ground. "We (fertilize) every year," Scott says. "Last year we used almost 600 pounds." Your bulb seller or extension service agent can tell you how much to apply and when.
Plant these bulbs in fall for a glorious show of color in your spring or summer garden.
Fall is prime-time for planting hyacinth, daffodils and tulips for beautiful spring color.