How to Pick Ripe, Perfect Produce
There's always a bad apple in the bunch. Don't let tricky fruits and veggies fool you.
Some foods practically hold up a sign when it's time to eat them. Greenish bananas are snack-ready when their skins turn yellow (unless you're a mushy fruit fan, and prefer to wait until the skins are speckled brown).

Other produce is trickier. How do you know what's lurking underneath a pineapple's prickly skin? Can you be sure that watermelon you're slicing hasn't turned to mush inside? Use our guide when you shop for fruits and vegetables, so you can buy with confidence.
Cantaloupe: Wave a cantaloupe under your nose before you buy. You should catch a pleasant, faintly sweet or musky scent. Also, the stem end should feel slightly springy when it's pressed. Go for a cantaloupe that feels heavy for its size, with a gold or creamy-colored skin underneath its netting. To help it ripen faster, keep it at room temperature for a couple of days. Optional: enclose it in a brown paper bag.
Bananas: Beware of bananas with a dull, grayish sheen. If they've been stored in a cold area, they'll never ripen properly. Your best bet is to choose bananas with a greenish cast and store them on your counter until they become yellow and as soft as you like.
Ball Horticultural Company
Tomatoes: For tomatoes at their flavorful peak—grow some in your own backyard. Then you can wait until they ripen on the vine before harvesting them. Tomatoes sold in stores are usually picked green, and while they continue to ripen on the way to market, they seldom develop their full, rich flavors. Look for tomatoes with a consistent color (no greenish patches) and glossy, unwrinkled skins. Avoid any with bruises or soft spots. The fruits should be firm and have a slightly sweet aroma. Sometimes the first frost of the season can threaten a late crop of homegrown tomatoes. Instead of surrendering them to the cold, pick them even if they're green and hard as billard balls, and bring them indoors to ripen in a dark spot.
Ball Horticultural Company
Summer squash are best when they're picked small. Harvest winter squash at the end of the growing season, when they sound hollow when tapped.
Squash: This is one time when bigger is not better. Like most veggies, yellow summer squash (and zucchini) taste better when they're on the small aside. If you have a garden, check your plants every day, since they grow really fast, and pick when the squash or zucchinis are four to eight inches long. The skins should be soft enough to nick with your fingernail. Just avoid very large veggies with dull or hard skins or soft spots.
Pineapple: You can't tell by just looking if this tropical fruit is ripe. Ripe Hawaiian pineapples are often yellowish, but some ripe varieties can be green. Again, use the sniff test. A good pineapple should have a nice fragrance at the base, but if it smells super-sweet, it may be past its prime. Also pass up pineapples with a faint scent or no aroma at all, as they're probably under-ripe. The ripening process stops when the fruits are harvested, so their flavors won't improve.
Give a pineapple the thump test. A hollow sound is a sign of ripe, firm flesh. A dull thunk often means the fruit has gotten watery. Finally, choose a pineapple that has big, flat "eyes," not pointed ones.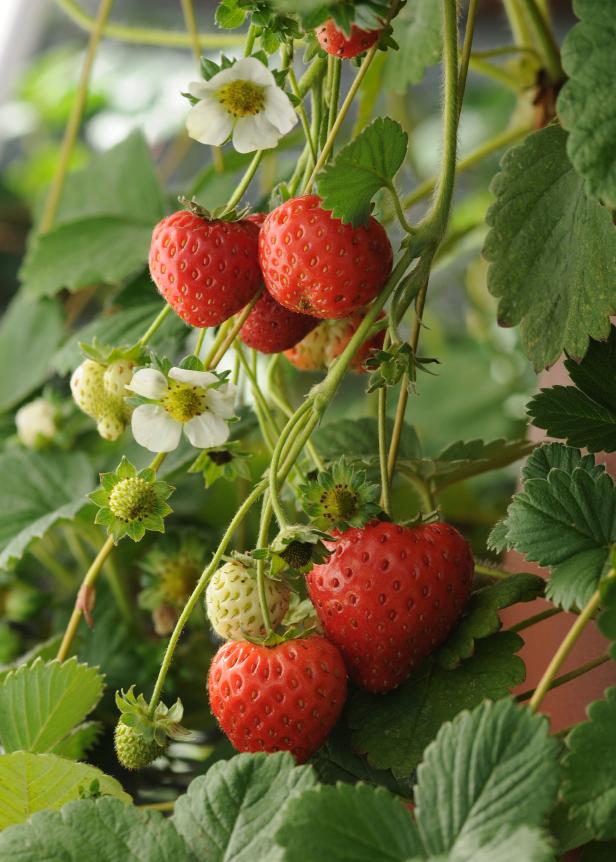 Ball Horticultural Company
Strawberries: LIke pineapples, these delicious summer fruits stop ripening once they're picked, so shop for plump, red berries with leafy green caps. White or greenish spots indicate they're under-ripe. Avoid packages with even a couple of berries that are moldy, bruised or damaged, as the entire package can spoil fast. You can refrigerate strawberries for up to 3 days or so, but enjoy them at room temperature for the best taste.
Ball Horticultural Company
Whether you're buying from a grocery store or harvesting in your own backyard, you'll need to roll your watermelon over just a little, so you can check the color of its underside.
Watermelon: Everyone's picnic favorite doesn't have a fragrance to signal when it's ripe, so go by its weight and color instead. Choose a melon that feels heavy and check its underside. You should see a butter-yellow to creamy-yellow spot on the bottom, where the watermelon rested on the soil while it was growing. If the underbelly is green or white, the melon was picked too soon. For a final check, thump the melon and listen for a hollow sound. If you're harvesting a home-grown watermelon, you'll know it's ready when the stem and tendrils on the vine turn brown.