Healthy Fruit and Veggie Gardens
How to Build Raised Bed Garden Box Planters 01:13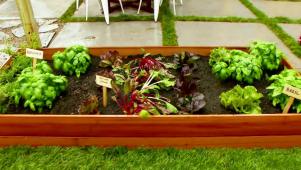 Now Playing
How to Build Raised Bed Garden Box Planters 01:13
A raised bed provides a great option for planting a vegetable garden. The soil stays warmer longer than the ground, which extends the growing season, and you can choose any type soil that you want. A planter can be made out of any material, including a galvanized trough or stone, but if you make it from wood, consider rot-resistant cedar or redwood. Chris Lambton demonstrates how to build one from redwood.
Now Playing
Planting a Raised Garden 01:00
Learn how to build and cultivate a raised bed vegetable garden.