Fill your garden with easy-growing kale for a healthy harvest that keeps going and going.
Versatile and beautiful, kale quickly earns its keep in the garden, delivering leafy harvests by the handful from a plant that just plain looks good. Kale is a culinary favorite, thanks to its nutrient-dense personality. It holds its own in dishes from salads and smoothies, to soups and snacks.
But this leafy green also boasts head-turning beauty that works well in garden design beyond traditional vegetable patches. Kale varieties weave color and texture into plantings, blending artfully into landscape beds or containers. Best of all, kale is a snap to grow. Simply plant it, water and stand back. It's that easy.
Kale is a cole crop, which means it's part of the mustard family. Its cousins include cabbage, kohlrabi, turnip, broccoli and cauliflower. Cole crops love cooler temperatures, so much so that people often call them "cold crops." They can go into the garden as soon as soil is workable in spring (up to 6 weeks before the last spring frost) and thrive through the winter in Zones 7 to 10.
Kale seed sowing is an early spring tonic, a way to scratch your garden itch before you can do much else. Aim to plant seed or transplants when soil temperatures are at least 40° F. That's roughly the time that dandelions or forsythia are flowering. Plant too early, and you risk having seeds or plants rot. Continue to plant kale — seeds or transplants — until early summer.
You can also plant kale in late summer to early fall for a winter crop. Time your planting by counting backward from the time plants need to mature (that info is on the seed packet). That corresponds to roughly two to three months before the first fall frost. The ideal temperatures for growing a bumper crop of kale? Days less than 80° F with nights less than 60° F.
Mature kale plants vary in size but typically need 12" to 36" to reach their full potential. Check your seed packet or plant tag to make sure you're giving plants enough elbow room. Kale unfurls colorful leaves with strong texture, making it a versatile garden performer. Try one of these ideas when planting kale:
Use kale in a traditional veggie patch, planting in blocks or rows.
Place kale strategically in your vegetable garden to serve as a focal point plant.
Tuck it into flower beds to add a textural, edible element.
Kale also thrives in pots (minimum size of 12" across). Just be sure to keep container soil moist.
Water the seedbed or transplants after planting. For spring planting, remember that kale won't need as much water during the season's early cool and cloudy days. As plants start to take off, they'll gradually need more water. Aim to keep soil consistently moist during the growing season. Even soil moisture is the secret to tender, flavorful leaves. Mulch soil beneath plants to help retain soil moisture and keep leaves clean.
With fall plantings, higher air and soil temperatures mean you need to water more than for spring plantings.
While many pests ignore kale, cabbage worms and loopers will attack plants. If you spot small white butterflies fluttering around your plants, keep an eye out for cabbage worms. A spray of Bt (Bacillus thuringiensis) offers an organic strategy to control worms. You can also handpick the critters, and include a birdbath or birdhouses near your garden to beckon insect-eating birds.
Other kale pests include slugs and snails (on seedlings), grasshoppers and cabbage aphids (typically on fall crops).
To help prevent disease build-up in soil, do not plant kale or other cole crops in the same place year after year. Instead, fill the planting spot with a non-cole crop for at least two years before planting kale again.
Picking kale is a cinch — simply break off leaves. Harvesting bottom or outer leaves first preserves the growing tip, which keeps the harvest coming. With consistent harvest throughout the growing season, your kale plants will eventually resemble palm trees, having bare stem "trunks" topped with a tuft of flavorful leaves.
Younger leaves are more tender, but older leaves are edible, although potentially tougher. Use older leaves for cooking or roasting; younger ones for salads or sandwiches.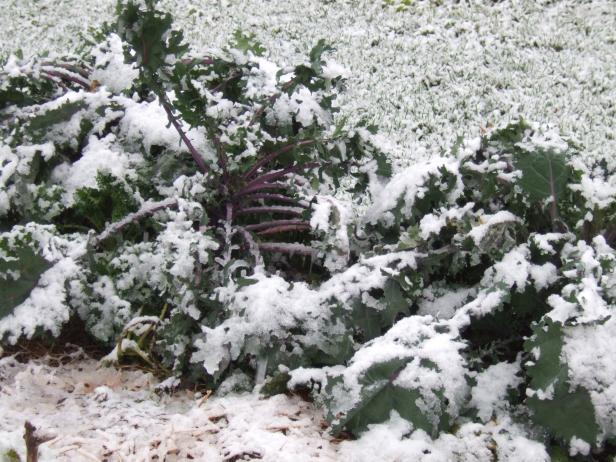 Snow On Kale
Kale stands up to early frosts, and actually tastes differently (and better) after frost nips leaves. These edible plants also survive light snowfalls, bouncing back to offer tasty leaves after snow melts. In wintry regions, choose kale varieties that stand up to snow, such as 'Red Russian' or 'Winterbor.'
Kale has a tough-as-nails constitution, shrugging off frosts and even light snows. Leaves actually taste sweeter following a frost. Established plants tolerate hard frosts (below 28° F), but seedlings are less cold tolerant. Be sure to cover seedlings in early spring or late fall to protect them from heavy frost.
Some of the most winter-hardy varieties include 'Winterbor,' 'Red Russian,' lacinato and 'Vates Blue Curled Scotch.'