Why You Need Winterberry Holly in Your Yard
Ignite your landscape with winterberry holly.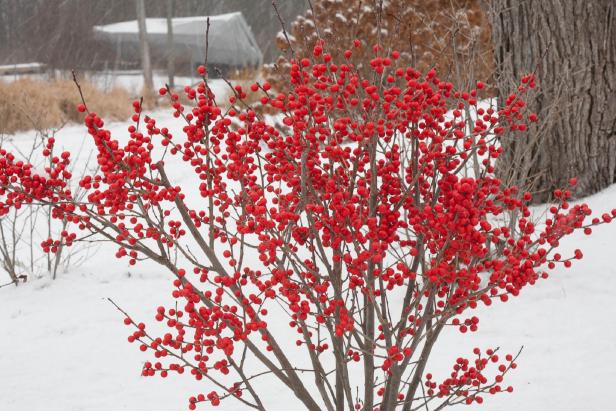 Berry Poppins Winterberry
Winterberry is a native shrub that fills winter garden scenes with the cheery color of its berry-filled branches. Berry Poppins tames the big size of the native plant with its 3- to 4-foot height and spread. Use Mr. Poppins winterberry holly as the male pollinator for greatest berry production.
Meet the holly that deserves a spot in every yard: winterberry holly. Unlike its evergreen cousins, this holly drops its leaves in late fall to reveal stems covered in bright red—or more rarely gold—berries. It's often referred to as Christmas holly, because its berry-bedecked stems make fabulous additions to holiday décor, indoors and out.
This native shrub naturally grows in eastern North America. It's a slow-growing, multi-stemmed, dense shrub that's usually 5 to 15 feet tall. It forms small thickets or hedgerows, especially when it's in a swampy spot with moist soil. Plant breeders have worked with winterberry to produce a host of varieties that offer tamer sizes more suitable to modern yards. Some varieties also form larger berries than the native winterberry holly.
In the landscape, winterberry is versatile and easily fills a number of roles.
Hedges—Winterberry's multi-stemmed nature makes it an ideal choice for creating a hedge. Plant it along a driveway, fence or stone wall to provide winter interest.
Foundation plantings—Berried stems stand out when planted against a light colored home or in front of a row of dark evergreens.
Rain garden—Winterberry withstands both wet and dry soil, making it the perfect addition to the fluctuating moisture levels of rain gardens.
Cutting garden—Include winterberry if you like creating flower arrangements with natural materials. The berried stems last indoors and out for weeks without water.
Wildlife garden—Flowers are tiny but attract butterflies and beneficial pollinating insects. Berries lure more than 20 bird species, including cedar waxwings and robins. Birds typically feed on berries in late winter, after other food sources are decimated. The dense branch structure provides good nest sites for birds.
Here's a sampling of winterberry varieties that grow well in a typical backyard setting. The main differences between varieties relates to plant size. All plants form red berries unless noted. Pollinating partners (more on that below) are listed in parentheses.
Winter Gold—7 feet tall and wide with gold berries (shown in vase, above) ('Southern Gentleman')
Winter Red—6 to 9 feet tall and nearly as wide; popular variety for commercial production; stems are long and straight ('Southern Gentleman,' 'Apollo')
Berry Heavy—6 to 8 feet tall and wide ('Jim Dandy')
Berry Nice—6 to 8 feet tall, 3 to 5 feet wide ('Jim Dandy')
Red Sprite—3 to 5 feet tall and wide ('Jim Dandy,' 'Apollo')
Little Goblin Red—3 to 5 feet tall and wide (Little Goblin Guy)
Berry Poppins—3 to 4 feet tall and wide (Mr. Poppins)(shown in snow, above)
Little Goblin Orange—3 to 4 feet tall and wide with orange berries (Little Goblin Guy) (shown with summer leaves, above)
Like all hollies, winterberry comes in male and female forms—and you need both to get berries. (Both types flower, but only females form berries.) Plant one male for every 4 to 5 females. Insects do the pollinating, so place plants within 50 feet of each other. Different males flower at different times, so do your homework and make sure you're getting the right male to pollinate your holly variety. Common male winterberry hollies include:
'Apollo,' 'Southern Gentleman'—for late flowering female varieties
'Jim Dandy,' Mr. Poppins—for early flowering female varieties