Force spring-blooming bulbs indoors so you can enjoy their beauty ahead of schedule.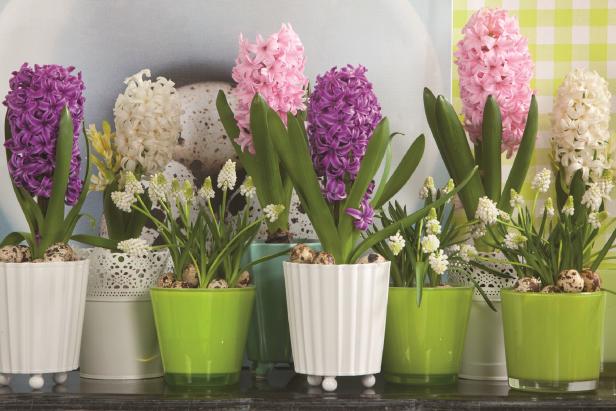 Hyacinths In Pots
Dutch hyacinth is a fragrance powerhouse. Its stocky blooms open in midspring, around the time that daffodils are hitting their stride. The blooms release a rich, full fragrance that can fill the spring garden. Indoors, pots of forced hyacinths bring spring scents to life in the heart of winter. Plant bulbs in fall for a spring show in the garden. Choose flower colors in many shades, including purple, blue, pink, salmon, white and red. Hardy in Zones 4-8.
Enjoy the beauty of spring-flowering bulbs ahead of schedule by forcing them indoors. You can plant daffodils, tulips, hyacinths and more in pots inside where the warm temperatures give them a jumpstart on growing.
To get started, purchase an assortment of the healthiest spring-flowering bulbs you can find in the fall. Select ones that appear free from bruising and rot spots. Select larger-sized bulbs, such as tulips, daffodils, and hyacinths, and smaller bulbs, such as grape hyacinths, crocuses and Dutch irises.
Fill a container half full of good potting soil (or create your own mix of equal parts peat moss, perlite and sand). The leaves and flowers will emerge from the pointed tip on the bulb, so place each bulb with the tip facing up in the pot. First, place the larger-sized bulbs side by side, spaced about one to two inches apart, on top of the planting mix until the pot is full. Cover the bulbs with soil, then add another layer of smaller bulbs. Try not to place the second layer of bulbs directly on top of the first layer. Cover bulbs with soil, and water well.
Place the planted bulb pots in an unheated garage, a crawlspace, a shed or any area of your home that remains dark and cool. Or place them in a prepared trench lined with a layer of straw. Cover the pots with straw.
After the appropriate period of chilling (for tulips, eight to 10 weeks; daffodils, 12 to 14 weeks; small bulbs such as crocuses, grape hyacinths and freesias, four to six weeks), bring pots indoors to a cool, sunny room. Note: if a variety of bulbs are planted in a container, allow the pot to sit outside until after the bulb with the longest chilling period has been exposed to the cold temperatures for the necessary length of time; then bring the pot indoors. Once the bulbs have finished blooming, remove the faded flowers.
If you want to save the bulbs for next year, allow the foliage to completely die back before removing the bulbs from the windowsill and ultimately their flower pots. This gives each bulb time to convert the sun's energy to the nutrients it'll need to flower next year. Professionals recommend storing bulbs in a cool place for 1000 hours, or around 12 weeks. So mark your calendar to note when you put the bulbs in and when you should take them out again.