Foodscaping 101: How to Grow Ornamentals with Edibles
 Make your landscape pretty and tasty.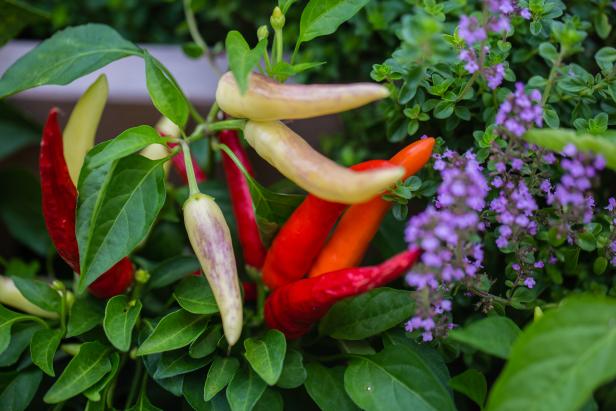 'Sweet Savour' Peppers
'Sweet Savour' peppers may look hot, but they taste sweet, and they're versatile enough to grow as edibles and ornamentals. These tricolored fruits grow nicely in containers or small gardens. Give them full sun.
Courtesy W. Atlee Burpee & Co.

Take a close look at your neighbor's front yard. What's hiding between those big hydrangea bushes?
If the guy next door is into foodscaping, he might be camouflaging his heirloom tomato plants, letting the shrubs' stiff branches hide their floppy stems and lumpy fruits. That's just one of the tricks gardening author, consultant and speaker Brie Arthur uses to "foodscape," or mix ornamentals and edibles in the same planting area.
You can foodscape, too, even if you don't have a lot of room. Arthur's definition of trendy foodscaping is planting food crops in your existing landscape or other available space. It's a great strategy for raising your own fresh, healthy produce while making the most of the yard you already have.
"You don't have to grow everything you eat," Arthur adds, "but you can grow some things."
Start with garlic, she suggests, if you haven't gardened much before. "It's easy to grow and makes everyone feel like they have a green thumb." She uses garlic to edge her beds and deter voles, pests that do a lot of damage around her home in North Carolina.
"Also, garlic keeps voles out of the landscape, so they don't eat as many roots of your favorite ornamentals." To grow garlic as an edging, measure around the beds or borders where you plan to put it, and estimate how many cloves you'll need. Arthur says you may be surprised at how many plants you can grow along the edges of beds, borders and paths.
Arthur's How-To Tips for Mixing Ornamentals with Edibles:

1. "Look at the space you have and make a plan. For people in a homeowner's association, engage a landscape professional to help you draft a plan to scale and determine your exposure. In general, food crops need more sun than shade."
Your foodscape can be any size you want, depending on your available space. "Maybe it's eight square feet, or maybe you'll plant between shrubs or on the edge of a bed."

2. Decide what you really like to eat. "The biggest problem most people get into, when they're growing vegetables, is that they don't think about what they eat on a regular basis. A beginner might start with something challenging, like an heirloom tomato. Write down the top 5 vegetables you use on a weekly basis and think about those. For example, if you like eggplants, they are pretty enough to mix into a foundation landscape."
3. "Build your soil. Once you decide on an area to plant, top dress a nice layer of compost on your existing mulch. And have your organic materials tested by a county or state extension service agent, so you understand what you're working with. Learn about your pH, and what your nutrient ratios are, so you'll know what kind of fertilizer to add, and how much. " Don't overfeed, Arthur warns, or give your plants something just because that's what you usually give them. "We don't always look at the basic chemistry that makes life on Earth happen, especially in a garden, so add nutrients because they're what the plant needs."
4. Plant seeds, or plugs of tomatoes, peppers, eggplants and other edibles on top of your built-up soil. It's usually better, Arthur says, to direct-sow small seeds.
5. Add a light layer of mulch around your plants. Arthur uses a very light layer because she knows those pesky voles like loose, organic materials. "I add a 1/2 [inch]" of mulch rather than 1" to 2" [inches]. It's better because it still allows moisture to penetrate to the roots, and it helps to some degree with weed infestations." If you're sowing seeds, she recommends using 1/2" to 1" [inch] of mulch for warm season crops and 1/4" [inch] for cool season ones. If weeds do pop up, she doesn't stress. "You have to recognize that in general, a landscape is always going to have some weeds. It's never, ever supposed to be 100 percent perfect."
"Grow a groundcover of strawberries at the foot of your foundation, around existing shrubs like azaleas or 'Compacta' hollies or under your windows."
"Add blueberry plants to your property border, or to help disguise an air conditioning unit. Grow peanuts around them to provide nitrogen for the blueberries. The green cover will also keep the berry roots cooler."
Create an "edible meadow" with sunflowers, zinnias, corn and sorghum.
Need edibles to tuck into small, available spaces or edges? Try garlic, lettuce, arugula and other greens, herbs like parsley and basil and veggies like bush beans.

Use vining plants with big leaves, such as squash, sweet potatoes and pumpkins (if you have a lot of room) as groundcovers. When they start to decline, you don't have to live with their droopy looks. Just pull them up.
Let deciduous shrubs like viburnum and lilacs help support climbing vegetables like peas or pole beans.
"Don't just think about growing plants in a box in the backyard," Arthur adds. "Grow in a way that introduces more biological diversity. Plant, and then stand back and let it grow."