Learn about the many options for wood or plastic compost bins that are easy to assemble and use in your garden.
Depending on your aesthetic preferences or composting needs, traditional wood or wire compost bins are relatively simple to build. If you're more comfortable with simply assembling a bin rather than constructing from plans, there are many compost bin kits available to buy from garden centers, plant nurseries, box stores and online. Some online retailers will even mail a completely assembled compost bin.
If you plan to order a kit online, keep in mind that heavy wood products may be more expensive to ship than lightweight vinyl or recycled plastic. Depending on the product, plastic composting bins may be easier to assemble than wood bins. For instance, to assemble some plastic bins, you simply stack interlocking solid plastic tiers, then place the lid on top.
Companies may offer a selection of colors for plastic stationary bins. If you choose a plastic bin, look for composters that are UV resistant for long-term protection against warping or cracking. If you choose to order a wooden compost bin kit, look for products that are decay resistant, such as cedar or cypress, or that have a protective coating.
Be sure to choose a bin that is large enough to hold your landscape and kitchen waste, and has enough space to maneuver a pitchfork or aerator to turn the compost. Some prefab kits have the option to purchase bins with more than one compartment. Having more than one compartment is a handy way to separate compost by levels of decomposition. When one compartment is full, start adding to the second one while the first compartment finishes composting.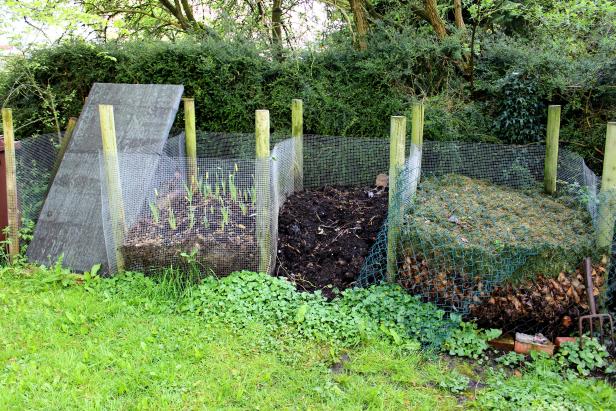 Wire Compost Bins
Photo showing homemade compost heaps in a shady corner of a garden, next to a lonicera nitida (dwarf honeysuckle) hedge and lawn. These simple compost heaps are made using chicken wire and wooden stakes, and provide an easy way to recycle garden waste (lawn clippings, weeds and leaves) and some kitchen waste (vegetable peelings). As there are three 'heaps', the compost can easily be forked over and moved between the spaces, to keep them well aeriated and encourage decomposition.
Compost pens are typically less expensive and may be easier to assemble than the compost bin kits. Pens are fantastic for composting over unplanted garden beds, and they can be easily carried to another location after compost is finished. If you prefer a wire pen, look for a product that is coated to prevent rusting. Some plastic pens are very inexpensive, easy to assemble and adjustable.
Keep in mind that although lightweight pens are convenient to move around the garden between harvests, this feature also makes them easier to be blown over in heavy winds or knocked over by pets. A few wooden or rebar stakes can be driven into the ground and attached to the pen to hold it in place.
Gardening Tips: Composting
03:14
Learn how to make a simple compost bin that lets nature do the work.