Before you buy or build a compost bin, understand all the options in composters to make an informed decision.
Shopping for a compost bin can be overwhelming to say the least. Search online forthe phrase "buy compost bin" and you'll be rewarded with a seemingly unending list of products that differ in style, size and cost.
Although there's a wide variety in composter styles, they can be broken into three broad categories: compost bins, compost barrels, and compost tumblers. Really, all three groups are "bins". "Barrels" are a type of "bin", and "tumblers" are a type of "barrel". The products probably won't be labeled by the criteria we outline below (ex. Some compost barrels are only listed as bins). Even so, reading up on each style can help you make an informed decision, in addition to knowing how much you can afford and what size bin you need.
Simply put, a composting bin is a container that holds your compost. These can be as basic as a box to hold your decomposing garden and kitchen waste. Some bins maybe more exposed to the environment than enclosed barrels. The upside of this is that it can be easier to maneuver a pitchfork in the bin to turn your compost. The downside is that critters may be able to get into the bin and make a mess.
Some regions have strict regulations on the sort of bins you can use. If you live in the city or suburbs, be sure to check with your local government, extension service or homeowners' association to see if there are any rules for composting in your area before you buy or build a compost bin.

Compost barrels are a tidy way to compost. As the name suggests, many of these systems resemble a trashcan or barrel with a lid. These enclosed bins are trickier for raccoons, rats and other critters to get into. It can be difficult to add air by turning compost in the barrel, which is why some composters include a ventilation tube. Many compost barrels employ passive composting, where you simply add fresh waste through the top lid and harvest finished compost from a hatch near the base of the bin.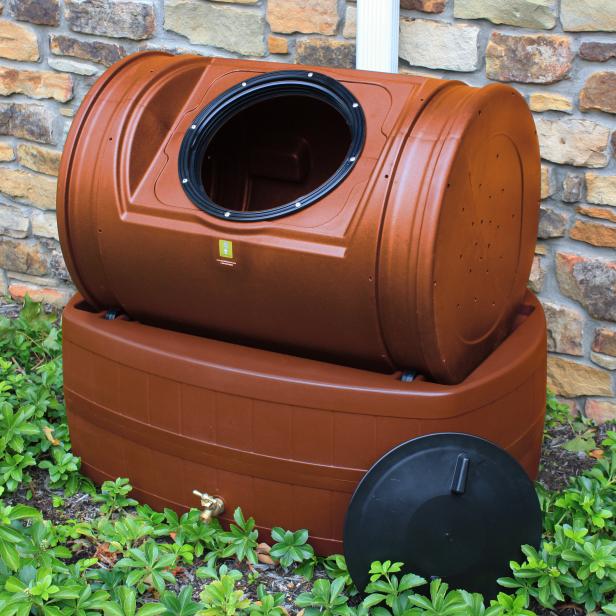 Two-in-One
Folks who love multitasking may be geared toward the Compost Wizard Hybrid, which has a compost bin on the top and rain barrel on the bottom. The maker, Good Ideas, explains that when the top barrel is rotated, excess liquid flows from the compost into the rain barrel and mixed with rain water collected from gutters. Comes in five colors, including terra cotta and forest green. $299.99, from Good Ideas (also sold by retailers such as Amazon.com).
Image courtesy of Good Ideas
Compost tumblers are enclosed barrels that are designed for easy turning. Tumblers may rest on wheels or gears that are turned by a crank, or they may be suspended by an axle. Easy turning makes composting in a tumbling bin faster than most other systems. Although tumblers are certainly a convenient way to compost, they also tend to be more expensive than other systems.
Gardening Tips: Composting
03:14
Learn how to make a simple compost bin that lets nature do the work.