5 Ways to Bring More Farm Fresh Food Into Your Life
Growing your own food is a great way to eat healthy . Find out more ways to spotlight fresh produce in your life.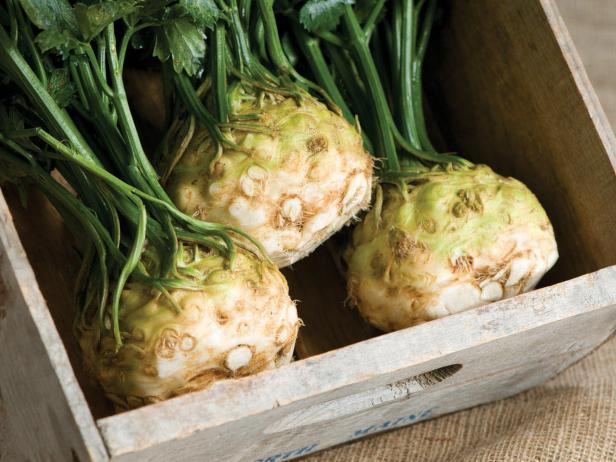 Celery Root
With its tangled, knotty appearance, celery root or celeriac may not win any prizes for loveliness but it is a wonderfully versatile relative of celery with a crisp, fresh flavor that perks up a Waldorf salad recipe. It does have a long growing season (120 days) so start your seeds in early March in a moist, rich soil environment.
In anticipation of the dwindling summer days and cool fall weekends spent wandering your local farmers' market, we asked Mary Blackmon, the creator of Farm Star Living—a website dedicated to supporting farmers and farm-raised goods—to share her ideas for bringing healthy food into your and your family's lives. Whether you are planting your fall crops of lettuce and kale in your own veggie garden or supporting local farmers through your CSA, here are some other clever ways to support farmers and enjoy some healthy eating at the same time.
Mary's Tips for Going Farm-Centric
Get the kids involved and take a trip to the produce aisle! Introduce them to farm fresh food brands that bring food from the farm to the aisle. Teach the little ones how each veggie grows (on a tree? from a plant? in the ground?) and reward them with each correct answer. The winner gets a fun shopping spree to buy whatever new (healthy) food they want.
2. Host a Farm-Fresh Event
We have all heard of a cookie swap. This year keep the cookies in the jar and throw a Veggie Swap party. Ask your friends to each make their favorite veggie-centric dish and print out the recipe to share with everyone at the party. Throw in a few bottles of wine, and you've got yourself the perfect farm-fresh girls night in. Make it even more special by inviting a farmer. You can use our Farm Finder to locate a farm near you.
3. Create a Farm Tablescape
Bread Cornucopia
Use strips of bread dough and aluminum foil to create an edible centerpiece for your Thanksgiving or fall table.
Create a feast for the eyes and for your friends. Next time you're the host of the party, skip the craft store and head on over to the grocery store to create a refreshing and one-of-a-kind fresh tablescape. Create a broccoli bouquet, open an ear of corn and place it into a Mason jar, fill your flower vases with Brussels sprouts, let those carrot tops flow from a pitcher. The possibilities are endless and only limited by your imagination. We love to create beautiful bouquets with veggies – stick a pepper or a lemon in your arrangement for a pop of color.
4. Travel the World With Veggies
This year, challenge your family to try one new veg dish every month that is popular in a different country. Not only will you expand your palates, but this is a great way to teach kids about other cultures.
Host a canning/pickling/drying/jelly party. Make a day of it and gather fruits or veggies from your local farm or farmers' market. Take the goods back to the kitchen where everyone preps the fruits or veggies . While the veggies are cooking, you can customize your jars by coloring/creating your own labels, wrapping them in burlap bows, and making cute gifts out of each one.