Wedding Shower Ideas for Older Couples
Throw a memorable celebration for an older couple tying the knot for a second — or third — time.
Throwing a wedding shower for a previously married couple may seem tricky. After all, they probably already have established homes and plenty of stuff, and the party ideas that work for young brides and grooms seem a bit silly the second or even third time around. But if you're worried about etiquette, relax — there's good news.
"The rules have changed," says wedding expert Sharon Naylor, author of The Ultimate Bridal Shower Idea Book. "Just because a couple has been married to other people before or are older, why shouldn't they have a fun day with their family and friends? Don't punish them for what's happened in the past. It's not as if we're still in the days where the bride comes straight from her parents' house and needs to be supplied with housewares."
The key is to truly celebrate the couple, rather than getting hung up on old-fashioned shower traditions and unspoken rules about gifts. Here are Naylor's tips for hosting a memorable party:
Forget the "No Gift" Shower
Even if that's what the couple say they want, encourage them to specify some sort of gift on the invitation or wedding website. Some people will show up to the party with a gift regardless of the couple's intentions, leading those who don't to feel awkward. "That's also how you end up with really ugly vases," Naylor says. "Just tell the couple, 'I don't want you to be embarrassed if people are uncomfortable with your request, so let's offer some options that work for everybody.'"
If the couple doesn't want to request traditional housewares, go with something off the beaten path: a charity registry (be sure to research which ones are reputable); registries at local art galleries that allow the couple to begin an art collection for the first time; or big-box store gift cards that can be used as the bride and groom see fit.
Another popular option is the honeymoon registry. Some sites, such as Honeyfund.com, let the couple parcel their honeymoon into discrete pieces — shares of the airfare, for example — that can be bought as gifts. Also, if the couple will be honeymooning at a resort destination that offers gift cards online, you can link directly to the cards from the couple's wedding website and let shower guests chip in on a romantic dinner for two, a golf outing or a his-and-hers massage package.
Just don't ask directly for cash. "Stay away from that," Naylor says. "Some etiquette experts say it's okay, but that's still a developing trend, and you're likely to offend someone."
Give the Happy Couple an Upgrade Party
Just because the couple have an established home (or two), that doesn't mean they have everything they want. Try picking a single gift category where the couple is making do with older goods. "I'm seeing a great trend in upgrading," Naylor says. "For example, for a couple who likes to cook, going in on all-new kitchenware is a great idea. If they're cooking with old aluminum or nonstick pans, newer stuff is definitely safer and more energy efficient." Technology is also another good upgrade choice; Best Buy has a program called Pitch In, for example, where guests can buy shares of items on a couple's wish list.
You can also get guests to contribute to a home improvement project near and dear to the couple's heart. If you know the bride and groom would love a new garden room, plant up a beautiful set of containers in the backyard and hold your party there. "Everybody can give gift cards to Home Depot or Lowe's or a garden supply catalog," Naylor says. "For garden parties, it's easy to come up with shower decor: edible flowers on cupcakes, peat pot favors with herbs to take home and plant. It's lots of fun."
Back in the days of rigid etiquette, it was considered gauche for close family members to plan showers because it could appear greedy. But those days are long gone. "Mothers in particular are great sources of information about likes and dislikes, addresses of family members and so on," Naylor says. "If it makes them happy to get involved, go for it."
Don't hesitate to include the couple's children from previous relationships, if they have them, but with a caution: Take each child's personality into account. "If kids can create place cards or signage — or the wedding website, for that matter — they feel a sense of pride and ownership in the celebration," Naylor says. "But don't spring anything on them, especially at the party. If a kid is really shy, he or she could get embarrassed easily and it could create an uncomfortable scene." That's especially true for tweens and teens, so if they don't seem enthusiastic, offer them the chance to help and then give them some distance so they can decide on their own.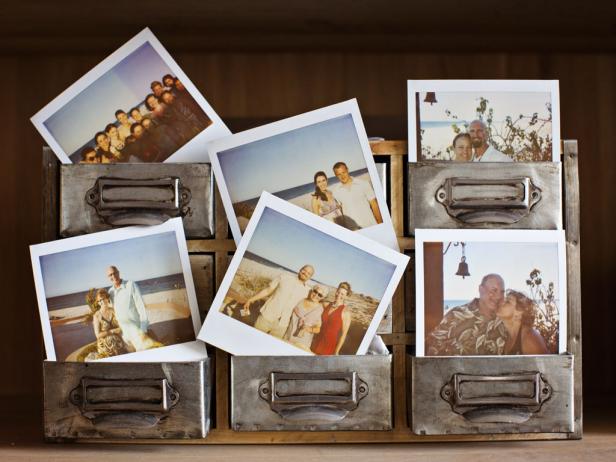 Card Catalog Drawer Photo Project
Being newlyweds, images from the couple's wedding are a primary source of art throughout the loft. In addition to framed professional images, Erin uses a vintage library catalog to display Polaroids taken by wedding guests.
Skip the Bridal Shower Games
Older couples have earned the right to hang out and relax without having to make bridal gowns out of toilet paper. "Forced fun is something most people groan at anyway," Naylor says. "Nobody will be disappointed if you skip it."
Instead, focus your creativity on the menu, which will be appreciated by every guest. "Forget about food trends and the chocolate fountain, which is so over. Personalize your menu and focus on the couple," Naylor says. "That's something younger people don't do." Make dishes the couple enjoyed from childhood, that they had on their first date or that represent the different countries they've traveled to.
Finally, encourage friends to make heartfelt toasts. "With older couples, there's a lot more sentimentality about the relationship and about their future together," Naylor says. "Everything that happens at the wedding shower will be remembered. Words really do last forever."