How to Make a Bottle-Cap Opener Game
Liven up your next yard party with this Plinko-inspired game where falling bottle caps decide the outcome.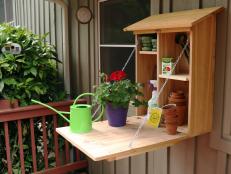 This fold-out cabinet is perfect for storing garden supplies or barbeque tools. When guests come over, clear out the gear and use the cabinet as a serving bar or buffet.
Pipe ball combines the challenge of Skee Ball with the fun of ring toss. It's simple to make, easy for kids to play and interesting enough for adults to play too (even with a cocktail in hand).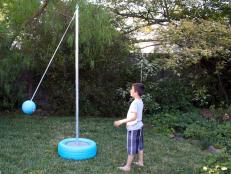 Bring the fun of the school yard into your backyard with a tetherball court. Made inexpensively from an upcycled tire and a metal pole, the tetherball set can be rolled around the yard to play in the sun or shade.