Elegant Brunch for the Bride
Honor a special bride with this elegant, yet unfussy, brunch with Toasted Pesto Garlic Bread, Drizzled Tomatoes, Bloody Marys, Egg Strata and Fruit Kebabs.
A brunch is only as good as the food served, and with easy recipes that can be prepared quickly or ahead of time, guests won't be disappointed. The menu includes Toasted Pesto Garlic Bread, Drizzled Tomatoes, Bloody Marys, Egg Strata and Fruit Kebabs.
5 c. (packed) fresh basil leaves
1/2 c. pine nuts or a pine nut and walnut mixture
7 cloves garlic, chopped
1-1/2 c. good-quality olive oil
1 tsp. kosher salt
1 tsp. ground black pepper
1 c. grated Parmesan
Place nuts, garlic, basil, salt and pepper in a food processor or blender; add a small amount of olive oil and start to process. Slowly pour the remainder of the olive oil into the processor.
Remove the pesto from the processor and pour it into a serving bowl.
Add Parmesan, stir thoroughly and serve immediately.
To clean basil, remove leaves from their stems, swirl them in a bowl of water and spin very dry in a salad spinner. Store leaves in a closed plastic bag with a slightly damp paper towel. As long as the leaves are dry, they will stay green for several days.
Pesto can be stored in the fridge for several days or frozen for later use.
Air is the enemy of pesto. For freezing, pack in containers with a film of oil or plastic wrap placed directly on top of the pesto with the air pressed out.
12 slices crusty baguette (cut on an angle)
extra-virgin olive oil, for drizzling
salt and pepper
2 cloves garlic, crushed
reheat oven to 350 degrees.
Arrange bread slices on a baking sheet, drizzle with extra-virgin olive oil and sprinkle with a little salt and pepper.
Rub bread with the crushed clove of garlic.
Bake for 5 to 8 minutes, or until golden brown.
5-6 ripe tomatoes
olive oil
balsamic vinegar
coarse salt
black pepper
fresh basil
Thinly slice the tomatoes.
Arrange on a platter or serving plate.
Drizzle with olive oil and balsamic vinegar.
Sprinkle with coarse salt and ground black pepper.
Coarsely chop basil and sprinkle over tomatoes. Garnish with additional basil sprigs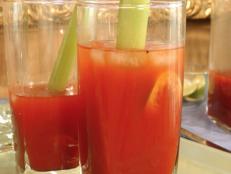 Bloody Mary, fruit kebabs, and egg strata make a perfect combo for any brunch.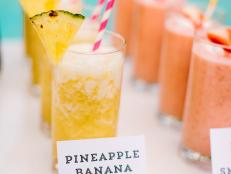 Make refreshing tropical drinks for your next party or for a healthy snack anytime.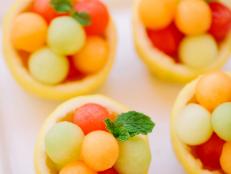 To make these adorable fruit cups, cut lemons to make small bowls, fill with fresh fruit and garnish with a sprig of mint. They make the perfect accompaniment to brunch or any party menu.