DIY Wedding Planning: 8 Tips for Timing and Logistics
Find tips on the best time of day to get married, optimum seating layouts, and how to properly time hair and makeup.
Wedding expert Annie Lee knows how overwhelming it is to plan a wedding — particularly if you're doing lots of the work yourself. Annie, founder and principal planner for event planning firm Daughter of Design, is publishing a collection of tips, tricks and wedding lingo entitled "Learn to Speak Wedding: Flashcards for Beginners" that helps brides and grooms navigate the process.
"They're designed to be a good springboard for conversation about wedding topics," Annie says, "but they also include practical answers to questions most people have as they start to plan." Read on to get answers to some of the questions couples ask most often during planning.
What time should the wedding be?
For an evening wedding, Annie suggests looking up the time that the sun will set on your wedding day and work backward. "You want guests walking into a candlelit dinner as the sun is setting," Annie says. "The room should be getting dark so that you make a good first impression." Subtract an hour for cocktails and another hour for the wedding and you have your start time.
What's the right timing for hair and makeup?
The bride should do a trial run several weeks ahead to see how fast her stylist works, and then set a schedule for each member of the bridal party who needs a turn. In general, allow the bride an hour and a half for makeup and an hour and a half for hair, with the aim of being done 30 minutes before the dress must go on. Adjust down to an hour apiece for bridesmaids, who should arrive 30 minutes before their scheduled slots.
How wide should the aisle be?
Make sure your aisle is nice and wide — but be careful with those candles!
If you're setting up your own space instead of using a church, be sure to consider how many people will be walking down the aisle at once and account for their size. "I had a bride who was accompanied down the aisle by both parents and her father was really large," Annie says. "The aisle was too narrow and we had to arrange them in kind of a triangle. It was awkward." Practice the night before so you can make any last-minute adjustments if necessary.
How many reception servers do I need?
For a seated dinner, really good service allows one server per eight to 10 guests, although one server per 15 guests will do in a pinch. "Anything less than that," Annie says, "and no one will get food." You'll also need one bartender for every 50 to 75 guests.
How much seating should I provide at cocktail hour?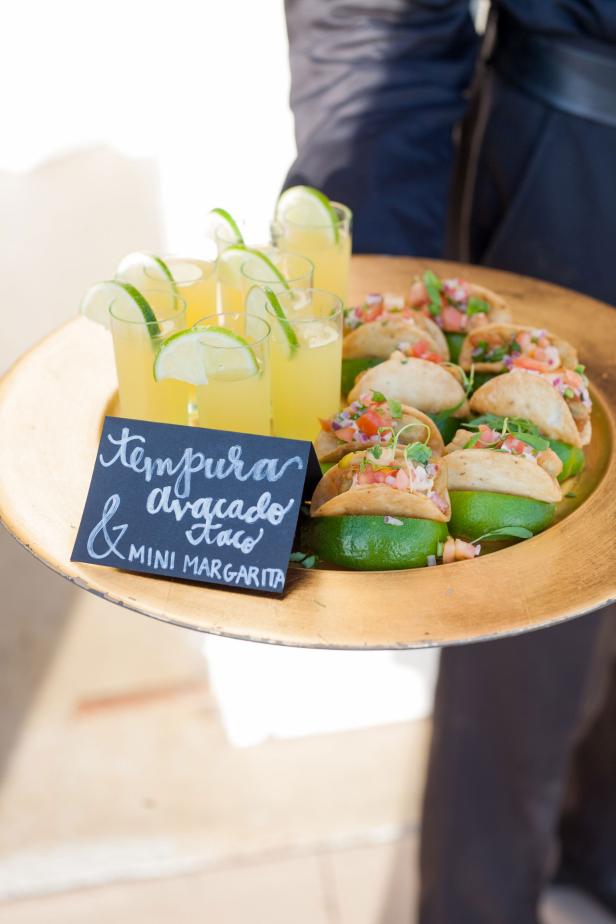 Budget Wedding Tip: Unique Menus Can Be More Affordable
Rather than serving a traditional, old school wedding meal like chicken and steak, consider unique and interactive food options that express your personal tastes. Hire a food truck that serves tacos or host a more casual pig roast or shrimp boil rather than opting for a fancy plated dinner. It can save you money and your guests will remember it forever!
Lee likes to have enough seating for 15 percent to 20 percent of the guests. Each of those guests, by the way, will probably eat eight to 10 hors d'oeuvres.
How many chairs should there be per table?
Round tables generally come in 60-inch and 72-inch diameters. For a 60-inch table, go with eight to 10 chairs maximum. "You can do seven, but anything less than that will look empty," Annie says. A 72-inch table seats up to 12 people, but no fewer than nine. Rectangular tables are generally 8 feet long; people need two feet of width, so plan on four per side. "You can also put chairs at the ends, but it's less comfortable," Annie says.
What shape table should I choose?
If you want to simplify your centerpieces, go with a rectangular table. On a standard 36-inch-wide table, dinnerware will take up one foot of depth per person, leaving a foot of empty space between two people seated across from each other. That's just enough space for an elegant row of votive candles and a runner, which is an inexpensive and chic look Annie loves.
"With round tables, there's more real estate in the middle," Annie says. Go round if you envision fancy floral centerpieces — but don't block guests' sightlines. Tall centerpieces are OK, but make sure you can see through or around the bottom.
What's the best bang for my decorating buck?
Speaking of burning questions, you can't go wrong with candles for a timeless and romantic effect, Annie says. But if you put them at the ends of your pews, make sure they're enclosed. "Someone always kicks one over," Annie says. "Mark it down."