How to Use Mismatched Silverware and Make It Look Really Cool
Matching silverware is so overrated; own what you own, and learn how to make it work.
I get it. I lived for many years with an assortment of mismatched serving utensils and pieces of silverware that – design-wise – spanned a century, and not in that "cute, you like vintage silverware" sense. Even as a fully-grown adult, I still have a random drawer of utensils and flatware, because it simply doesn't seem easy to have a completely coordinated collection, unless maybe you're walking in the house straight from your bridal shower. Not counting the items I know belong to other people (like my parents, when they show up with a casserole and their own serving spoons) we've also picked up extra pieces at thrift stores for those moments when we'vee hosted dinner for 20. For those of you like me, you have to learn how to go with the flow and make sure your guests don't think twice about serve ware that might look (gasp) disheveled.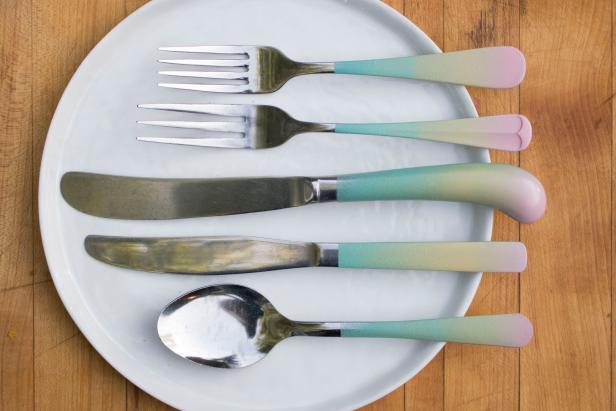 How to Update Mismatched Serveware
Fortunately, there are many ways to embrace and/or mask the fact that your kitchen makes use of a wide variety of serving ware and silverware designs, so own what you own, and try one of these ideas when you're scheming your table settings for the next big friends/family/holiday feast.
Spray Paint Silverware Any Color of the Rainbow
If you're applying paint to anything that goes near your mouth, you have to take certain precautions. When I made the "ombre rainbow" silverware shown above using four different colors of spray paint, I was careful to tape off the end of the utensil that I didn't want to be affected by paint. I then slipped that end in a plastic baggie to double-protect the mouthpiece from getting paint on it. They turned out pretty fab, and you hardly even notice at a glance that they're from completely different sets. (They're also different weights, which sometimes makes it even more obvious that your set is mismatched).
Dabble With Hand-Painted Details
Enamel paints hold up well when applied to silverware handles, and will allow for a truly customizable place setting. If you're looking to make a fun impact on your next dinner party, source an entire collection of silverware from a secondhand shop, and paint the details for the special occasion with custom colors and designs that match the mood of the event. Shamrocks for St. Paddy's, hearts for Valentine's Day, or any color theme that suits your tablescape. If you wash them by hand with a gentle cloth, the dabbles or stripes of paint will remain intact.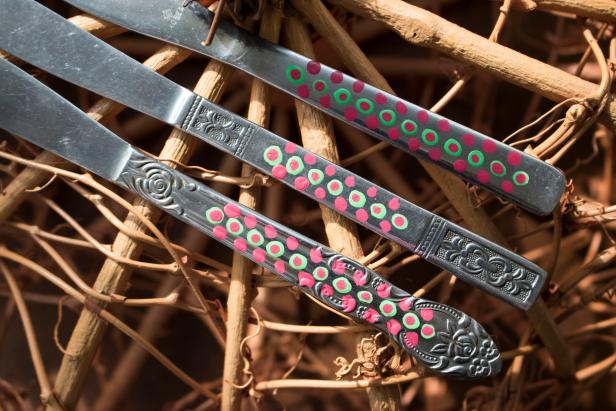 How to Update Mismatched Serveware
Alter Your Silverware With a Metal Punch Set
Use a punch set to make a mismatched set feel more uniform. Much like the technique would be used for label making purposes (this one's obviously a marker from the garden) you can customize your silverware with words or phrases. A few we liked?
THIS END IN
EAT IT ALL
FOODIE
Bundle Silverware Together
Power in numbers, essentially. When you bundle the knife, spoon and fork in a well-planned package, it's a lot easier for guests to overlook the fact that your dinnerware isn't coordinating. For a rustic tablescape, I recommend wrapping the trio in a napkin with several theme-appropriate ribbons.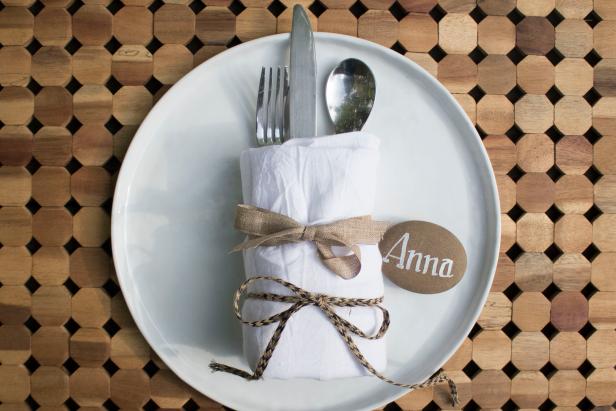 Flour sack cloths with rustic bows as table accessories.
Flour sack cloths with rustic bows as table accessories.
Use Natural Stains on Wooden Handles
Beets, onion, turmeric and other fruits and veggies make for wonderful dye colors. If your silverware collection boasts assorted wooden handles – most of our wooden handles are on random knives – unify the look of them by staining the wood.
Use Natural Jute to Decorate and Unify Serving Pieces

A dot of hot glue will hold jute cord in place as it wraps around the handles of your serving pieces. Unify the look of your buffet by coordinating these utensils, and the attention to detail will completely take your guests' mind off the fact that your serve ware is from a variety of sources.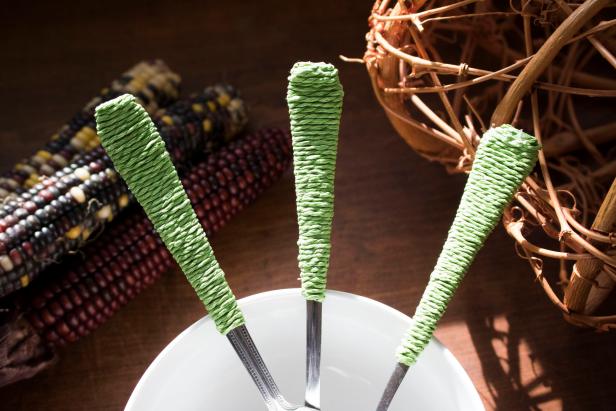 How to Update Mismatched Serveware