Tips and Tricks for Creating Wall Murals in a Kid's Room
Murals are one of the most popular design elements for children's bedrooms, playrooms and nurseries. Find out what you need to know whether you plan on DIYing or hiring a pro.
BPF_original_murals-101_vertical-desk-area_v
To add a bit of a 3D, layered element to Bianca's room, an antique desk passed down from her paternal grandmother was placed directly in front of a painted tree. When incorporating tall elements such as trees and buildings into murals, it's wise to stick with proportion and scale which works well not only with the room's furniture, but also in relation to both the height and vantage points for children. Buildings and trees painted too small can get lost behind furniture, and they may also lose their visual impact from different points in the room.
Whether a homeowner is looking to add a theme or simply create the look and feel of a favorite place, there are many important factors which go into creating murals, whether it's a DIY project or being completed by a professional muralist. The first thing to consider is placement. Single-wall murals turn one area of the room into a focal point, while all-encompassing murals can turn the entire room into a visual experience. Single-wall murals are more affordable since the amount of labor and materials are both less in comparison to all-encompassing styles. When it comes to deciding if a mural is a better fit for a DIY application versus hiring it out to a professional muralist, it all comes down to the level of detail.
Simple, graphic designs such as silhouettes or letters and phrases involve fewer steps and less attention to detail and are a great choice for homeowners looking to do the mural application themselves. Heavily detailed styles such as landscapes or illustrations are best left to the professionals, not only for the peace of mind knowing the final product will be more polished, but also for the amount of time they take. Professional muralists are so versed in the preparation and application processes that the disruption is minimal in comparison to entire weekends sacrificed by novice homeowners.
Fort Lauderdale, Fla.-based muralist Michelle Morse was hired by Marco and Elena Ciotti to transform their two children's rooms into landscapes. While each room took Michelle two full days, it's likely the projects would have each taken up to one week if Marco and Elena had attempted to do it themselves. As far as what homeowners should know about the process of hiring a professional muralist, Michelle has shared important tips to keep in mind.
The first thing Michelle, the go-to muralist for the Broward County schools, takes into consideration when pricing out murals is time and location. "I relay to the client how many hours I think it will take based on similar projects I've done. On top of that, I also have to account for the distance to and from the location, especially since these days gas is such a huge expense. Lastly, I include any specialty materials needed as well as assistants," Michelle says.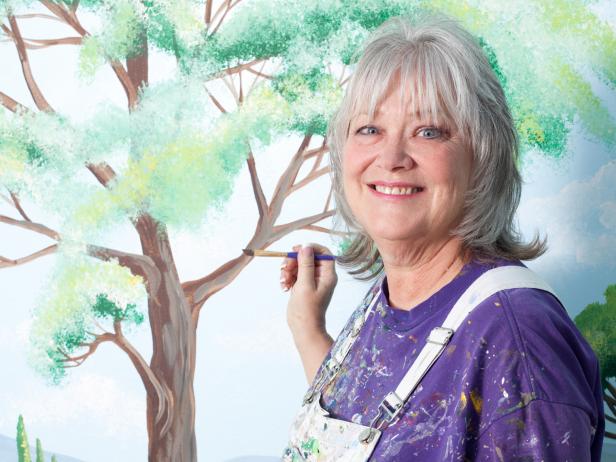 BPF_original_murals-101_muralist-portrait_h
Fort Lauderdale-based muralist Michelle Morse completed two bedrooms for the Ciotti family in four days for slightly under $1000 per room. Daughter Bianca's room features sweeping green vistas; sons Luca and Vincenzo's walls are covered in a nautical, New England style landscape. Whether a homeowner is looking to paint a mural themselves, or planning to hire a local muralist, Michelle shares insider tips for understanding all that goes into creating a top-notch, lifelike mural.
What It Takes to Price a Mural
As far as how long proposals take to put together and how they're presented, Michelle says it depends on the scope and the setting. The expert muralist adds, "Sometimes the proposal happens on-site verbally just minutes after I've met with the client, mostly for informal settings such as a small home." And although small jobs like the two rooms done for the Ciotti family are quick to price out and also to execute, larger jobs are a different story. Michelle notes, "For something with much larger scope, such as a 5,000-square-foot home or a loft-like space with enormous walls, the proposals take way longer due to insurance proofing and tons of red tape, not to mention logistics for getting in and out and abiding by homeowner's associations rules."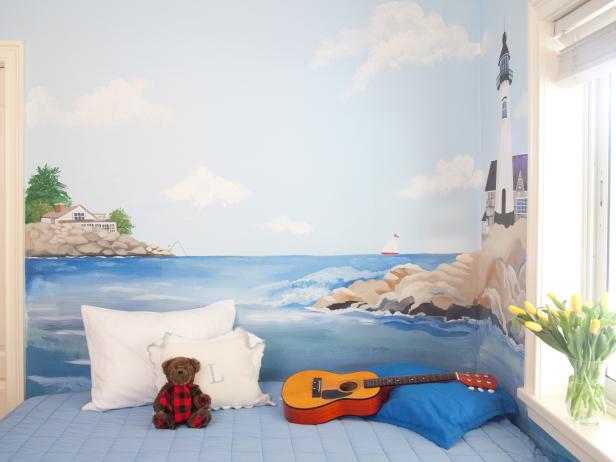 BPF_original_murals-101_luca-bed_h
Color placement is key when it comes to furnishing a room in relation to its mural. The wall on which Luca's bed is placed is made up heavily of blue paint which creates the look and feel of a New England bay. To keep the blue carrying onto the furniture, Marco and Elena outfitted Luca's bed with a blue comforter featuring the same hue as the water of the mural.
Something Michelle suggests to homeowners either attempting murals themselves or looking to hire a pro is the importance of creating schedules, especially when it comes to children's rooms. The expert explains, "Since sleep is so important both for young children, especially toddlers and preschoolers, and also for their parents, it's important to decide when the best time to prep and paint is. If you throw off a child's sleep schedule or render their room inaccessible, the experience can be negative, and murals are supposed to be fun." By mapping out what task of the project will be done on which day, then allowing a certain amount of hours for each task, it will make the multiple layers involved much less overwhelming.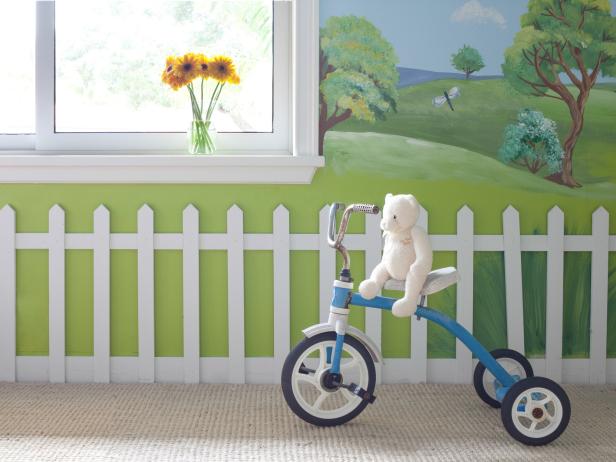 BPF_original_murals-101_3d-elements_h
Effects from layering are what give murals their lifelike appearance. For an extra layer of detail in Bianca's room, Marco had a custom, white picket fence installed. In order to achieve this effect, several pieces of MDF (medium density fiberboard) were cut to size with the tops mitered with two 45-degree angles, then installed with a nail gun, spackled, caulked and painted white.
As a way to avoid extra costs related to working with a professional muralist, Michelle suggests keeping revisions to custom sketches minimal. Revisions are time-consuming, and to cut down on the number of revisions, Michelle likes to consult in person once during the initial brainstorming process, then revise the design strictly via email, then scan the updated sketches for client approval. Something else to consider is adding change orders. "Be careful when you start to add extra things on additional walls, new characters or special finishes. The muralist will need to recalculate costs since this increases labor and materials," Michelle says. As far as the normal routine for payment is concerned, aside from change orders, muralists require 50% of the project price up front, plus the addition of any added-on changes upon completion.
Save Money by Doing the Prep
Whether a homeowner plans to hire a professional muralist or paint the room themselves, Michelle suggests doing as much preparation as possible, not only to save money if a professional is taking on the job, but also to ensure a better end product. These tasks include the following: painting the walls with the mural's dominant color first; laying down drop cloths everywhere, even layering several on top of one another; laying all supplies out nearby; taping all baseboards, molding and ceilings; sealing painter's tape to prevent bleeding; taping off outlets; and having a fan to help circulate air throughout the room.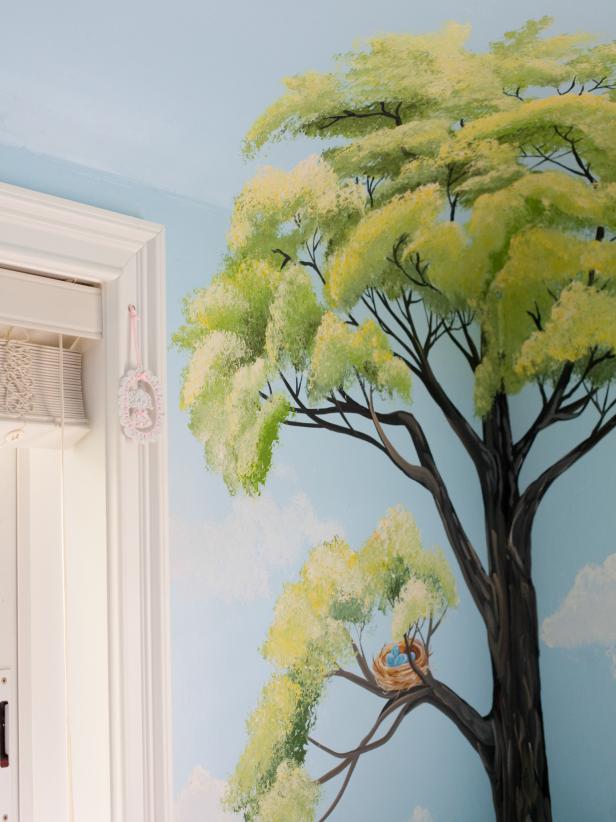 BPF_original_murals-101_wall-ceiling-tree_v
Depending on the level of detail requested, walls and ceilings can be adjusted for a more seamless effect, specifically for blurring the edges between ceilings and walls. Since Marco owns a residential contracting business, he rounded the tops of the walls near the ceilings in Bianca's room, allowing portions of the mural such as this corner tree to carry on upwards without visible lines. This involves extra contractor costs and must be done prior to the muralist arriving to project, trace and paint.
Find practical tips for how to throw a creative painting party at home.