Indoor Garden Inspo For Small Spaces
Give your home a lush touch with these mini garden ideas — no green thumbs required.
House plants are notorious for their short life spans, but that needn't be the case! Give your home a spring-time glow all year round with some potted pretties on your coffee table.
Most house plants will look their best when they are able to receive lots of natural light. That doesn't mean you have to cram all of them on your windowsill — get creative. One way to give your plants the light they need without the dreaded crammed corner is by hanging them from the ceiling. These hanging planters look especially pretty placed in front of a paneled mirror.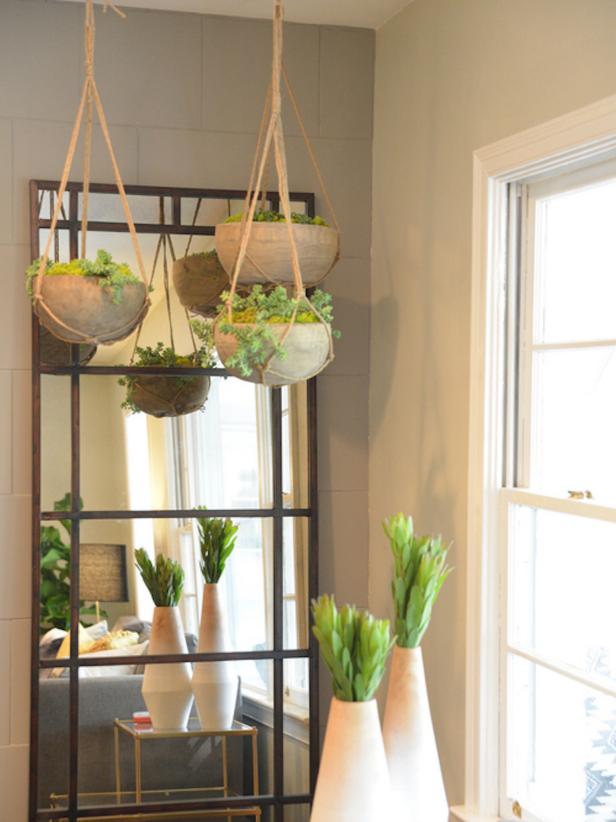 Indoor Hanging Garden
For an indoor hanging garden, Gabriela Eisenhart and Holly Conlan with WAKE + LOOM Design used succulents because they don't require a lot of water and are long-lasting. An extra touch is a mirror that reflects the sculptural plants in the living room. The hanging wood planters are from Anthropologie.
Keeping fresh herbs on your windowsill are guaranteed to take your cooking game to the next level. Using pretty, patterned pots to keep them in will do just the same for your style-game. Some of our favorite herbs for your window sill? Basil, chervil, oregano, parsley and rosemary.
These potted perennials make for a chic, enlivened touch on this foyer table. Recreate this look in your own space and greet guests with an extra-fresh welcome.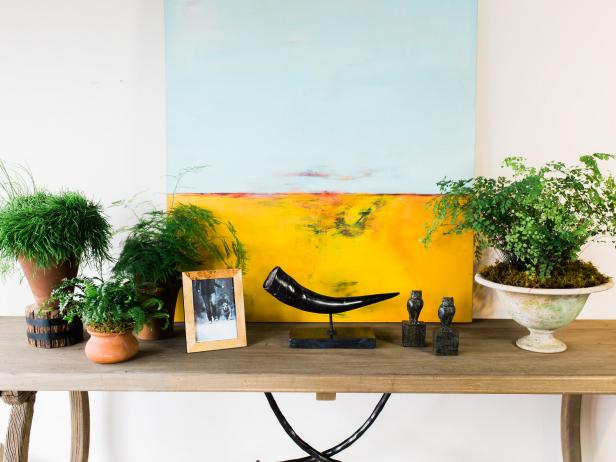 Ferns and Indoor Plants on Console Table
Add interest with textual ferns and plants that bring the gardens indoors during the winter months. A Boston fern (front) joins a Rhipalis (wood riser) and feathery plumosus fern (back left), on a console table styled by Karin Jeffcoat of Cote Designs, a floral and event studio in Aiken, S.C. A maidenhair fern is on the right. The painting is by Dixie Purvis; the furniture is from Nandina Home & Design.
Casto Photography & Cinema
Fragrant Plants For Your Foyer
Succulents are stylish and easy to care for, making them the perfect plants for a small space. We love the way this rustic, wooden flower-box works in tandem with its gold, metallic counterpart for an eclectic look.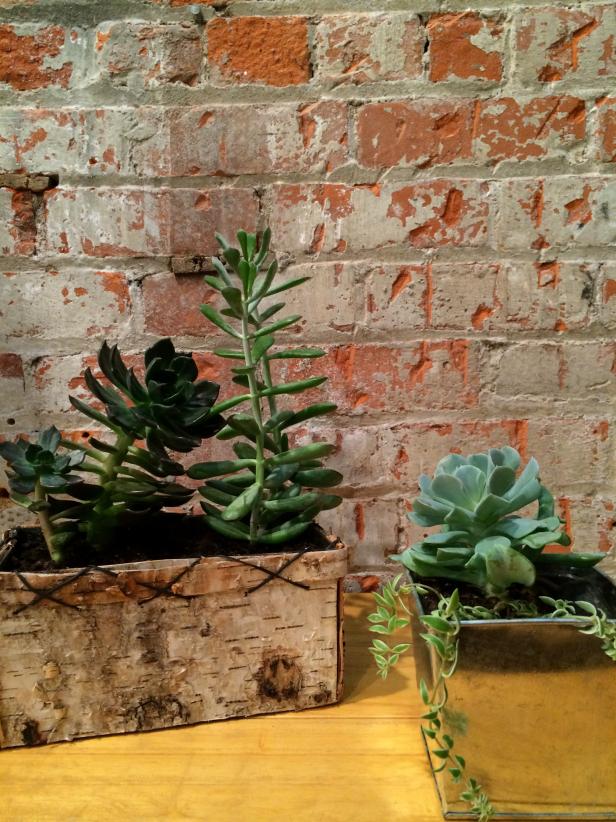 Succulents in Planters
Incorporate succulents, such as Haworthia minima (left), a small evergreen plant with hard, fleshy blue-green leaves that are covered in white tubercles. It produces white flowers with pink tips. Blumz by JRDesigns, a floral and event design company, has placed it beside a potted cactus.
A colorful cactus and pair of succulents work together to give off fresh, bohemian vibes. This little trio looks especially cool in terra cotta pots against this white-washed brick wall. Bonus? They are small enough to fit just about anywhere in your space.
Place a plethora of your favorite plants into a lengthy window box. To ensure they remain healthy, select a variety of plants that require the same amount of sunlight and water.
How-To Water Plants While Away
Want to make a big, garden-green impact without the hassle of tending to a ton of tedious plants? This Fiddle-Leaf Fig tree delivers — big time. It's glamorous and exotic leaves add a heavy dose of style to any space. Simple situation your tree in bright, indirect sunlight and water when the topsoil becomes dry.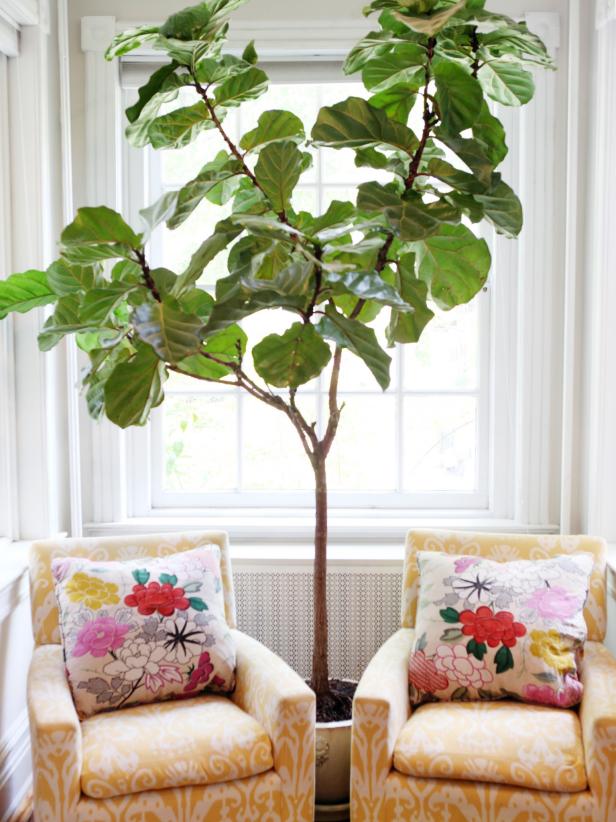 Yellow Ikat Chairs with Fiddler Fig Tree
In this seating area, a fiddler fig tree creates a focal point behind yellow Ikat chairs and the floral-print pillows.