Color Trends: Decorating With Orange
If you're looking to add a punch of energy to your space, then orange is your color. Check out these room designs and learn how to infuse your home with orange to create a vibrant space full of warmth.
Warm colors like orange give off an energy and intensity unmatched by their cooler cousins. Use these hues in spaces where you anticipate and want activity, like an outdoor living room.
Contrary to popular belief, adding color to a room without a lot of natural light helps brighten the room and makes it feel larger. In this living room makeover, designer Kim Myles uses several colors, including a warm orange and lime green, to expand the space.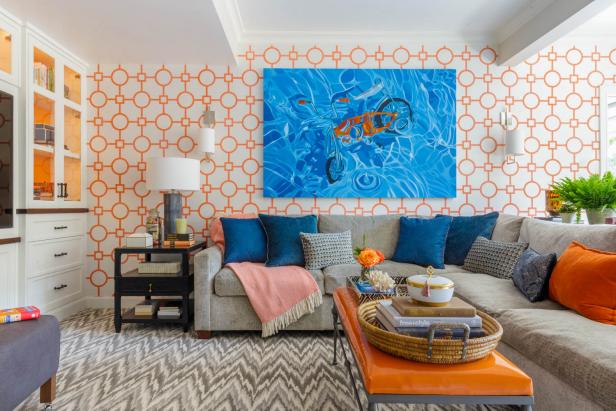 Media Room Pops With Refreshing Color, Artwork
Mixing complementary hues creates a stunning color palette.
David Duncan Livingston
Mixing complementary hues creates a stunning color palette.
One of the best ways to show off a color is to combine it with its complementary hue. In this media room, designer Annie Lowengart uses orange and blue, which sit across from each other on the color wheel, to create a vibrant, energetic living space.
Not quite ready to take the plunge into orange? Add pops of the hue with accessories. In this design, designer David Bromstad uses brightly colored orange pillows in different patterns to contrast the neutral furnishings.
Since orange is the color of the sun, it's only natural that it creates a bright and warm atmosphere. In this tropical makeover, orange is combined with hot pink and yellow, creating an analogous scheme, which means the colors sit next to each other on the color wheel.
To spice up this kitchen, designer David Bromstad paints an orange backsplash with a floral motif. Like its adjacent color red, orange is known to stimulate the appetite, so it's perfect for a kitchen.
To highlight a neutral palette, add a splash of color. Designer Kim Myles uses deep browns and grays to create a relaxing bedroom retreat, but opts for a muted orange to add color as a subtle accent.
Orange is ideal for highlighting the main focal points in your room, since it has a high visibility. Think outside the box when working with your fireplace and turn it into a real centerpiece. For this project, designer David Bromstad designed a facade that looks like a Shaker dresser to transform the look of the fireplace.