10 Things You Must Know: Accent Lighting
The right illumination can change the look and feel of your home. Check out these tips on where and how to place accent lighting.
Tip 1: Light only what you want to see.
Through lighting, you have the ability to direct attention on the things you want people to notice in your home. Lighting can amp up visual drama like nothing else.
Tip 2: Try backlighting or uplighting.
Place a light below or behind an accent wall, a striking piece of art or another object, which gives it added presence and a glamorous halo effect.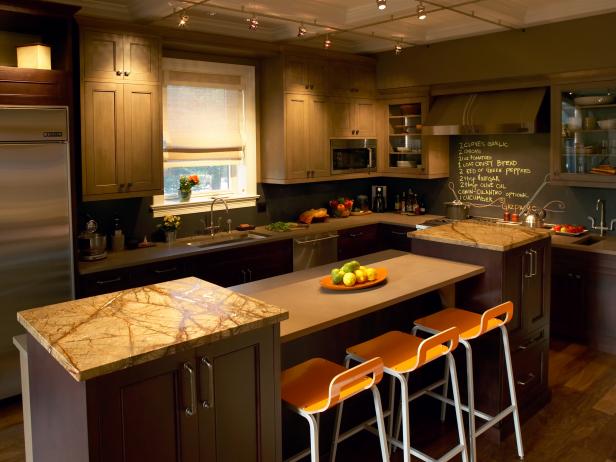 The idea behind a layered lighting design is to have a variety of light levels available at your fingertips. "Dimmers and switches are the most economical way to coordinate lighting levels," says Rey-Barreau. "For about $20 per layer, you're able to do most anything to modulate the mood and environment." Whitehead recommends implementing zones, wherein each layer of lighting is on a different dimmer for easy adjustability. Photo courtesy of Lutron.
Tip 3: Dimmers can brighten your life.
Dimmers make it easy to control lighting. The dimmer gives the option of having lights all the way up or all the way down. It saves electricity and the life of the bulb. Learn how to install a dimmer switch, it's easy.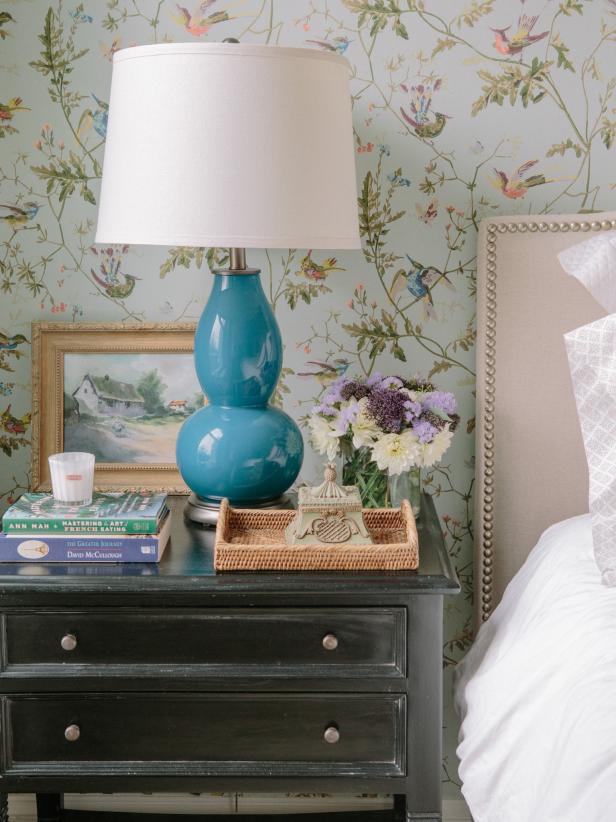 Turquoise Lamp In Cottage Bedroom
An upholstered headboard and black nightstand play against the whimsical and elegant Cole and Sons wallpaper. The turquoise lamp adds a pop of color.
Tip 4: Don't forget about lamps.
If you're uncomfortable permanently changing the lighting in your home, you may want to try using lamps to light the space. There are many decorative choices with no installation required.
Tip 5: Install directed lighting to highlight certain areas.
Using lighting to draw attention to focal points of a room can really make the difference.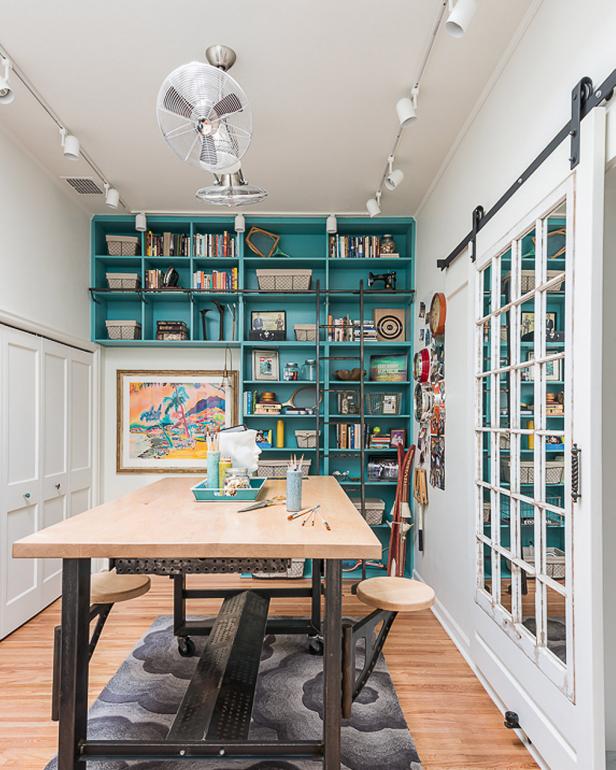 Eclectic Crafts Room With Turquoise Booksehlf
Track lighting is perfect for performing tasks around the large crafts table, while a built-in bookcase stores supplies, books and art work.
Tip 6: It's easy to install track lighting.
The benefit of track lighting is that you have the ability to change the direction of its light. It's a simple installation that someone with little electrical knowledge can perform.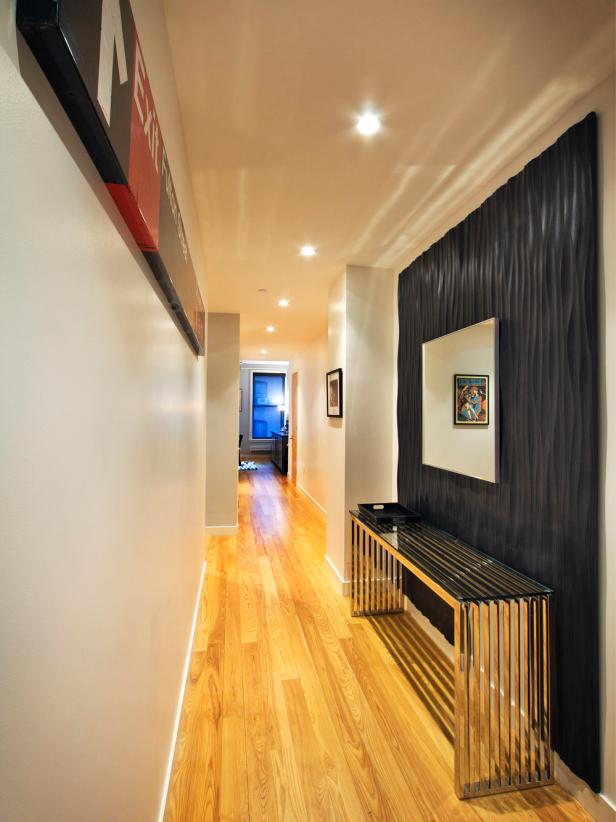 Entryway With Black Accent Wall & Metallic Console Table
A black accent wall makes a statement in this contemporary entryway. A striking chrome console table nestles against the accent wall with a mirror above to reflect light.
Tip 7: Hidden sources are more appealing.
Recessed lighting goes with any decor. The recessed fixture blends perfectly within the ceiling, and the homeowner doesn't have to go out and pick a fixture.
Tip 8: Good things come in small fixtures.
Using a smaller fixture can help cut utility costs. Engineers have been able to harness a small power source and amplify it to have the intensity of a much brighter light.
Tip 9: Know the difference between fluorescent and incandescent.
Incandescent lights can be found in most homes in America. Fluorescent bulbs are often found in offices; they last longer and are more energy efficient.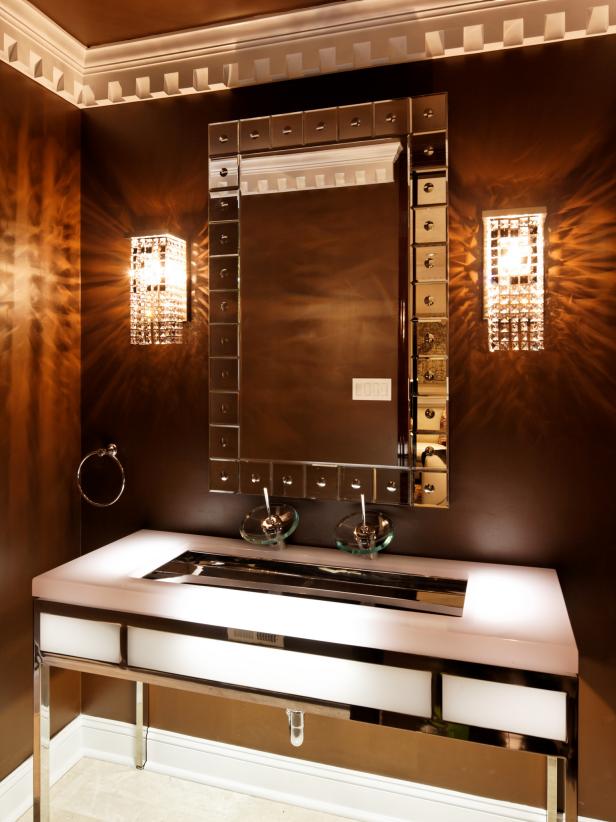 Brown Contemporary Bathroom With Glass Wall Sconces
Clean lines, sleek finishes and dramatic lighting define this contemporary guest bath. A geometric mirror and square beaded sconces mimic the lines of the dentil molding, and a lighted countertop on the metal vanity gives this glamorous space its edge.
Alan Goldstein, 2009 Alan Goldstein Photography
Tip 10: Less light can give you more impact.
Proper lighting is essential to creating the right mood and really brings a home all together in the end.