Increase Your Home's Value
Only select home-improvement projects offer a reliable return on your investment of cash and sweat equity. We break down the remodels that pay off the biggest in raising your home's value.
Compliments on your remodeling efforts are always a welcome payoff, but nothing beats seeing your home value rise as a result of your hard work.
It can be tricky to determine which home improvement projects are worth the sweat and which aren't. To gain the most from your improvements, select projects that do more with what you already have.
Kitchen and bath updates
Replacement of exterior siding
Fresh interior paint
Rejuvenation of landscaping
Less-profitable projects share one of three flaws: they cost too much, they involve a space that isn't used every day or they reflect too much of your personal taste.
Projects that won't raise your home's value include:
Turning a spare bedroom into a home office
Conversion of a garage into a family room
Screening an outdoor room
Adding a deluxe kitchen upgrade into anything but an upscale home

Take a look at the sweat scale and see how some of the most popular home improvements rate:
$ - You'll break a sweat trying to break even at resale.
$$ - Probably not worth the sweat you'll put into it.
$$$ - Sweat the cost or style details to make money on this project.
$$$$ - A good bet for turning the sweat of your brow into sweat equity.
$$$$$ - You'll be making money before the sweat dries.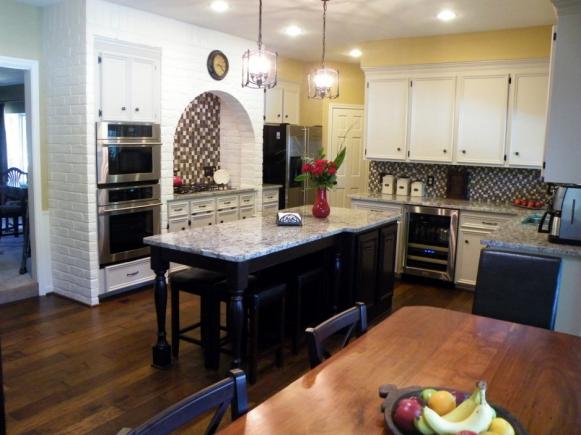 stage-right-traditional-kitchen
Act as your own contractor and designer, but know when to hire an expert. RMSer stage_right and family complete an entire kitchen remodel for under $20,000 by doing almost all of the renovations themselves. They let the pros handle the granite countertops and floors.
Kitchen Update
$$$
Doing a kitchen update instead of a kitchen remodel is like getting Botox instead of a facelift – it's cheaper, it's faster and it can hold you over for years. Got a kitchen so outdated that Martha Washington would be comfortable cooking there? Go for the full-blown remodel.
"If you have to overhaul the plumbing and wiring or you have galley kitchen that can be transformed into an open kitchen, go ahead and completely re-do," says Realtor Maggie Sanders, an agent with Coldwell Banker Residential Real Estate, Inc., Naples, Florida.
For the biggest returns, focus on simple, inexpensive modern touches: recessed lighting, updated pulls, new plumbing fixtures, a solid surface countertop and tile or resilient flooring.
Bathroom Update
$$$$$
If you want to build real sweat equity, forget the bidet and the hand-blown sink when you remodel your existing bathroom (unless you live next door to Paris Hilton). Keep the plumbing where it is and focus on updating outdated fixtures. Strip the bath to the studs and put in a porcelain-on-steel tub with a tile surround, a tile floor, a durable solid-surface vanity, updated lighting, fresh plumbing fixtures and a new toilet.
"If you have a small bathroom, do a shower only and no tub," says Real Estate Broker Mark Riley of Mark P. Riley Luxury Real Estate Group, Sarasota, Fla. "Slate colored tile will add allure, luster and an expensive look to a bathroom. It looks great with brushed nickel fixtures.
Replacing siding
$$$$$
Give your house a new outfit by replacing the siding and you'll reap the rewards at resale. According to the National Association of Home Builders' Cost vs. Value, replacing 1,250 sq. ft. of vinyl siding and trim returns 95.5 percent of cost – and that's the cost when a contractor does it for you. Upscale siding made from either fiber-cement boards or cellular polyvinyl chloride (PVC) lumber has an even more astounding 103.6 percent return.
Subtract the cost of the contractor from the profit equation and you could actually make money installing your own siding before you sell your home.
Interior Paint
$$$
Painting can be a great investment in your home or a horrible mistake. It all depends on the color you choose. Pick right and you earn a big payoff. Pick wrong and you devalue your home.
Don't think you can escape the issue by painting the walls white. "Too often, homeowners think it's best to paint the house all the same color, but there is no pizzazz with white walls," says Realtor Lynn Anderson of ZipRealty, East Bay, California. "Soft, muted colors such as pale green or muted beige with white baseboards can still be neutral while greatly improving the look and feel of each room."
Rejuvenate Landscaping
$$$
Your house never gets a second chance to make a first impression. Shabby shrubbery and a patchy lawn make people assume the inside of your house looks as bad as the outside.
"Keep improvements on par with the other homes in your neighborhood," says Pam O'Connor president of RELO/Leading Real Estate companies of the World. One RELO client in Atlanta transformed his large backyard into a soccer field. "When he sold the house, the owner didn't recoup his investment because the new owners didn't care for his choice of landscaping," she says.
Stick to the basics. Trim or replace overgrown shrubs, plant colorful flowers to highlight your home's best feature and install a new front door, garage door and mailbox, if necessary.
Screened Room
$
Turning a deck, porch or carport into a sunroom or screened patio creates a great space for entertaining, but it won't add equity to your home. In fact, you can't even count that additional square footage as part of the house unless it's insulated, heated and cooled for year-round use, points out Realtor Nancy Jones, an agent with Hunt Real Estate ERA, Williamsville, NY.
"A nice sunroom addition on a great house in a highly saleable neighborhood could add some value," she adds. "In other areas, it's just extra space and is not going to net you much more on the sale of your home."
Deluxe Kitchen
$$
Do custom kitchen cabinets, built-in warming drawers and professional-grade appliances call your name? Tell them to call someone else.
Unless you're in a very high-end neighborhood, stay away from professional appliances and stone countertops. An average upscale kitchen remodel costs nearly $82,000 nationally and returns only about $70,000 at resale, according to the National Association of Home Builders.
The typical rule of thumb is to spend no more than 15 percent of the value of the house on the kitchen, but that figure includes the cost of the contractor and doesn't apply to every home. "You have to be careful, because some markets won't bear 10% to 15% of the value of the house," warns Real Estate Broker Mark Riley of Mark P. Riley Luxury Real Estate Group, Sarasota, Fla. "If you use 10 percent of a $250,000 house, that's a nice, but not high-end kitchen."
Wallpaper
$
Thinking of putting up wallpaper anywhere in your home? Be prepared to pay for your wall covering at the wallpaper store and again when you sell your home.
With so many patterns from which to choose, the chance of a home buyer having your exact taste in wallpaper is slight. If you're in a real estate market where prices are slipping and sales times are increasing, wallpaper can sabotage your efforts to build equity, so get rid of it before you sell.
"In this market, I've seen sellers having to credit the buyer for a few thousands dollars to cover the cost of removing wallpaper and wall treatments," says Susan Huerta, an agent with Long & Foster Real Estate, Clarksville, Maryland.
Home Office
$$
If you work from home, converting a bedroom into a home office may be a necessity. But you won't add value to your home by installing custom cabinets, adding a laminate desktop and wiring for telecommunications equipment, according to the National Association of Home Builder's Cost vs. Value survey.
The average home office remodel costs $13,143 nationally and recoups $9,569 at resale, returning 72.8 percent. Still, if you divide the loss over the 260 work days a year you're sitting in that home office, it's only about $13.75 a day – less if you keep the house more than a year.
Garage to Family Room
$
Converting a garage into a family room can backfire when it's time to sell your home. "I've had clients turn down houses that are good deals and otherwise perfect for them because they had only a one-car garage," says Susan Huerta, a Realtor with Long & Foster Real Estate, Clarksville, Maryland. "People want three-car garages now, so a home where the garage has been converted can be a tough sell."
If you do a conversion, be sure to pull the proper building permits. "Buyers have been known to back-out if remodels are not done to code," warns Lynn Anderson of ZipRealty, East Bay, California.
The only time a garage conversion makes sense for future return if when you have room to build a detached garage, adds Mark P. Riley of Mark P. Riley Luxury Real Estate Group, Sarasota, Florida.
-Dona DeZube, a serial renovator and freelance writer, lives in Clarksville, Md.