Maintaining a Fireplace and Chimney
Learn proper fireplace and chimney maintenance along with a few extra suggestions before and during the cold weather months.
Check the chimney flashing. Check the bricks and mortar to make sure they are intact.

Remove any plants or moss growing between the bricks.

Check the chimney crown and fill any cracks or gaps with cement patch.

Remove the chimney gap and check the flue liner for damage or obstructions.

Check the fireplace for cracks or damage to the firebox.

Look up the flue liner to look for creosote buildup.

Remove the ashes with a flat shovel and dispose in a metal bucket. Ashes can be scattered on compost pile or in the garden.

Have the fireplace professionally cleaned every year.

Check the damper for proper operation.

To clean stains in the firebox use chemical cleaner with a metal brush.
The idea that stuffing fiberglass insulation into cracks will stop air filtration is a common misconception. Fiberglass is a good insulator and makes a great furnace filter, but it doesn't stop air infiltration. It may slow it down some, but caulk or closed cell foam is the best way to stop air filtration.

Check in the crawl space to make sure the insulation is intact and that no critters have set up winter camp.

It is always a good idea to replenish flashlight batteries. Winter brings ice storms and power outages.

Test the smoke alarm and replace the batteries if they have not been changed in a while.

Stock up on winter supplies before the first big snow storm arrives – a good snow shovel, ice melt and scrappers.

And finally, after a big snow, check around the attic and basement for leaks.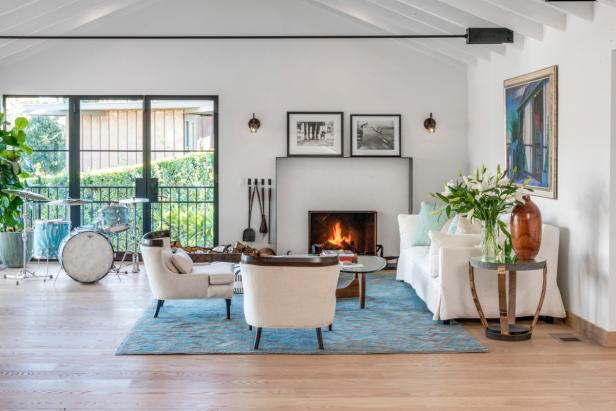 Bright Transitional Living Room With White Themed Decor, Blue Accents and Created Fireplace Surround
A metal piece frames the fireplace creating a fireplace surround and mantle storage. Gorgeous white walls and white ceiling beams are echoed with a white sofa and white chairs with wood top for a bright look. A rug, drum set and wall art add blue color accents to the room.