How to Tune Up an Old Bike for Summer Rides
Cruise on all summer long when you follow these tips for maintaining and taking care of your bicycle.
Get in the habit of doing easy tune-ups on your family's bikes both big and small, old and new, and gear up for a fun summer with a well-maintained ride. While much bicycle maintenance falls into the realm of DIY, we'll also share when repairs are better left to the professionals. Learn more about basic maintenance, and appreciate the mechanics of bicycle ownership.
Check Tire Pressure and Treads
Always make sure the tires on your bike are in good condition before a ride. Use a pump to fill them to the recommended PSI – higher for road tires and lower for mountain bike tires – and then test them out. Check the air pressure again after a few hours to monitor and make sure the pressure is stable.
Are you missing valve caps? Those are inexpensive to replace, and serve to keep dirt out of the valve stem. Keep a few extra on hand since they're the most frequently lost accessory on bicycles (and vehicles, for that matter).
If your bike is especially well-traveled, you may find it's time to replace the tires. Warning signs are both visual and performance-based, such as:
the tires might be leaking (a reoccurring flat tire is a sure sign)
treads seem especially worn down (more rounded, less grip)
the bicycle won't handle as well (You might notice that it feels different around turns on wet roads or across gravel).
That said, choosing tires isn't just a factor of the rim size of your bike. It has a lot to do with how you ride your bike and where your adventures take you. If you don't know the difference between tires, consult with a professional who will be able to match your bike with new tires based on your activity level and style.
The easiest way to make an old bike look refreshed is by giving it a good wash. A bike is too sensitive for a hose or pressure washer, so use a toothbrush and a microfiber cloth and gentle soap (such as car soap) to lift dust, pollen, and dirt from the surface of the frame without risking damage to minute inner workings. If stickers are peeling off, remove them entirely to clean up the look of the frame. Use an adhesive remover to rid the frame of any sticky residue.
Apply a protectant and polish to metal areas. Long-term care will help prevent rust and will make it easier to keep clean.
If your bike has a matte finish, refer to a professional for a product referral that won't add a shiny top coat to the paint.
Fine-Tune the Seat and Handlebar Height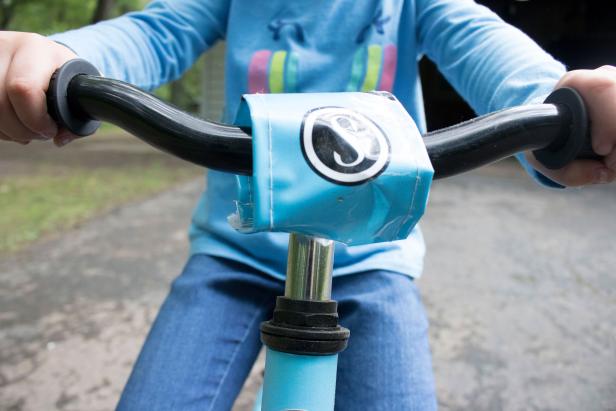 How to Repair and Maintain a Bicycle
Get tips for bike maintenance, and learn how to tune up and make simple repairs to keep your ride smooth.
Especially noteworthy for children's bikes, you'll want to start every season with a close look at the seat height as well as the height and angle of the handlebars. Adjust as needed to accommodate for any change in height and for their comfort and safety.
Are the parts stuck? Spray the affected posts and tubes with a lubricant to help loosen a tough connection.
Adjust the Tension of the Brakes
Over time, you'll notice the brakes may be underperforming. The hand brakes may squeeze in almost to the handlebar, as though they don't want to slow the bike easily or quickly. You may also notice that the brake may be rubbing against or damaging the rim. There are two easy ways to adjust the tension of your brakes.
First, focus on the barrel adjusters of your hand brakes. Loosening the nut and sliding the barrel further out of the brake housing fine-tunes the tension. Tighten the nut again, and give the brake a squeeze. The brake handle should have more resistance now and should activate the brake pads to grip the rim. Repeat this on both the left- and right-hand brakes.
Second, if barrel adjustments aren't enough to give you stopping power, turn your attention to the V-brakes which pinch both the front and back rims. The V-brake has a brake cable that can be manually tightened. The cable is pinched on the brake with a bolt. If you loosen the nut and bolt and adjust the positioning of the cable, you'll affect how loose or tight the brake pads sit around your rims. Pinch the brake cable back down and give the handbrake a squeeze to put your brakes back in shape.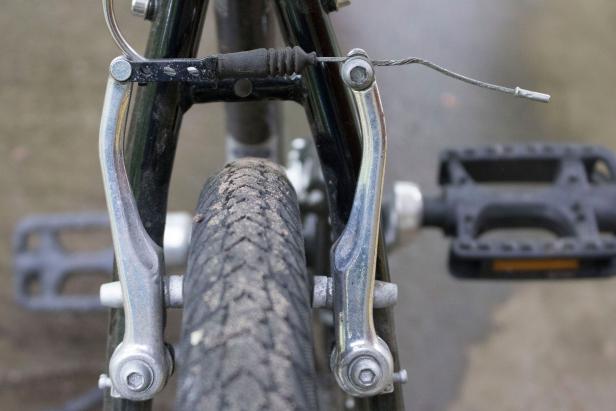 How to Repair and Maintain a Bicycle
Get tips for bike maintenance, and learn how to tune up and make simple repairs to keep your ride smooth.
Clean (or Replace) the Brake Pads
If you checked the tension of your brakes, check to see if the brake pads need to be cleaned or replaced completely. The rubber of the brakes will wear down over time, making them less effective, just like on any vehicle, and you're going to have to swap them for new brake pads once they're low. I've had to replace the brakes on my kids' bikes more often because we buy them used and brakes are one of the first things to wear out. Kids are also more reliant on the brakes, often coasting downhill riding with the pads against the rim. Make sure to check your children's bikes more frequently since they may not realize when the brakes are due for repair.
Fortunately, swapping brake pads is a relatively easy thing to do yourself by loosening the cable, removing the wheel, and swapping in new pads (they're just a few dollars). Reassemble the bike, adjust the tension of the V-brake and barrel, and give it a spin.
Lubricate, Clean, and Degrease the Chain
The chain is the hardest-working component on your bike, and it deserves extra attention. Lubricating the chain is important for maintaining performance and helping prevent rust.
Use lubricants only formulated for bicycles – it's different than other types. If you ride during the winter or rainy days, choose a wet lubricant. If you're a sunny day bicyclist, choose a dry lubricant. If you question if you're choosing the right product, ask a pro.
Begin by cleaning off the chain with a cloth spritzed with degreaser. Once it's free of dirt, add lubricant. Make sure it comes into contact with the full chain, including each chainring. To do this, drip the lube onto the chain while backpedaling the bike by hand. After you've dripped onto the chainring, continue to backpedal the chain to distribute the lubricant throughout the chain.
Too much lubricant isn't a good thing (It's a magnet for dust and road debris, and it can even splatter all over your bike), so use a clean cloth to remove any excess before you take it out on the road.
If the chain is rusted, take the old chain to a shop and match it to a new version of the same product. While you might need help getting paired with a match, removing the old chain and replacing it with a new one is an easy DIY.
Leave These Repairs to the Pros
You can learn how to replace the inner tube on your tire (It's certainly a valuable skill to have if you're an active bicyclist), but it's better to watch a professional do it first.
Is the bike becoming hard to shift? You may need to repair the gears. A professional can help pinpoint any problems for you.
If you need to replace brake housing or cables, best leave it to the pros. Brake pads and minor adjustments are a breeze, but cable adjustments are a bit more intricate.
For both children's and adult helmets, check fit and positioning of the straps routinely to ensure safety while you're enjoying your ride.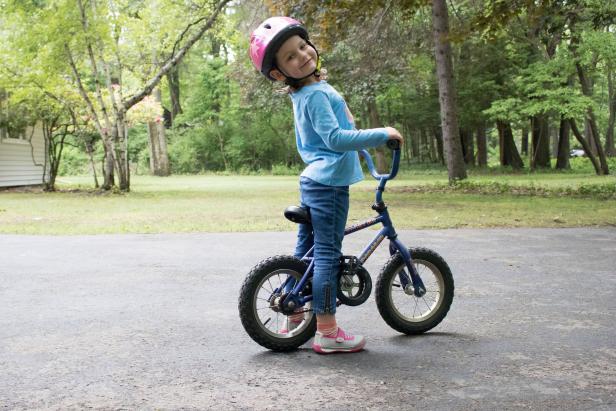 How to Repair and Maintain a Bicycle
Get tips for bike maintenance, and learn how to tune up and make simple repairs to keep your ride smooth.