10 Tips for Maintaining a Wood-Burning Fireplace
There can be many advantages to using a wood burning fireplace. Among other things, it can save money on heating costs and supplement your main source of heat.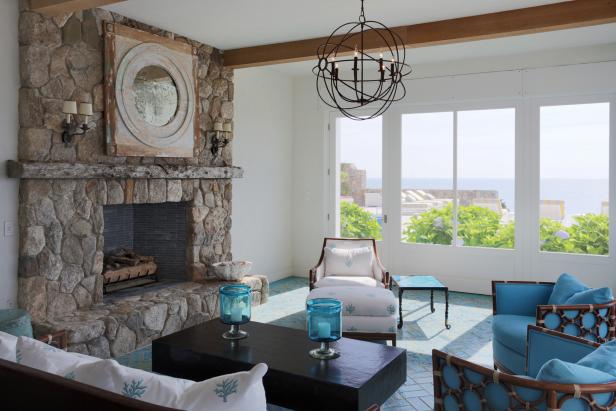 Relaxed Sunroom With Rustic Decor
The sunroom features painted brick floors, unadorned windows and a rugged fireplace surround. A mixture of rustic decor and tropical furniture creates a down-to-earth aesthetic that is perfect for this relaxed space.
Robert Paul Properties, a member of Luxury Portfolio International
When bitter cold winter winds blow outside, nothing beats the warm crackle and glow of a wood fire in a fireplace inside. Maintaining your fireplace regularly will ensure that it operates in the safest, most efficient manner possible.
If improperly installed, operated, or maintained, wood burning fireplaces are potential sources of house fires. Embers popping out of an unscreened fire or chimney fires from creosote build-up are just two of the hazards that can be avoided with proper use and care. Wood burning fireplaces can also negatively affect indoor air quality. According to Burn Wise, a program of the US Environmental Protection Agency, "Smoke may smell good, but it's not good for you." Any smoke escaping from the firebox into the room means the fireplace isn't operating properly. Also, since fires consume a large volume of air as they burn, it's possible to create negative pressure in the home as air from outside is drawn indoors to replace the air consumed by the fire. If that "make-up" air is drawn back in through the flues of gas- or oil-burning furnaces and water heaters, it can also draw deadly flue gases, like carbon monoxide, back into the home. This is called "backdrafting" and is one reason all homes should be outfitted with working, well-maintained smoke and carbon monoxide alarms.
Ashley Eldridge, a veteran chimney sweep and director of education at the Chimney Safety Institute of America (CSIA) says, "Safety is the best reason to have a professional chimney sweep inspect, clean, and test any fireplace when you move into a home. While it is possible for homeowners to clean and maintain their own fireplaces and chimneys, it's unlikely that they possess the requisite knowledge or experience to spot all potential problems during an inspection."
Find a certified chimney professional through the CSIA.
Fireplace and Chimney Elements
Most wood-burning fireplaces are built of heavy masonry materials on solid foundations with masonry chimneys. Some are factory built and have special triple-wall, stainless steel chimneys.
One common masonry type is called a "Rumford" fireplace, after the 18th century British Count Rumford who developed the design. Rumford fireplaces were much better at removing smoke from a fireplace and heating a room than their predecessors. The design has stood the test of time – Rumford-inspired fireplaces even outperform some newer, modern designs.
A masonry fireplace's firebox is built with special, heat-resistant firebrick, and the interior of the chimney is lined with heat-resistant, square clay tubes, called "tiles." The visible parts of the chimney, hearth, and fireplace are typically made of non-combustible materials like standard brick, stone, or tile. The chimney is sometimes capped with a metal or stone slab to keep rain and snow out, as well as screen to keep birds and animals out of the chimney. Eldridge says the screens serve another use, too: "The screen also acts as a spark arrester, containing any embers which happen to make it all the way up the chimney to the top."
A small, cast-iron door, called a damper, is installed just over the fire, leading to the chimney, and is operated by an attached handle. It is closed while the fireplace is not in use and opened when a fire is lit. It can also be used to control how much air flows through the firebox to feed the fire, which helps regulate how intensely the fire burns. It's common for fireplaces to have a screen or mesh guard, which keeps embers from popping into the room when a fire is burning. Sometimes fireplaces have glass doors, which should be left open when the fire is burning, but which can be closed when the fire is reduced to embers or when there is no fire burning, to reduce unwanted airflow up the chimney.
Many fireplaces will also have a raised fire grate, which elevates the fire to allow better airflow and combustion, and an ash-dump door on the floor of the firebox, both made of cast-iron. The ash dump allows cold ash to be swept into a chamber below the firebox, usually into an enclosed chamber in the fireplace foundation in the basement. There, the ash can be accessed by another small, tight-fitting metal door, where it can be removed without getting the finished living area dirty.
While the masonry firebox is the most common type, some fireplaces are outfitted with special metal inserts to allow for more efficient, cleaner burning of wood. Many times inserts include fans which circulate air from the living area around the outside of a sealed firebox, making the fire a more efficient heater of living spaces. This makes a wood-burning fireplace work more like a wood stove.
Andy Dean for PacificEnergy.net
A wood-burning insert can increase the efficiency and heating capacity of a fireplace while emitting less pollution.
Before lighting a fire, the damper is opened to allow smoke and combustion gases to escape. Once the fire is lit, the extremely hot combustion gases begin to rise up the chimney by convection. At the same time, the fire is drawing air from the home for combustion. As the flame stabilizes, the hot, deadly combustion gases continue to be drawn up and out of the top of the chimney, drawing fresh air in for combustion at the same time.
Once the fire dies and the ashes are completely cold, the damper is closed to avoid unwanted loss of heat from the home. Then the ashes can be cleaned from the firebox or delivered to the ash dump through a door in the floor of a masonry fireplace.
CSIA's Eldridge says, "Generally speaking, an open fireplace is not an efficient space heater, due to the fact that the chimney draws not only the hot combustion gases up and out of the home, but conditioned air from the home as well." Much make-up air is frigid air drawn in through cracks and gaps in the home, making the house feel cold and drafty. Installing a pipe between the outdoors and the fireplace to bring in make-up air directly avoids both the discomfort of air-infiltration through cracks and gaps and the potential danger of backdrafting due to insufficient available combustion air.
Fireplaces can be made somewhat safer and more efficient by installing glass doors. This adds a layer of protection while also more carefully controlling airflow to the fire. However, even a fireplace with glass doors has fairly poor heating efficiency. Installing a high-efficiency, EPA approved, metal fireplace insert makes the fireplace behave more like a woodstove. This way, a fireplace can be converted to become a cleaner, more efficient source of heat than a traditional fireplace and can save the homeowner money on heating bills.
Maintaining Your Wood-Burning Fireplace
Remove ash from the firebox either via the ash dump or straight from the firebox once the fire is completely out and the ashes are cold. The ash can be sprinkled on flower beds as a good source of plant nutrients.
Sweeping the chimney and performing an annual inspection is the most important part of maintaining your fireplace and chimney. Over time, the chimney can become coated with soot and creosote, which are byproducts of fires that aren't burning efficiently. Once the coating builds up enough, it can potentially catch fire in what is known as a dangerous "chimney fire." Eldridge explains why a chimney fire can be so destructive: "While the firebox is built with firebrick and intended for direct contact with fire, everything above the damper is designed to withstand only hot smoke and gases from the fire, not fire itself, so a chimney fire can cause serious damage." The chimney should be swept when creosote build-up is 1/8-inch or more and at the end of the season. The sweeping should be done before summer, because humidity in the air can combine with creosote to form acids which can damage masonry and result in strong odors.
When the chimney is cleaned, a drop cloth is laid down on the hearth and into the room. A respirator is worn to protect the sweep from breathing the soot and creosote dust, which can be harmful to their health. Then metal or plastic chimney brushes and tools are used, along with a vacuum system, to brush the soot and creosote off of the interior walls of the chimney and the damper ledge. The chimney cap is also inspected and cleaned of creosote. Occasionally, a chemical cleaner may be used.
At the same time the chimney and fireplace are cleaned, they're inspected to be sure there are no serious cracks in the firebox, chimney or liner, no loose or missing bricks or mortar, that the damper is positioned and working correctly, that the chimney cap is in good repair, and that the chimney is structurally sound.
Tips for Keeping Your Fireplace Well-Maintained
Install smoke and carbon monoxide alarms and keep them in working order.
Keep combustible materials like carpets, drapes and furniture away from the fireplace when a fire is burning. A guard in front of the fireplace will help keep children and pets from harm. Be sure there are no combustibles within 12 inches above the lintel (the metal plate at the top of the fireplace opening), including things like a wooden mantel.
Clean ash from the fireplace whenever it reaches the bottom of the grate, where it can impede airflow (an inch of ash in the fireplace will actually make it easier to maintain a fire). Wear a dust mask and gloves for safety.
Have your wood-burning fireplace and chimney cleaned and inspected by a certified sweep at least once a year, at the end of the burning season, or more often if you notice creosote and soot build-up over 1/8-inch on the inside of the chimney. The Chimney Safety Institute of America, a nonprofit formed in 1983, lists almost 1,500 chimney professionals in 49 states that actively carry the Certified Chimney Sweep credential.
Test out the function of your fireplace by lighting a few small pieces of seasoned wood, lit from the top down. If smoke doesn't exit vertically from the fireplace into the chimney, but enters the room, immediately troubleshoot and correct any problems. These can include creosote/soot build-up, other debris in the chimney like bird or animal nests, a damper that is closed or partially closed, or wet wood that isn't burning well.
Burn only seasoned, not "green," wood. Seasoned wood is wood that has been cut and dried under cover for at least 6-12 months, registering less than 20% moisture with a meter. Split wood dries more thoroughly and burns better than whole logs. Well-seasoned wood makes a sharp ringing sound when two logs are knocked together, while green wood makes a dull thud. Green wood will not burn as thoroughly, creating more soot and creosote.
Burn hardwoods, not soft woods. Hardwoods like oak, ash and maple are denser and heavier, delivering more heat than lighter softwoods like pine, poplar and cedar.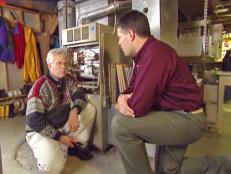 It's possible to improve a home's energy efficiency without hiring a professional. Paul Ryan, of DIY's Home Energy Savings , offers tips on how to perform an informal energy audit.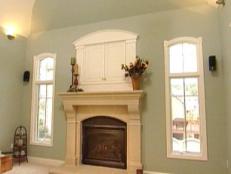 Gas fireplaces are a great way to add warmth and comfort to a space. Much like wall furnaces, gas fireplaces come on and off with a wall switch and can be controlled by a remote.