DIY Tricks for Maintaining and Cleaning Upholstery
Do these few simple things to keep your furniture clean, so you don't have to resort to bringing in the professionals.
Learn how easy it is to keep your furniture and upholstery clean with a little bit of preventative maintenance and extra care. Follow these tips, and you may never again need to hire professionals or rent expensive equipment.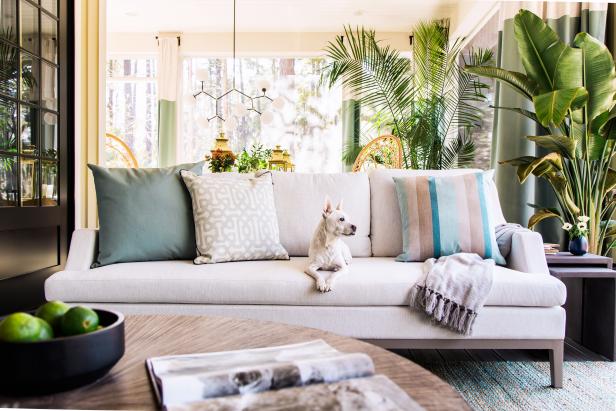 Peace and Quiet
This streamlined sofa in neutral upholstery feels luxurious and anchors this calm and relaxing oasis making it the perfect place to enjoy a sunny afternoon.
Vacuum and Dust Furniture – Often
Keep dust, dirt or crumbs on upholstery at bay by making it a habit to vacuum most fabric surfaces with an upholstery attachment. This helps to lift general crumbs and dirt that was transferred from the floor onto the fabric surface (thanks, socks). A quick vacuuming helps to keep the dirty stuff from becoming more embedded, and also helps to prevent it from becoming an agitator – like sandpaper – which can cause the areas you sit or place your feet show signs of wear faster than other areas.
If you're maintaining leather, dust it routinely with a soft cloth.
Fabric sofas can also be cleaned with a soft bristled brush, such as the brush that comes with a dustpan. Buy a brand new one and reserve it for use on only upholstery rather than sharing the one you use when cleaning your floors.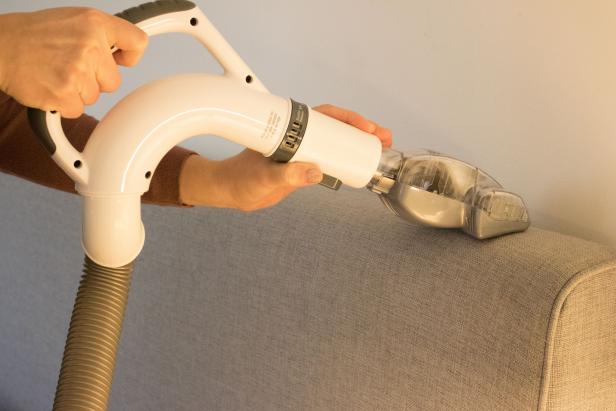 How to Clean a Fabric Headboard
Vacuum a fabric headboard weekly to keep it dust free.
Flipping the base cushion(s) and rotating loose throw pillows or back pillows on a sofa will prevent uneven wear on the surface of the upholstery. If you always sit in the same spot, switching up the cushions will also help to prevent the foam or inserts used from developing the dreaded butt dent.
Clean Spills or Marks as Soon as Possible
Keep a bunch of clean, white absorbent cloths handy for spills. When a spill happens, the first course of action is to absorb, do not rub, especially colored liquids like juice or wine. When you've absorbed as much as possible (don't stop trying until your white cloth is no longer picking up the color of the spill), spot treat the fabric. Most store-bought treatments will advise how you should continue to clean the spot after application to absorb additional pigments of the stain. Spot cleaner is good, but it may still take some elbow grease.
Rubbing the spills and marks can agitate the fabric depending on the material. Durable fabrics, like car seats, may hold up fine when scrubbed, but exercise caution on cushions and pillows.
Invest in Fabric Cleaner (and Avoid Ordinary Multi-Surface Cleaners)
Mixed as a 50/50 ratio, it's inexpensive and convenient to keep a spray bottle of white vinegar and water on hand for lifting light dirt and stains.
For tougher stains, consider a stain stick (we've used Buncha Farmers on everything from stained cloth diapers to dirty upholstery with great success). Also, consider keeping a heavy-duty spot treatment spray in your cleaning arsenal. Early treatment of spills and dirt can prevent staining, and by having the right tools on hand increases the likelihood that you'll be able to tackle the situation all by yourself.
No professional skills are required to apply your own upholstery protector. Treating fabric early and then adhering to an upkeep routine is the best way to ensure that your upholstery will hold up to general wear and tear and clumsy spills. Products on the market are both inexpensive and simple to apply – sprays are most common. Always check manufacturer guidelines because some products may be damaging to silks or velvet materials, and when in doubt, test on a hidden surface.
If your upholstery is pilling, invest in a de-pilling comb or lint shaver to keep the fuzzies away. Keep signs of pilling to a minimum to help your upholstery look fresh and new.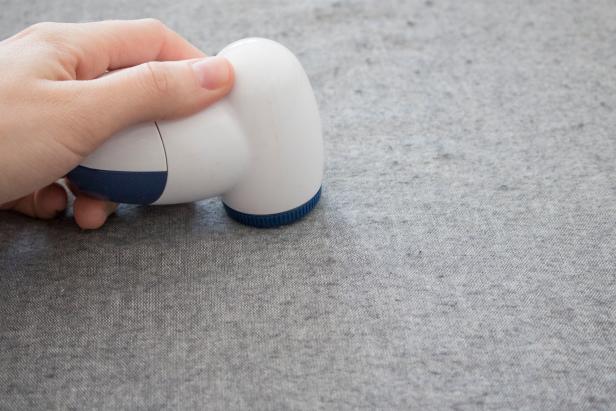 De-pill your Upholstery Fabric.
Maintain fabric upholstery by keeping it de-pilled.
Put Your Steam Mop to Use
If you bought a steam mop to clean hard floors, keep in mind that it might come in handy for cleaning upholstery, too. Always test on an inconspicuous area first, and bear in mind that a low-setting is usually powerful enough for most fabrics. Avoid use on silks. With a clean mop head, use the steam cleaning power to your advantage and do one to two passes over cushions, armrests, headrests, and other areas to lift embedded soil. Blot with a clean, white absorbent towel to remove dirt stains.
Be Diligent About Conditioning Leather Sofas and Chairs (2x/Year)
Simple maintenance for leather can help to keep the material smooth, supple and clean, and also help to prevent UV damage. Even with this routine maintenance, you should still dust your leather surfaces with a dry cloth periodically. Also, keep leather away from large windows and direct sunlight.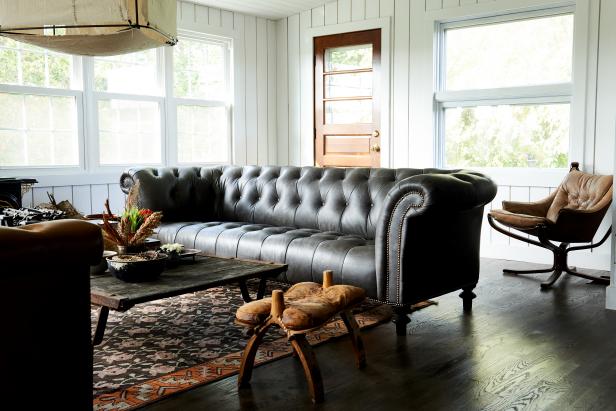 White Eclectic Living Room With Gray Sofa
In this living room, a casual backdrop of white paneling contrasts imaginatively with designer Leanne Ford's use of a more formal tufted leather sofa and Oriental rug.
Avoid Fabric Softeners and Opt for Air Dry
Even the most durable fabrics (like microfiber) will last longer when they're given the opportunity to air dry after being washed. Avoid fabric softeners, use "free and clear" detergents that contain no dyes and scents, and lay upholstery flat to dry or hanging on a line. Always check manufacturer guidelines about whether the upholstery covers on your pillows and furniture are machine-washable, and even still, proceed with some caution.
If very wrinkled, you can use an iron on light heat to reduce the presence of creases.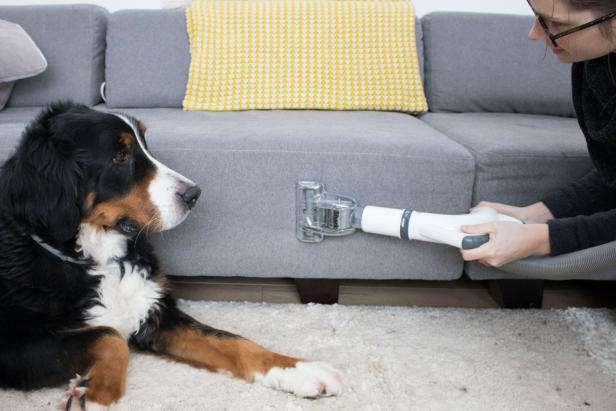 Vacuums For Cleaning Pet Fur
Find the best vacuum for managing and cleaning your home when it's covered in pet fur.
It's tough to lose the scent of pets or smoke from upholstery, but for fabrics that have been affected, start by airing the fibers out. A few days of fresh air will make a big difference. Next, sprinkle baking soda on the dry upholstery surface and allow it to sit for an hour. Vacuum it off completely, and then use a steam mop to assist in lifting the stains. A second or third round of fabric cleaning may be required for tough smells, and fabric cleaners in your arsenal are helpful at battling tobacco stains.