DIY Tips to Keep Boxelder Bugs and Ladybugs Out of Your Home
This three-step process will remove, deter and prevent bugs from entering your home.
Seasonally – and in many locations year-round – ladybugs, lady beetles and boxelder bugs are determined to make a home of your home. Before you resort to professional exterminators and chemical treatments, consider these DIY techniques to repel these pests and discourage them from returning.
Remove Bugs As You See Them
Crawling daringly across walls and window sills, up and down screens, behind furniture or along the edges of your room, ladybugs and boxelder bugs are notorious for making themselves comfortable. They're lovers, not fighters, and even though they might not be a bother to your everyday routine, they leave traces of their scent all around your home. The scents draw more bug traffic, rapidly increasing the level of infestation and make it harder to keep them away. Cleaning early is key, and it's easier to overcome an infestation if you are diligent at the first signs. Collecting the bugs is the first step of any clean-up process and the easiest way to keep the infestation at bay.
Avoid sweeping bugs (that'll just make them defensive and more prone to releasing scent). Instead, choose to vacuum the bugs – dead and alive. Vacuuming is the easiest and least stressful way to remove them from your home, however, remember that you'll need to clean the bag or canister regularly if they are collected directly into the machine. If left in your vacuum, the bugs that were alive will find their way back out into your home.
You can use an extendable vacuum wand to reach upper corners and narrow spaces. One tried-and-true method of collecting and containing the bugs is to slip a nylon stocking into the vacuum cleaner wand. Use a tight rubber band to secure the open end around the nozzle of the hose. When you are using the vacuum, you'll be able to collect the bugs into that stocking, but prevent them from going all the way into the bag or vacuum canister. When you remove the sleeve, release the bugs back outside, or knot the stocking closed and dip it into soapy water before tossing it in the garbage.
Be Proactive and Use DIY Deterrents to Reduce Re-entry
Using a spray bottle filled with soapy water is an effective way of targeting and killing bugs as they track around your home, but the solution itself won't act as a deterrent to prevent other bugs from following the scent trail. Eliminating the scent trail itself is difficult since bugs climb in through small holes and are often nestled in the walls out of sight, but you can use other scents as DIY deterrents.
Use a combination of natural defenses to deter ladybugs and boxelder bugs with scents:
Plant mums outdoors beneath windows, or even in window boxes in the fall months when bugs are beginning to seek warmth and protection. Bugs are deterred by the scent of those blossoms.
Use natural citrus in homemade cleaners, or apply a drop of citrus essential oil to spots in your home where you notice bugs in higher volume – specifically look at gaps in windows, around stonework, and around baseboards. Bugs aren't fans of citrus!
Add small sachets of herbs in areas of your home where these bugs tend to be in higher volume. Sage, whole cloves and lavender are easy to come by, and bugs hate the smell of them.
Evaluate Your Home to Address Points of Entry
Perform an annual review of the exterior of your home to see where bugs might be entering. Any holes in siding, gaps in window trim and cracks in the foundation are places that ladybugs and boxelder bugs will find and explore. Basement access points need to be monitored, too. If you have cracks in your foundation you should contact a professional before attempting a repair. But for most gaps around windows and doors, you can use a combination of winterizing products and caulk to help seal your home and make it harder for bugs to enter. Consider spray foam when there are noticeable issues with wooden siding or around exterior window trim, and weatherproofing tape or door sealing products for areas around and beneath doors and windows.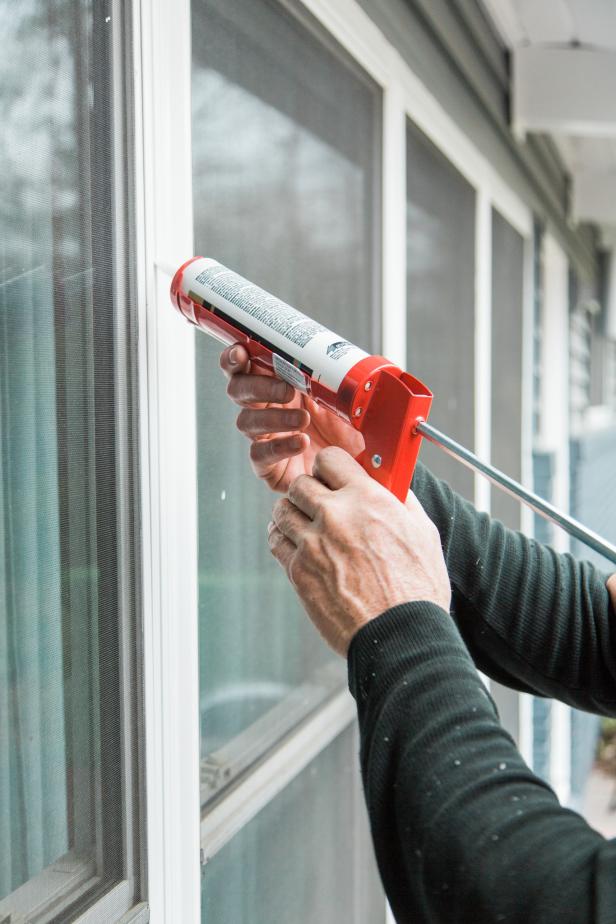 Re-caulk Windows & Doors
Keeping your home cool and comfortable during hot summer months can be a challenge. Keep your AC costs down by re-caulking windows and doors in the spring. Maintaining a properly sealed house helps keep the cool air in, which means lower energy bills for you and your family.