Q&A With Knickerbocker Group Experts
Architectural designer Kimberly Tuttle and construction manager Marcus Golding, from the design-build group responsible for the renovation of Blog Cabin 2012, answer bloggers' biggest questions.
Q. Why did you choose sliding glass doors?

A. We originally selected French doors, but when the bathroom was reconfigured, we lost space to comfortably open them into the room without hitting other doors or windows. We do not typically install outswing French doors as they are, blocked by inches of snow, nearly impossible to open in the winter and which require interior screen doors that can be lost to wind if not parked and secure. We install French doors only under very deep porches or inside screened-in porches.
Darren Setlow Photography, LLC
Q. Will skylights, windows or dormers be utilized in the family room?

A. Skylights will be utilized in the family room. The family room being designed by the Mega Dens team will feature some really interesting features, including skylights and sun tunnels.
Q. What was your reason for eliminating all fireplaces?

A. There was actually only one fireplace in the house, which was built in the 1980s. The chimney in the kitchen was removed to expand the space. Two other chimneys, connected to an old boiler in the basement, were removed from the second floor down to improve flow throughout the living spaces.
Q. Are there plans for the basement? Has it been tested for the presence of radon gas?

A. The basement will remain as-is and would serve as a perfect space for storage or a wine cellar. We have not tested for radon. Typically radon in Maine is associated with ledge, which is not present at the home site. We are not required to test or provide abatement in a renovation, and since the area is not known for high levels of radon and there is no ledge present in the basement we did not feel it was necessary. Abatement systems can be installed at any time if a new owner is concerned about radon.
Q. When is it better/more cost effective to bulldoze instead of renovate? When would you consider a home beyond repair?

A. That's a difficult question, and really up to the homeowner. Sometimes it's easier to start over and get rid of the layers of renovations that have been built up over time. It's mostly about the foundation — if it's got a good foundation with decent walls, and you won't be touching the exterior walls much, then you might want to save it.
Q. What type of HVAC and hot water heating systems will be installed? Will there be a whole-house generator?

A. We are installing a high-efficiency propane direct-vent boiler, which will drive hydronic baseboard heat and provide domestic hot water. Maine does not have a robust natural gas infrastructure and is heavily reliant on heating oil. We typically convert our projects to propane as the high-efficiency boilers level the BTU difference between propane and oil, which has a higher BTU capacity per gallon than propane, but oil burners cannot burn as efficiently. There will also be some cooling provided by Mitsubishi split units in the Mega Dens family room and the master bedroom. These wall-hung units with condensers will be located on the home's exterior. We do not currently have plans for a whole-house generator, but one can be tied into the electrical system at any time.
Q. Are there any plans to build a stone or paved patio, maybe with a fire pit, somewhere on the property?

A. Yes. But you'll have to wait and see!
Q. Is there a pier or dock? Can a gazebo or patio be built near the shore?

A. We've got something in mind for the water's edge, but a pier or dock is not advisable. The river is very shallow; a public boat launch is located just down the road.
Q. Is the property zoned for agricultural or commercial use? What are the development restrictions?

A. The property is zoned residential. Maine offers several tax-deferment programs for property owners who place land into managed forestry. Keep checking the Blog Cabin blog for more information on this topic in the weeks to come.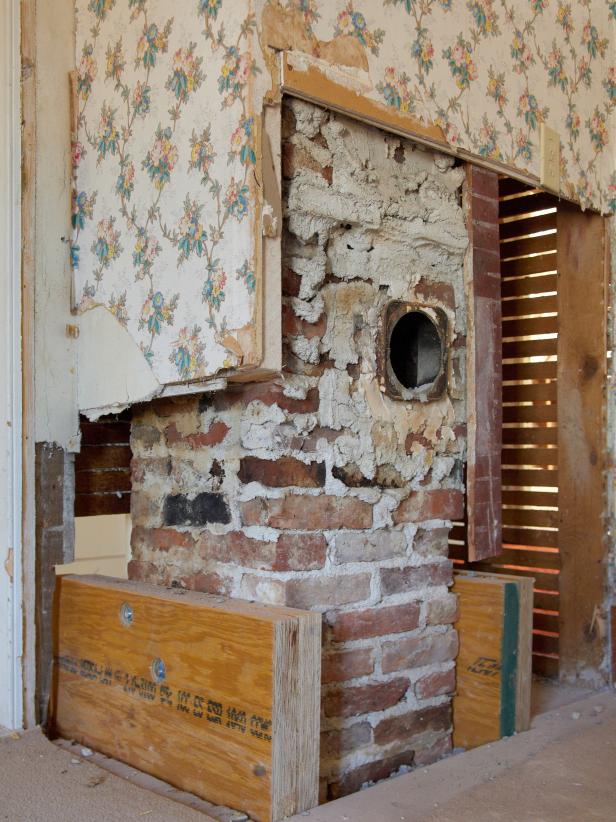 bc12_0040-chimneys_s3x4
The first floor sections of the twin chimneys serving the second floor have been removed to maximize open space on the first floor. The upper sections of the chimneys were preserved to maintain the original roofline. This view illustrates some of the bracing engineered to support the upper sections of the chimneys.
Darren Setlow Photography, LLC
Q. What have been the biggest construction challenges thus far? What design elements are you most pleased with?

A. We did not anticipate the extent of structural re-work. The entire first-floor system had to be replaced, as well as the floor in the Mega Dens family room. Preserving chimneys above the roofline while removing stacks from the first floor was another big challenge.
Darren Setlow Photography, LLC
Many antique details, such as this wall sconce, were removed to make way for the remodel. Staged in the soft afternoon light of the barn across the street, these peices await further plans.
Q. Have you unearthed any items of interest in unusual places or come across any artifacts?

A. Lots of lovely old wallpaper! (Said with tongue in cheek.) Much of the original detail had been removed over the years, so no particularly exciting finds.
Q. Are there any plans for solar power?

A. None at the moment.

More About Blog Cabin 2012: