History of Blog Cabin 2013
Generations of Robinson family members carefully tended Blog Cabin 2013, a cedar shake cottage located along the Core Sound in Atlantic, North Carolina.
Blog Cabin 2013, a cedar shake, tongue-and-groove coastal cottage located in Atlantic, N.C., nestles on three acres of waterfront property. The property, originally owned by Uriah Robinson, was sold by his sons Mason and Uriah Robinson to their brother John Bryan Robinson in 1892 for a mere $50.

John, a local fisherman, married Beulah Benton Styron from the nearby town of Stacy and the couple settled into the property's one-room cabin with back detached cook's shed. To accommodate a growing family of seven children, the couple expanded the home — up and then out. The roof of the home was raised to carve out a second floor with two bedrooms. At this time, the first floor was expanded to accommodate both mud and birthing rooms, as well as fireplaces on each end of the home. A small front porch was also added to take advantage of cool coastal breezes.

As the children grew, the house was widened. A new entry room provided space for both dining and family gatherings.

The Robinson family lived simply and worked off the land and the sea. Improvements to the property included the addition of a potato house, an outhouse, a chicken shed and an oyster shed. The home's original drive was rerouted from the water's edge to the front of the property and paved with 3 to 4 feet of oyster shells. During Beulah's later years, a community garden was added to the property.

Beulah remained in the home until her passing. Her daughter Fannie then lived in the home with her brother William. A first-floor bedroom was added to accommodate William during this time. A full-sized kitchen was also added during the 1930s.

The home was willed to Fannie's sister Nadine, who passed the home to her daughter, Evelyn Clyde Harris, the most recent owner of Blog Cabin 2013. During Evelyn's stay in the home, she made many updates and improvements, including the construction of a 173-foot dock, which will be repaired as part of the home's expansive renovation.

Information provided by Jay Bumpus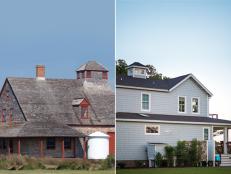 Core Sound, steeped in maritime history and once a center for boat-building and commercial fishing, moves gently into a new era.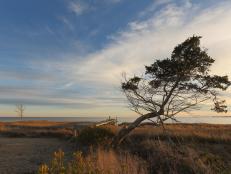 Our project manager answers questions posed by fans of DIY Network's favorite interactive series.