Blog Cabin 2013: A Renovation Down East
Core Sound, steeped in maritime history and once a center for boat-building and commercial fishing, moves gently into a new era.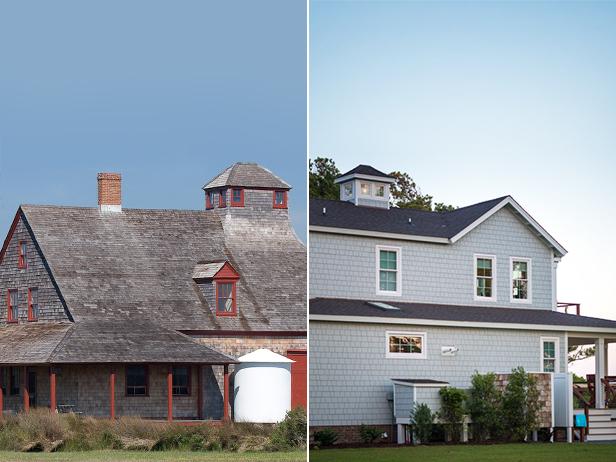 bc13_cupola-comparison_h
The circa-1894 Portsmouth Island Lifesaving Station's cupola inspired Blog Cabin's own unique roof design. Photo: Mark Minasi
The circa-1894 Portsmouth Island Lifesaving Station's cupola inspired Blog Cabin's own unique roof design. Photo:
Mark Minasi
To most developers, the ramshackle building would have been a "teardown," a home purchased only for the land it sits on. Cookie-cutter condos or mansions would have overtaken its three-acre seaside property.

But project manager Dylan Eastman saw past the swaying floors, undersized rooms and storm-damaged exterior. The quirky 19th-century home, after all, is a piece of history. It became Blog Cabin 2013: DIY Network completely updated the house, but took great pains to maintain its architectural character, modest scale and naturalistic setting.

There's even a new rooftop cupola that pays homage to the cultural history of its rural Down East, N.C., location.

"The house was full of this great period furniture that had come from the old Lifesaving Station on nearby Portsmouth Island," says Dylan. "It's a very similar building from the same time frame, so I decided to imitate its most-distinctive feature."

Down East consists of small towns and villages that sit along coastal inlets and islands, where fishing and boat-building have long been the primary industries. Now uninhabited, narrow 22-mile-long Portsmouth Island was a major port at the time the two structures were built, handling two-thirds of North Carolina's imports and exports, which largely consisted of agricultural products — and fish.

Because of the extremely shallow waters, locals often found themselves coming to the rescue of shipwrecks. "This was an all-volunteer effort until 1874, when the Lifesaving Stations were built," says Ben Wunderly, associate curator of the North Carolina Maritime Museum, in Beaufort. "The precursor of the Coast Guard, it was created by U.S. Congress to help save lives."

Teams of six or seven would man the station and watch for wrecks, then head out to gather survivors in a shallow, 25-foot rowboat. Or they'd use a "Lyle gun," a small cannon that shot a line out as far as 700 yards to grab the boat so a zip line-like contraption could be sent out to reel survivors ashore.

Even with all of the international commerce passing through, the region remained isolated and insolated from the Industrial Revolution and the urbanization happening in the rest of the country. Roads and bridges didn't come to the small villages until the 1940s and '50s.

"People didn't tend to move in or move out," says Karen Amspacher, executive director of the Core Sound Waterfowl Museum & Heritage Center on Harker's Island. And since many were of British descent, a unique vernacular language developed. "High Tider," a cross between a Southern accent and Elizabethan English, can sound almost like a foreign tongue; unique words include mommuck (to bother); dingbatter (an outsider); puck (sweetheart); and slick cam (still water).

The fishing and boat-building industries are now in steep decline, however, and Karen expects tourism to take over as the region's main economic driver. "We realize change is coming, and we welcome it," she says. But rather than generic, could-be-anywhere sprawl, locals want to retain the flavor of their community.

"Our vision is ecotourism, farmers' markets, model boat-building and decoy-making camps, local arts, music and foods, " she says. "Blog Cabin is just the right kind of project because it's taking an old house and fixing it up with respect for the history, environment and culture."