Save-the-Date and Save Money With Free Printable Wedding Invites
Let us help you prepare for your big day with engagement announcements and free printable shower and wedding invites. 
It's the season for all things weddings and engagements. If you are in the planning phase for your big day, you know there are plenty of decisions to be made. Let us help make it a little easier with engagement announcements ideas, and free printable wedding and shower invitations.
Let all your loved ones know you're getting hitched with fun save-the-dates. Add little bags of confetti to kick off the party right away.
Getting married often means new homes and needing lots of goodies to fill that home. Throw a stock-the-garage party and give the couple everything they'll need for their new home!
Invitations for the Big Day
Weddings are pricey, pricey. Save a little money with these free printable wedding invites suitable for any season.
We're crushing on these trends, recipes and DIYs.
Try One of These Winter Crafts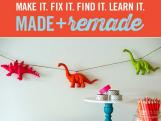 Browse through our archives to discover "why-didn't-I-think-of-that" projects, cool hacks and  genius DIY ideas.
Read Our Previous Posts

Get to know the crafty, creative writers and editors behind DIY's Made+Remade blog. 
Go Behind the Blog