Rustic Wedding Decorations You Can Make
Gettin' hitched? Save money on your nupitals with homespun projects that turn up the charm.
I always knew that I would be a Bridezilla. What I didn't expect was to be one for a wedding that wasn't even mine. Ah yes — from the dresses to the bachelorette party, I have stressed over every single detail of my best friend's Tennessee wedding, despite my initial claims that I was going to be a "really chill" bridesmaid.
I just like to say I'm eager.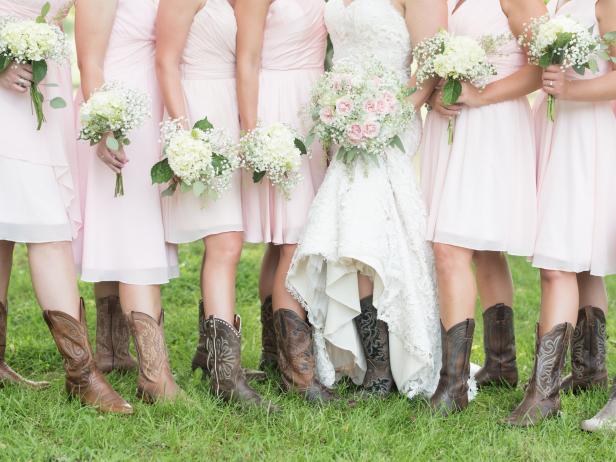 Bridal Party Boot Photo Showcasing Soft Pink Dresses and Hydrangea and Baby's Breath Bridesmaid Bouquets
These soft pink knee-length bridesmaid dresses show off the boot the girls are wearing for a perfect match to the country style. The bride lifts her lace skirt to show her matching shoes. White hydrangea and baby's breath bridesmaid bouquets and the soft pink roses in the bride's flowers create a soft counter to their dresses.
Thanks to the many, many hours I've now logged doing wedding research, I have a plethora of information and am happy to report that there are dozens and dozens of rustic-chic wedding ideas you can DIY instead of buy. Here are some of my favorites:
If you've got a printer and a little creativity, you can create custom invitations and save big. You can typically buy packages of blank cards and envelopes at the craft store for under $20. I love this rustic wood-grain invitation; if you love it, you can download the template for free!
cbphoto13
Add rustic flair to any floral centerpiece by wrapping the vase in burlap. The look works especially well when using tall, skinny vases as shown here.
There are dozens and dozens of ways to make a beautiful wedding centerpiece. Budget brides and grooms can save money by sticking to in-season flowers, using the bouquets from the ceremony as the centerpieces and if you have the time and the manpower – making your own bouquets. Though you'll probably want a friend or family member to step in the day of the ceremony, this also opens up a few fun opportunities: group floral design classes, a "make the bouquet" party and trips to nurseries or the farmers' market.
You can also reduce costs by stripping down the amount of blooms in bouquets, centerpieces and table settings. "Pad" your bouquets with unique foliage, herbs, fruits and veggies. For table settings, try wrapping small potted plants in burlap – you can give them away as gifts later or plant them in your garden.
The cake will probably be the most thought you've ever put into a single dessert. Try a stripped down cake with a fun topper that you can make with inexpensive craft store items — like these adorable wooden chairs decorated with a veil and hat.
Though the actual beverages will depend on your preferences, serve your wedding drinks up in style with some fun containers. Mason jars are the go-to vessel, but also try milk bottles, jam jars or even mint julep cups. Alternatively, beer lovers and soda enthusiasts can serve drinks right out of the original container — serve them on ice in galvanized buckets. Don't forget the bottle opener!
Thanking your loved ones doesn't have to cost a fortune. Flower seeds are an easy option that come with a bonus: Your friends and family can send you photos once they bloom to remind you of your special day. Another option is to give out bubbles — you can buy large packages of them online or in party supply stores. Adults and children alike can't resist them, plus they'll make for some amazing photos.
For more handmade wedding decor ideas, check out these links:
We're crushing on these trends, recipes and DIYs.
Try One of These Winter Crafts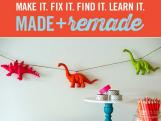 Browse through our archives to discover "why-didn't-I-think-of-that" projects, cool hacks and  genius DIY ideas.
Read Our Previous Posts

Get to know the crafty, creative writers and editors behind DIY's Made+Remade blog. 
Go Behind the Blog