DIY Outdoor Party Ideas and Entertaining Tips
It's time to get outdoors and party!  
Whether it's a celebration for graduation, Father's Day, or simply an excuse to enjoy beautiful weather or watch movies outside, an outdoor party is the perfect way to enjoy spring and welcome in summer. Take these outdoor party ideas and entertaining tips to host an unforgettable backyard bash.
Outdoor parties can be unpredictable due to weather. Ensure your guests are kept cool at your warm-weather party by prepping shade in your entertaining space. Rent a tent or save money by putting up DIY outdoor curtains that can hang from a porch, patio, deck or pergola. These options will provide shade as well as privacy.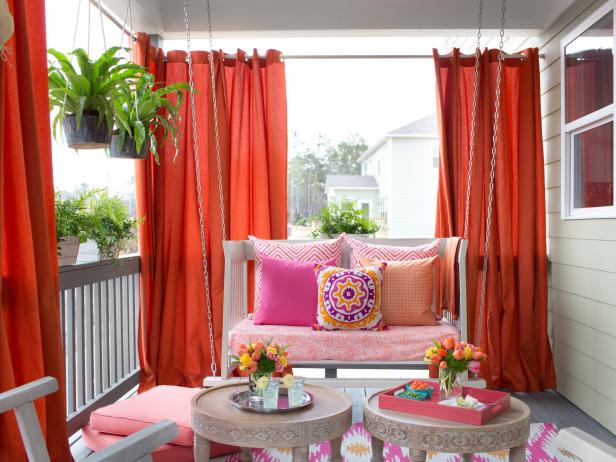 Vibrant Outdoor Space With Hanging Daybed and Draperies
Quick and easy updates brought springtime charm to the covered deck of the 2015 HGTV Spring House.
Flynnside Out Productions
Be sure to keep mosquitoes off the guest list. Ward off pesky bugs without harsh chemicals by making DIY citronella candles or upcycle a leftover wine bottle to make a simple citronella torch. Throw in some whimsical homemade flower string lights to brighten things up and you'll have outdoor party lighting that is both functional and pretty to take your get-together from day to night.
When it comes to décor, take advantage of natural outdoor elements like flowers and plants. Keep any additional decorations minimal and opt for those that mimic nature like these easy to make paper flower party streamers. Use the natural scenery or consider setting up a simple backdrop with fun props for a DIY photo booth that encourages guests to let loose, interact, and will produce a lasting memory of the event.
Make a Party Photo Booth
04:22
Finish off décor with an eye-catching centerpiece or table setting that can blend in and withstand the outdoors.
HGTV Going Yard 108 - BellLongBeach
Detail of the table setting at the home of James and Hilary Bell along with daughter Kate in Long Beach, CA., as seen on HGTV's Going Yard, which underwent a makeover that took their large, partially decorated patio that fell flat of a full makeover and complete the dream of the Bell family to have a relaxing retreat that is part tropical and part Martha's Vineyard for entertaining friends and family and offering their family ample space to grow together. The patio is retooled with a dining area, a relaxing area near a fireplace with built in bench seats, a custom bench built around their hot tub with pavers built into the ground in that area, a trullus with built in raised planters with a thick border to allow for additional seating, a custom built tea room in the back of the yard with a walking path to a bench area that overlooks the yard. This offers the family various places to hang out throughout the yard to offer each individual their own space as well as plenty of family space and lots of entertainment space for celebrating with those they love.
HGTV Going Yard Episode 110 - Fisher
Detail of the outdoor dining table at the home of Julie and Jon Fisher which will undergo a makeover that will take their large, mismatched back yard with bad furniture, no flow and ugly views and turn it into a vintage eclectic space to compliment their 100 year old Craftsman style home. There will be a deck built off their garage that will protect them from rain and sap dropping from their tree as well as give them a great outdoor dining space. A rock garden and rocks built into the landscaping and with a rock walkway will bring the asthetic together throughout the space. A couple other seating areas throughout the yard make the space fit for entertaining friends and family. A fence will go up to hide the ugly driveway from view and give the family a space to keep their antique bicycles in an artisticly pracitical way.
Everyone's favorite outdoor eats come from the grill so get your grill space ready for entertaining. Keep your outdoor party menu uncomplicated and stick to as many fresh ingredients as possible. Include options for both vegetarians and meat lovers and try throwing seasonal fruits and vegetables directly on the grill, like romaine lettuce or peaches.
Keep side dishes light and refreshing. Citrus bowls are stunning, easy to eat, and use discarded peel as a container which makes for effortless cleanup.
Eliminate the possiblity of a dull moment by keeping guests entertained with DIY backyard party games and activities. For the kids, try making a tire swing, sandbox, or seesaw. Adults will love your DIY bocce ball court, lawn chess, cornhole toss, and horseshoes. Games and activites can be built or set up ahead of time to reduce party day stress.

We're crushing on these trends, recipes and DIYs.
Try One of These Winter Crafts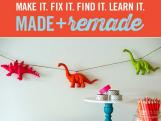 Browse through our archives to discover "why-didn't-I-think-of-that" projects, cool hacks and  genius DIY ideas.
Read Our Previous Posts

Get to know the crafty, creative writers and editors behind DIY's Made+Remade blog. 
Go Behind the Blog