How to Upcycle Holiday Items for Everyday Use
Think about repurposing unused or dated holiday items into your next DIY project.
I'm guessing there are probably loads of holiday items collecting dust in the closets, basement and attic of your home. It's easy to say, "Oh, but I'll use it next year!" even if you haven't used that decorative Santa serving tray since a distant relative gifted it to you five years ago, for example. As you spring clean your way through storage spaces, consider upcycling those holiday items into something more practical that you can use every day rather than once a year (or not at all).
To give a Christmas tray a sleek update, cover the base with a simple graphic pattern, like this tan and gold herringbone. Next, paint the rest of the tray white. You can still leave milk and cookies on it for Santa on Christmas Eve, but now you can use it to serve breakfast in bed year round, too.
More Tray Crafts from HGTV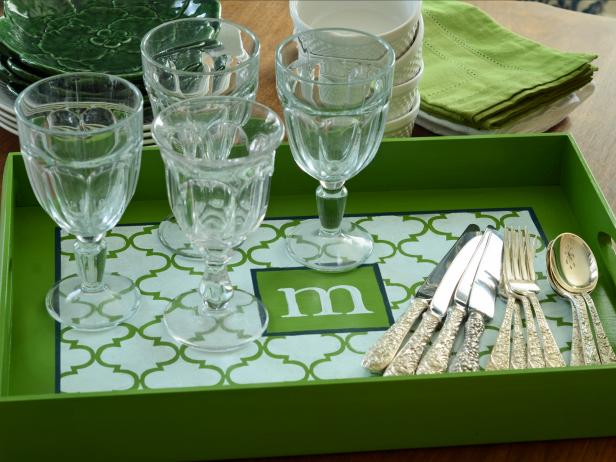 Surprise your favorite hostess with the mostess with a chic serving tray hand-painted with a trendy trellis pattern and the recipient's monogram. Get step-by-step instructions.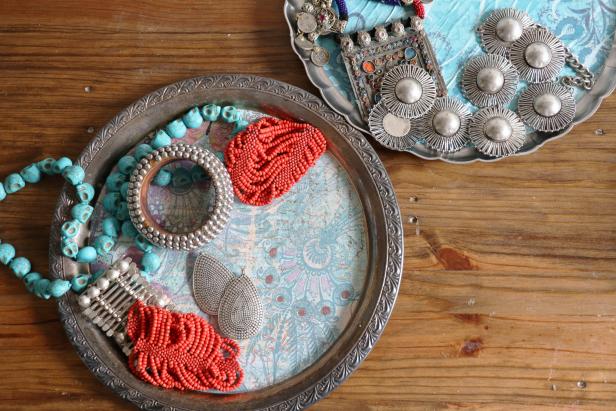 Add a bohemian touch to your jewelry by updating vintage trays to hold your bracelets and necklaces. You can use any patterned papers here, although we love the look of vintage patterns on antique silver trays.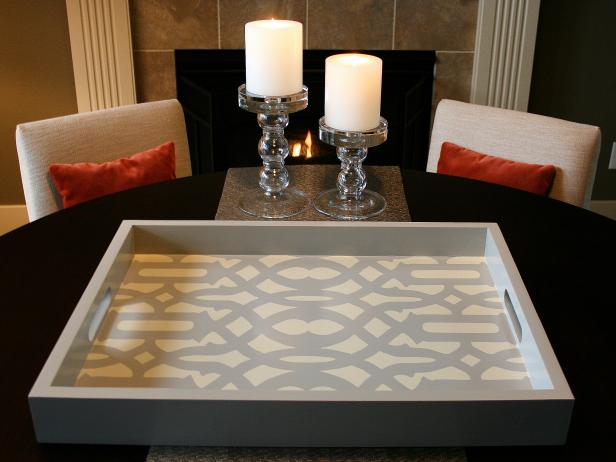 Stencils can give an old tray new life with beautiful patterns and colors of your choice.
Trendy Green Monogrammed Serving Tray
Surprise your favorite hostess with the mostess with a chic serving tray hand-painted with a trendy trellis pattern and the recipient's monogram. Get step-by-step instructions.
Mardi Gras may not be a holiday you necessarily decorate for, but you probably have beaded necklaces sitting in a drawer somewhere from past celebrations. Upcycle beads into fun coasters in just a few steps.
First, cut a beaded necklace in one spot so it becomes one long strand. Spiral it into a circular shape on a piece of felt. Trace the circular shape on the felt. Cut out the circle. Starting in the center of the felt circle, hot glue the string of beads into a spiral shape. Once you've filled the whole piece of felt, simply spray the coaster with gold spray paint. And now you have cute new coasters to put your drinks on.
Pails, cookie tins or other vessels from any holiday can become cute storage containers or planters with a quick paint job.
The options are endless for painted pails. You can spray paint them a metallic finish and top with a neon color, for example, or you can use painter's tape to create a geometric pattern in white and one of Pantone's Colors of the Year rose quartz.
A heart-shaped box of chocolates from Valentine's Day can last long after you've eaten all of the chocolates and the petals have fallen from the accompanying flowers. With a little creativity and basic craft supplies, you can upcycle the lid of a chocolate box into a chic coffee table catch-all tray.
To make this tray, start by simply tracing the box onto craft paper of your choice.
Then cut out the heart shape and trim it to fit inside the lid.
Before inserting the paper, paint the inside and outside of the box navy blue or any color you want.
After letting the paint dry, glue the craft paper to the bottom of the lid. In less than an hour, you have a cute new tray to hold TV remotes, candles, plants and other decorative items.
We're crushing on these trends, recipes and DIYs.
Try One of These Winter Crafts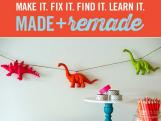 Browse through our archives to discover "why-didn't-I-think-of-that" projects, cool hacks and  genius DIY ideas.
Read Our Previous Posts

Get to know the crafty, creative writers and editors behind DIY's Made+Remade blog. 
Go Behind the Blog