10 Things to Put Above Your Sofa
Get creative ideas to fill that empty wall behind the couch.
I often find myself – typically after Netflix asks me if I'm still watching reruns of Friends and the remote is out of reach – staring up at the empty wall above my couch.
I had been holding off on filling that space until I picked out a side table and a lamp. Now that the living room is complete, I'm ready for wall decor. Here are a handful of my favorite ideas:
I've been on the hunt for a set of lattice-framed mirrors ever since I laid my eyes on this entryway. And since mirrors bounce light around a room, they're great for brightening and opening up tight spaces like mine.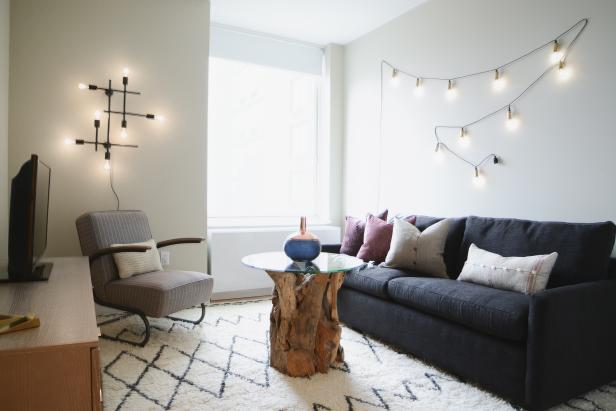 Cozy Family Room Features Playful Lighting
Whimsical lighting steals the show in this cozy family room. Behind the sofa, string lights gracefully adorn the wall, and above the armchair, a lighted art installation adds a cool, crisp pattern to the space.
Claire Esparros for Homepolish
Is there anything string lights can't do? If you really want to make a statement, build this dreamy constellation wall art.
Photos, paintings, maps – put it in a frame and you've got art. And you don't have to spend hundreds of dollars on custom framing, either. Try searching thrift stores for frames, then give them a quick coat of spray paint in any color you like. Don't worry if the glass front is missing – you can pick up a new sheet of glass at your local hardware store, and many will even cut it to size for you.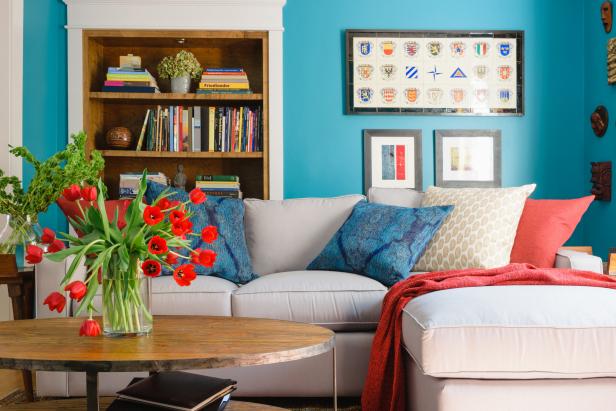 Blue Living Room With Built-In Bookcase and Framed Art
To integrate book storage into the family room, Esther had a 4' by 7' nook added to the wall behind the sofa. For richness, she opted to have the built-in stained in a medium brown tone rather than painting it white to match the trim.
Keep your next great read nearby. Designer Brian Patrick Flynn installed recessed shelves for this book-lover, but if you're not up for a big project, a few sets of floating shelves will do the trick.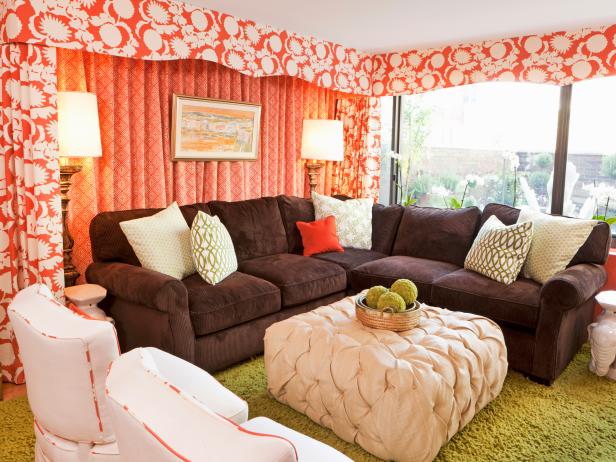 Eclectic Living Room With Coral Curtains
This space is defined by a blend of bright colors, rich textures and bold patterns. Vibrant coral-colored draperies and valences surround this colorful room. A lime green shag area rug sits beneath a chocolate brown sections and neutral upholstered ottoman. Large picture windows provide plenty of natural light to keep the space feeling open and spacious.
Drapes aren't just for windows. Hang them floor-to-ceiling for a dramatic look that you can swap out as your style changes.
Ok, this is kind of cheating. But don't be afraid to use the gorgeous view outside your window to your advantage. A little rearranging can make a huge difference.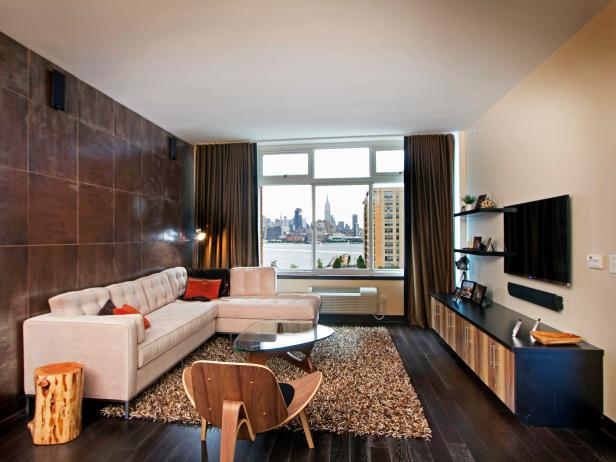 Contemporary Hoboken Living Room
The warm color palette mixed with modern furniture gives this urban living room a rustic but welcoming feel.
The space behind the couch makes a great candidate for an accent wall. From a simple coat of paint to these sleek tiles, the design options are seemingly endless and there's a look to fit every style and budget.
Take your collection out of those dusty boxes and and put it directly on the wall. For smaller items, it's floating shelves to the rescue once again.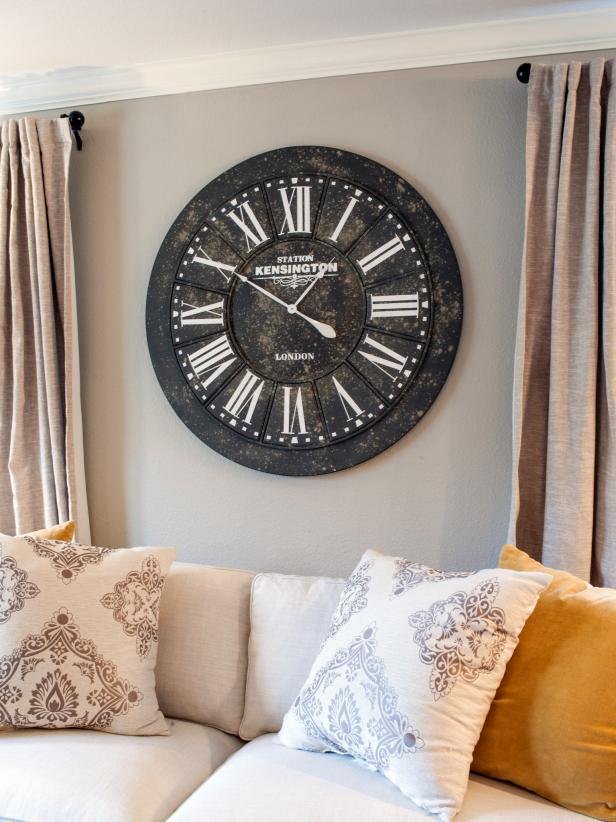 Antique Clock in Living Room
As seen on Fixer Upper, this antique clock helps to tie together the antique, rustic look that Joanna was going for.
Beauty and function combine to create one stunning focal point.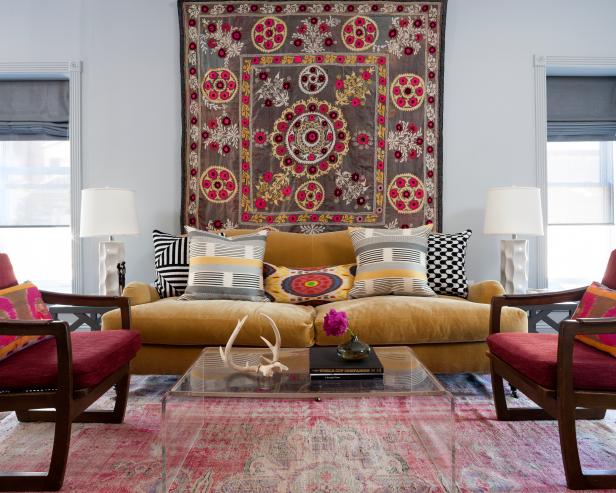 Eclectic Living Room With Mustard Yellow Sofa, Patterned Wall Tapestry and Mixed Decorative Throw Pillows
A gorgeous wall tapestry featuring fuchsia and burgundy flowers sets a colorful backdrop for the mix of patterns and rich hues in this eclectic living room. A mustard yellow sofa is decorated with a collection of throw pillows. A pair of chairs with deep red cushions surround a clear coffee table over the faded rug.
Floors shouldn't have all the fun. Click here to learn how to turn any rug into a permanent piece of art.
We're crushing on these trends, recipes and DIYs.
Try One of These Winter Crafts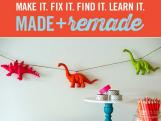 Browse through our archives to discover "why-didn't-I-think-of-that" projects, cool hacks and  genius DIY ideas.
Read Our Previous Posts

Get to know the crafty, creative writers and editors behind DIY's Made+Remade blog. 
Go Behind the Blog