Creative Genius: Clint Harp of Harp Design Co. and HGTV's "Fixer Upper"
Talented carpenter Clint Harp talks about making his dream home a reality with long-time friends Chip and Joanna Gaines.
As close friends of Chip and Joanna Gaines from HGTV's Fixer Upper, Clint Harp and his wife Kelly are no strangers to taking something that looks as if it has no hope and turning it into something amazing. "Chip and Joanna can take a complete mess and make it feel like home almost overnight. I've seen it now over and over again. It's truly a gift," says Clint, the co-founder (along with his wife Kelly) of Harp Design Co. But as Joanna's carpenter of choice, Clint has a gift of his own — taking recycled and reclaimed wood, usually found objects, and creating beautiful, one-of-a-kind pieces meant to bring families together.
"When we first started, the desire for the company came from a hope to see people gather around tables again — to cook together, eat together, talk together, and ultimately just be together," explains Clint. He and his wife wanted to see families coming together, and that process actually brought their family closer. "That's not because it's been easy, but actually because it's been one of the toughest things we've ever done. Kelly and I have cried, argued, stressed, laughed and taken one of the biggest leaps of blind faith we have ever taken. And we wouldn't trade it for the world."
When Clint and Kelly had an opportunity to join their friends Chip and Joanna on their own episode of Fixer Upper, they were ready to take another leap of faith. And the result was equally rewarding.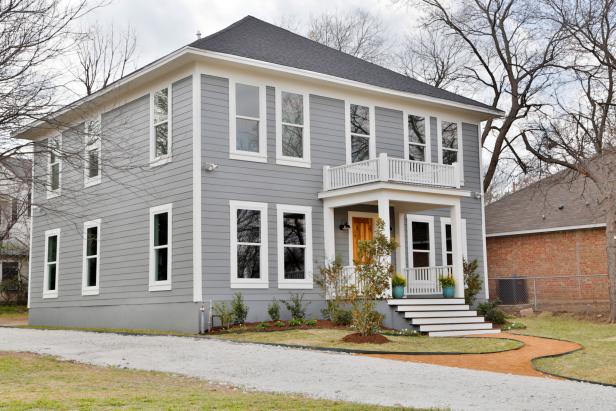 Clint and Kelly Harp called upon Fixer Upper Hosts Chip and Joanna Gains to help transform their home from unlivable to exquisite. The house has a new porch and stairs leading to the beautiful wooden front door that Clint Harp constructed himself. A new roof, modern gray paint, fresh landscaping, and all new windows make this house a jewel on the block, as opposed to the eyesore it once was, as seen on HGTV's Fixer Upper. (After 2) Afters
Sarah Wilson/Getty Images
Q: We know that Joanna Gaines has great style and has expressed that she loves your work. What do you think sets you and your company, Harp Design Co., apart from others in the same line of work?
A: True story: I met Chip at a gas station on a day when I was really second guessing my decision to leave a six-figure medical sales job (especially since we were out of money, living in a small apartment with two kids, and I didn't even have a shop yet). Chip mentioned that his wife wanted to add furniture to her growing product line. Of course I was great with that! But he also kept saying, "I don't know. It just seems like it might be something more." So he invited me and my family over for dinner three nights later, and Jo suggested that I build a few pieces from designs she drew up. Then we would try and sell them at her next home sale. Of course, without a shop, I was a little concerned, but thanks to the director of Waco's Habitat for Humanity, at just the right time, I was afforded the opportunity to rent Habitat's old shop for $25/month.
Chip actually took me in his truck to pick up my tools from our storage shed to take to my new shop. He dropped me and my tools off at the shop and just said, "Alright! Get to work!" I set up my shop and got going. I still hadn't had too much practice turning table legs, so I worked a bit on my lathe. One day in particular I tried to make a leg, and it took me basically all day, and by the time I was done, I didn't even like it. That experience, coupled with growing financial stress and just a general doubt in myself, just about broke me down. I felt like a failure. My wife liked the leg, and my kids took it and covered it in encouraging stickers. I took it back to the shop and leaned it in the corner. A couple of weeks later, Jo stopped by with designs, and she really wanted a turned leg for her farm tables. She looked over in the corner and saw the leg covered in my kids' stickers and said, "That's it. I love it! Use that for the Magnolia Farms tables." So in the end, I guess some things just happen because they are supposed to.
Q: When did you know you wanted to be a carpenter?
A: I was definitely the weird kid hanging out at a friend's house saying, "Hey, let's go build something...like, let's just find some wood in your dad's garage and just make something!" Undoubtedly a lot of that passion came from watching my granddad who has been building Colonial-style houses since before I was born. He would let me work with him as a kid doing the easier tasks like cleaning up, but just being around that made me hungry for more. Watching him notch out massive timbers and beams and building things in a way that carpenters have been doing for hundreds of years gave me an appreciation for going a little bit farther to do things in a way that will last for a long time.
Q: You're used to working for the Gaines family whenever they need beautiful, custom furniture, but on the Fixer Upper episode, "Urban Cave," you and your wife were seeking their expertise for finding and transforming a home. What was it like to switch roles?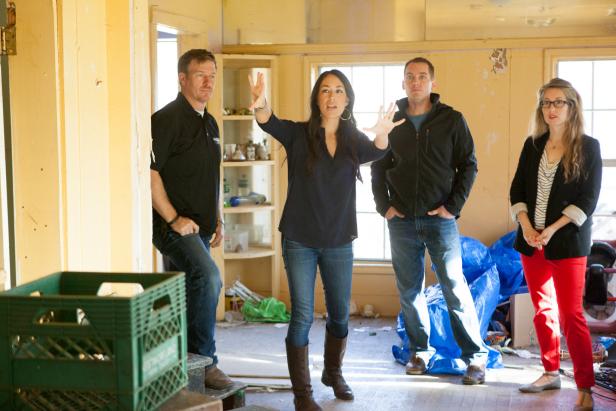 Fixer Upper Hosts Chip and Joanna Gaines take clients Kelly and Chip Harp on a tour of a house that's badly in need of repair, but is very inexpensive and has lots of potential. With so much junk and trash left behind, Kelly is having a hard time imagining that this house could ever be suitable for their family. Chip and Jo explain that they are confident that this house will come together beautifully , as seen on HGTV's Fixer Upper. (action)
Sarah Wilson/Getty Images
A: Truly it was great! In the beginning we were all very hesitant, because we wanted to protect the friendship we had together and the working relationship we had cultivated. We weren't afraid, but we just wanted to be careful. I think it is the careful consideration we all used before we even began that really made the whole thing a great experience. Ultimately trusting Jo with design was not a problem at all. I would hand that girl the most screwed up house and always have confidence that she could turn it into an amazing home. Kelly and I have seen them take some of the biggest messes and make absolute masterpieces, so we were always confident they could pull it off.
Q: The second home the Gaines showed you was such a mess (the exterior had bullet holes!), and you even described it as "frightening." But ultimately, what made you choose that house?
A: If you're going to go for it, you might as well go big! My wife felt good about it, and I've learned to go with her gut, because she's a courageous person and also very wise. If she was in, I was in. Chip and JoJo loved the challenge and felt good about the bones of the house. Once again, the way it all worked out was almost something we couldn't say no to — like a current we just had to go with. And I'm so glad we did.
Q: Were there ever any moments throughout the renovation process when you wondered if you and your wife had made the right decision?
A: There were plenty. The renovation went really great, but even for people willing to take a risk, you can still have moments where the craziness of the situation is just overwhelming. You find yourself going, "What are we doing again? Are we nuts?" We had so many unknowns in our life already, so adding this house was just heaping on the insanity. But ultimately, we wouldn't trade it. I guess we had already done the comfortable life and just craved the adventure. And that's what we got — but in the best way possible!
Q: After living in the home, is there anything about it you would want to change now or wish you had splurged on during the renovation?
A: The only thing I wish we had been able to do was add a real fireplace. We just ultimately didn't have it in the budget. Everything in that house had to be redone, so we really have a brand new house. I cannot complain, but as a wish, a fireplace would have been awesome.
Q: You weren't allowed to see the home till all the renovations were complete. What surprised you the most about the finished product?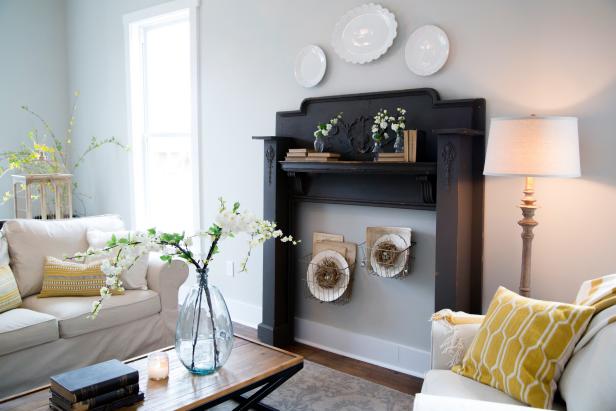 Tackling 'The Beast' Repurposed Vintage Mantle
As seen on HGTV's Fixer Upper, Joanna repurposed a vintage mantle as a visual statement piece in the newly renovated living room.
Sarah Wilson/Getty Images
A: Candidly, being so familiar with Chip and Jo's work gave Kelly and me a confidence in their abilities that really almost took out the element of surprise in terms of the finished product. We knew it would be amazing, but what was surprising was how much we immediately felt at home, regardless of the fact that just two months before, the place was a complete pit.
Q: When Joanna asked you to make the front door (your first ever), what was going through your mind?
A: I was just hoping it would be straight! I usually don't get too nervous, but this made me nervous because it was going to be one of the first things you saw at the reveal. Also, I truly make furniture out of some of the most awful pieces of wood, which are usually about to be taken to a landfill or burned. This door was made out of wood which just looked horrible. I often have this experience whenever I'm building with these materials where I find myself going, "Oh crap, I really hope I can make this wood work!" I had that moment for sure with this door, but thankfully it worked out.
Q: You also made the gorgeous wooden island for the kitchen, which your wife decided to cover with a Carrera marble countertop — a decision with a stunning end result. Do you two often collaborate on pieces?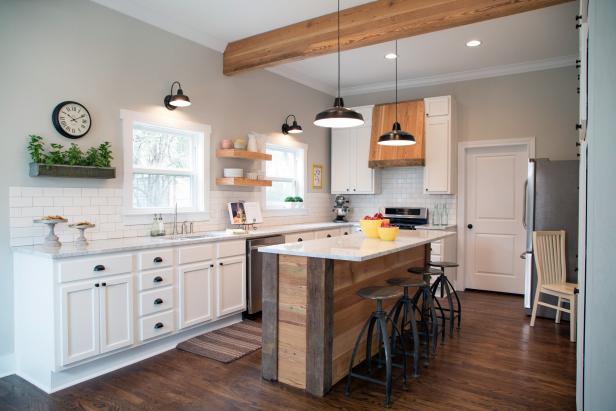 Fixer Upper Hosts Chip and Joanna Gaines turned the once disastrous room into a bright, clean kitchen with new cabinets, wood floors, Carrera marble countertops and light gray paint with white trim. The old drop ceiling was removed, adding height to the room, and a wooden support beam was added. A subway tile backsplash, floating wood shelves, and stainless steel appliances were also installed. Client Clint Harper added the finishing touches to the kitchen by making a beautiful island and vent hood out of reclaimed wood , as seen on HGTV's Fixer Upper. (After 7a) Afters
Sarah Wilson/Getty Images
A: Thank you, and yes we do. Actually, one of the main reasons I turn my own table legs is because on the first table I made (which I wasn't really happy with), Kelly knew I could do even better. She pushed me to try something different than just straight legs. I went and bought a lathe with the little money we had (which was disappearing fast) and just went for it. Kelly has a great eye for design, which I rely on often. We're fortunate enough to work together, and we often like the same sort of design. I love to let Kelly, and also the rest of our staff (Britt, Jacob, and Melissa), speak into the design aspect.
Q: Lastly, what advice would you give to someone who is interested in taking on a fixer upper?
A: 1. Go for it! 2. You may want to give up...don't. 3. Move to Waco, and apply for the show! On a practical note, as my granddad says, "Do it right the first time, so you don't have to go back and do it again." I do everything I can to live by that, and it has always served me well.
We're crushing on these trends, recipes and DIYs.
Try One of These Winter Crafts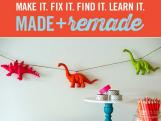 Browse through our archives to discover "why-didn't-I-think-of-that" projects, cool hacks and  genius DIY ideas.
Read Our Previous Posts

Get to know the crafty, creative writers and editors behind DIY's Made+Remade blog. 
Go Behind the Blog