Create a Chic Minimalist Closet Display
Whether you're creating a capsule wardrobe or simply trying to declutter, use these ideas for inspiration on how to display and store in a pared-down closet. 
Spring is finally just around the corner, which means spring cleaning and decluttering season is upon us. Don't just stop at attics and garages, though. A new season is also the perfect time to freshen up your closet – and your display strategy.
If you're like me, you probably find yourself saying, "I have nothing to wear!" more often than you'd like to admit, even though you have a closet packed full of clothes. This predicament often happens when I spend more time looking for a piece of clothing than I do actually putting together an outfit. Did I hang that up? Is it in this drawer? Or this one? Maybe it's dirty. Needless to say, decluttering is always a good idea.
Some people take decluttering to the next level with the practice of keeping a capsule wardrobe. If you're not familiar with capsule wardrobes, they're curated tiny closets consisting of only essential and versatile pieces, usually between 30 to 40 items. The concept isn't necessarily new. Susie Faux, a London boutique owner, coined the phrase "capsule wardrobe" in the 1970s, but style bloggers like Caroline Rector from Unfancy have popularized it over the past couple of years.
Minimalism in general has grown increasingly popular recently, as seen in the tiny house movement. Like tiny living, capsule wardrobes embody the less-is-more philosophy.
While capsule wardrobes require more upfront planning, the benefits of saving money from buying fewer clothes, the ease of getting dressed in the morning and the smaller necessary storage space make them worth considering.
With a tiny closet, every piece should be something you're proud of, so why not create a minimalist display to keep everything in your curated closet on hand and beautifully visible?
If you're worried about cluttering your floor space, a hanging copper pipe garment rack is a great option.
This DIY garment rack, made by Mattie Tiegreen of Green Tie Studio and photographed by Kaitie Bryant, frees up floor space and keeps the room feeling open and airy. The copper material gives the simple shape some sophistication and is on trend with metallic finishes.
More Copper Projects to Make
Displaying a few of your commonly worn shoes will make getting dressed in the morning quick and easy. Use an upside down wooden box like this one or even a wooden produce crate. Hide a few more pairs of shoes under the crate for easy access.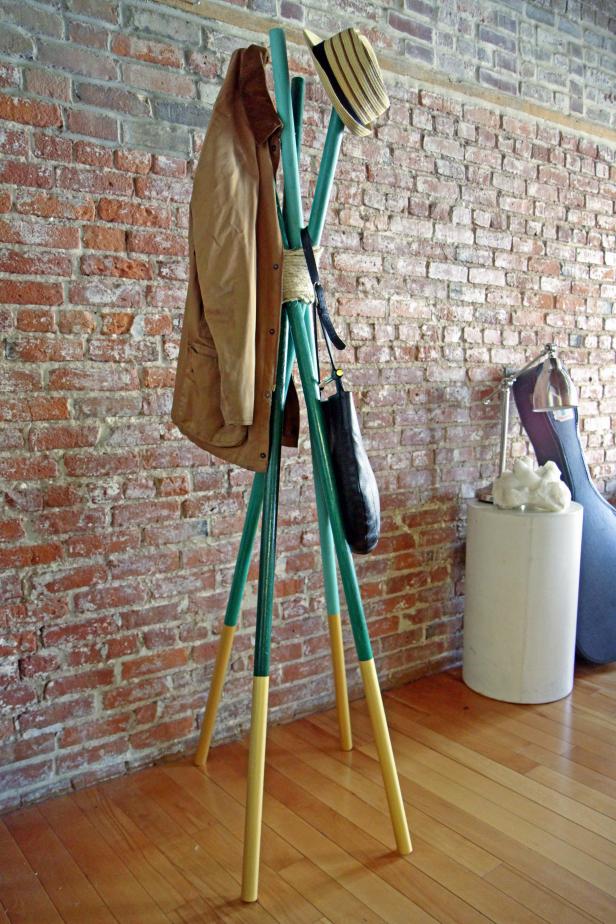 Color Block Coat Rack
Make a high-end coat rack using oak closet poles and paint.
Invest in quality hangers. Having mismatched plastic and wire hangers instantly make a closet look more cluttered and disorganized. Using only one style will give a more streamlined look to your display. High-end metal or wood hangers always look great, and with fewer clothes, you won't have to buy as many hangers.
Even if you don't want to mess with a garment rack, you can still display your wardrobe by keeping the closet door open. This sleek sliding metal barn door is the perfect combination of rustic and industrial styles.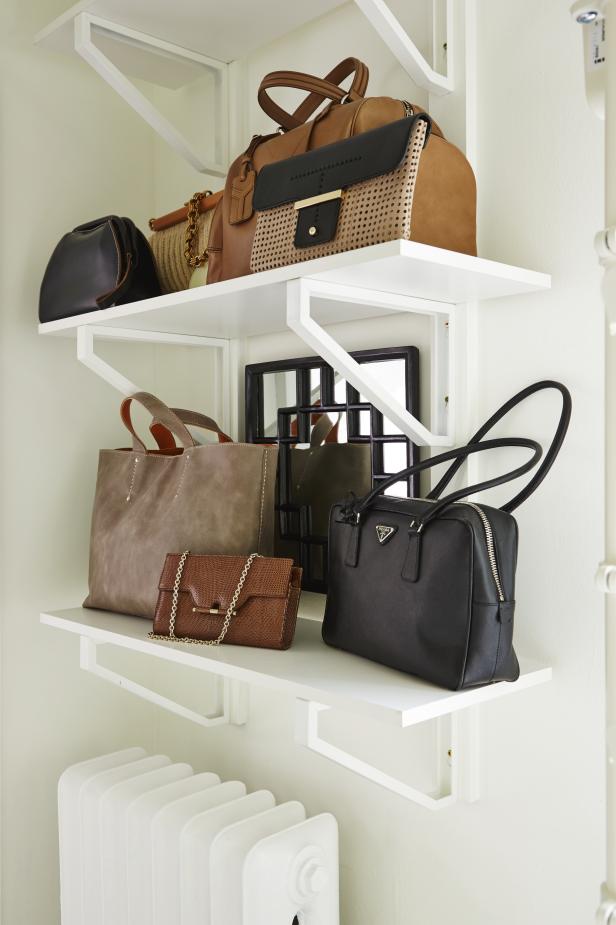 Industrial Closet Shelves From Sarah Sees Potential
As seen on season 1 of Sarah Sees Potential , designer Sarah Richardson repurposed a small and unnecessary extra bedroom into a large, functional walk-in closet with industrial built-in shelves perfect for storing shoes and accessories.
Display large accessories like hats, bags and shoes on open white shelves for an efficient use of vertical space.
If you're limited on space, evaluate how you can creatively use nooks and crannies to fit a closet display. All-white walls and shelves serve as a great canvas to make your clothes and accessories pop.
Framing a simple closet with black trim gives it a modern facelift. Leaving the door open will encourage you to keep it clean and organized, but a sliding glass door will give you the option to conceal your clothes if needed.
Hang hats vertically on nails where they won't get bent or damaged from being stuffed in a box in the bottom of your closet. Because if you can see it, you're more likely to wear it, too.
We're crushing on these trends, recipes and DIYs.
Try One of These Winter Crafts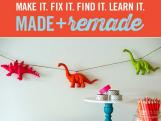 Browse through our archives to discover "why-didn't-I-think-of-that" projects, cool hacks and  genius DIY ideas.
Read Our Previous Posts

Get to know the crafty, creative writers and editors behind DIY's Made+Remade blog. 
Go Behind the Blog