Plan a Baby Shower on a Budget
Spring is in the air, and it's the perfect time to host a budget-minded backyard baby shower. 
The gender reveal was a hit and now it's time for the baby shower. To keep things hassle-free and budget-friendly, throw a baby shower barbeque, or Baby-Q, to celebrate the forthcoming bundle of joy.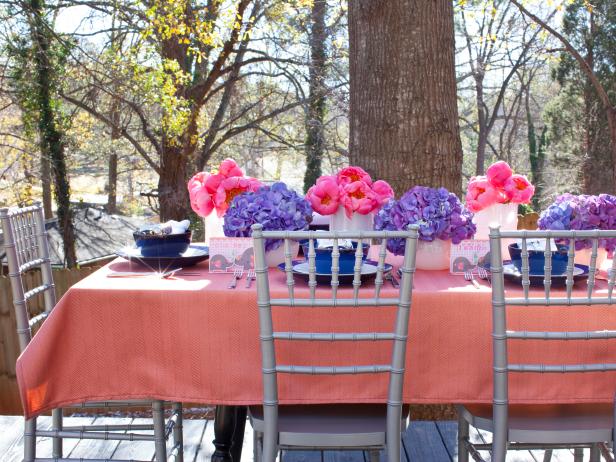 Colorful Outdoor Table Setting for Baby or Bridal Shower
Color is the easiest and most effective way to make an event your own. Choose a palette that works as well for baby boys and girls as it does for moms, dads, husbands and wives. A palette of coral, navy blue, white and silver is a sophisticated fit for both baby and bridal showers.
Spring is a great time to entertain outdoors, and with these simple DIY baby shower ideas you'll be able to pull together a Baby-Q in no time – and for very little money.
or customize and print your invitaitons for free  
A Baby-Q is the perfect laid back baby shower theme when you're planning a party on a budget. Commonly thrown in the host's backyard, this theme requires no fee for a venue and benefits from the beauty of natural outdoor elements. Spruce it up with just a few decorations by first choosing an invitation that can be used as inspiration for the remaining baby shower décor. This simple invitation by KraftsbyJessica sets the tone for a rustic yet adorable outdoor shower.
Choose a consistent color scheme to make DIY items look professionally planned. Stick to two or three colors to make the décor cohesive. To mimic the invitation, decorate with Mason jars, burlap and gingham ribbon which are both inexpensive and consistent with the shower's barbeque theme. Use these items to craft tablecloths, wrap plastic tableware, and house loose items like straws.
Throw in some fresh red and white flowers and you've got a stunning centerpiece for cheap. Don't be afraid to play with texture to make the centerpieces interesting.
Skip the expensive catering and consider a potluck or hit up your local grocery store instead. Grab sale items that are easy to toss on the grill and to whip up a few homemade side dishes along with tasty treats that guests can grab buffet-style. That'll reduce costs and the headache of serving each guest individually. Consider making a large batch of self-serve mocktails so that even the mom-to-be can indulge.
download and print at home for free 
Keep guests effortlessly entertained with baby shower games that won't break the bank. Games are a great way to get everyone at the party involved, and with these 11 free, printable game cards with instructions they couldn't be any easier to put together.
Hosting a Backyard BBQ
02:09
Send guests home with the baby shower gift that keeps on giving: an herb pot party favor. These fragrant and edible keepsakes are easy to make yourself with a few inexpensive materials and simple step-by-step instructions. Fresh herbs are a perfect way to usher in spring, and they'll always remind partygoers of your no-sweat (and low-cost) outdoor Baby-Q.
We're crushing on these trends, recipes and DIYs.
Try One of These Winter Crafts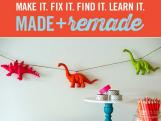 Browse through our archives to discover "why-didn't-I-think-of-that" projects, cool hacks and  genius DIY ideas.
Read Our Previous Posts

Get to know the crafty, creative writers and editors behind DIY's Made+Remade blog. 
Go Behind the Blog