9 Tips and Ideas for an Eco-Friendly Wedding
Plan a wedding that aligns with your values, and you'll probably save a little money in addition to saving the earth.
When my husband and I were planning our wedding, we knew it had to be low-key, casual and preferably outdoors. To this day, years later, I do not regret one thing about how we chose to say and celebrate our vows. And included in my list of non-regrets are the choices we consciously made to have as eco-friendly a wedding as we could. So as another anniversary approaches, I'm sharing those choices with you.
1. Location: Reserve a Preserve
After much deliberation, we decided to have our wedding practically in our own backyard at a nature preserve. Many city and county parks will allow weddings, especially if you plan the particulars, as will state and national parks. The "What if it rains?" question was ever-present (as it is with any outdoor wedding), but at a certain point, we just relaxed, left it up to Mother Nature, and in the end, it all worked out. Choosing a park or preserve not only gives you a beautiful spot to get married, but it also contributes financially and gives exposure to a place devoted to environmental stewardship.
2. Arrange Sustainably Grown Flowers
I would like to say that I used a local farm or gardener for our flowers, which is an excellent idea, but I did the next best thing that I could afford and purchased our flowers through the floral counter at Whole Foods (who sources sustainably and ethically grown blooms) and asked a very talented friend to arrange them for us using vases (mainly vintage Mason jars) that I'd collected over the years.
Rather than buying lots of individual bottles or cans for our beer-loving friends, we chose kegs instead, which greatly reduced the amount of trash or recycling (or cleanup!) needed for our fiesta. We did use plastic cups, but luckily, the recycling opportunities available caught most of this un-eco-friendly clutter. If you wanted to take it a step further, you could ask friends who brew to make the beer for you.
Vandiver Chaplin
My sister-in-law made our cakes, which were perfect. Choosing local vendors, including family and friends, is both budget-friendly and eco-friendly. 
Our rehearsal dinner and wedding reception were both very casual, and we chose local vendors — individuals who were friends or friends of friends — to provide the food for each. We had barbecue and sides for our reception from — get this — a gas-station BBQ joint that was amazing, and so many people asked for the pit master's business card that he ran out. We also asked my now-sister-in-law, an avid baker, to make our cakes, which were fantastic. All these choices kept our radius of influence and purchasing small, which is a great eco-friendly practice in general.
5. Choose Compostable or Recyclable Dinnerware
Like I mentioned before, we went casual (better known as Rustic Chic) for our wedding vibe, so it wasn't a stretch to use compostable paper plates and compostable flatware for our BBQ dinner. I ordered mine here (and so over-calculated the number needed that we are still using them for parties nearly three years later!). Bonus: Our eco-friendly location already had bins in place for recycling and composting, so that next step was already taken care of for us. If your location doesn't have recycling bins, you could dress up a few and scatter them about with a friendly reminder to guests.
6. Grow Plantable Party Favors
While I didn't source our flower from local farms, we did get our party favors — heirloom tomato plants — custom-grown by good friends at Maple Valley Nursery. They were nice enough to customize the plant tags for us, too. The best thing about this was seeing friends post pictures of their plants and tomato harvest later in the season, so it was like the joy of our wedding day was living on in our friends' gardens all over the country. You could find a local grower to do the same for you, or opt for custom wedding seed packets, such as these wildflower seeds from American Meadows.
7. Pick Wear-Again Clothes
My bridesmaids might beg to differ, but overall, my husband and I tried to pick clothing for our small bridal party that would be wearable for many years and many occasions. He chose khakis and a simple navy sportcoat, along with white Chucks that he actually caught one of his groomsmen wearing before the wedding. I picked red dresses (that may or may not be considered wearable again) and let the ladies pick shoes they would be comfortable in and would definitely wear again. I actually wear my wedding shoes all the time and it always makes me think of that day (and how I flipped them off post-ceremony and danced barefoot most of the night).
8. Register for Give-Back Gifts
I hear some version of this from brides in their 30s and beyond: "I don't feel like registering, because I already have all the dishes I need." One bit of advice is that people are going to get you gifts no matter what, so you might as well pick some stuff you want. In our case, we did register for some nice kitchenware, but we also registered at REI for camping and outdoor gear we needed or wanted. Unconventional, I know, but our guests actually really enjoyed buying the random backpacking egg holders, headlamp batteries and such on our list, knowing they'd be a part of our adventures to come and would help us enjoy the outdoors, which is a major part of living an eco-friendly lifestyle. However, we also asked for donations to various charities in lieu of material gifts, including donations to the river conservation organization through which we met.
When thinking about our getaway after the reception, my friend, naturalist and fellow blogger Michelle was adamant that we not throw birdseed, as the mixes can often contain seed for non-native plant species. Instead, she created a mix of native seed that guests could scoop up and toss (only in designated areas) to preserve the native-planting plans at the preserve. You can buy bulk seed from places like American Meadows and do something similar — just check with your location to make sure you're not seeding anything they're trying to keep out. You want your wedding to be part of the solution, not the problem.
We're crushing on these trends, recipes and DIYs.
Try One of These Winter Crafts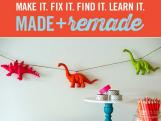 Browse through our archives to discover "why-didn't-I-think-of-that" projects, cool hacks and  genius DIY ideas.
Read Our Previous Posts

Get to know the crafty, creative writers and editors behind DIY's Made+Remade blog. 
Go Behind the Blog