How to Get Ready for a Camping Trip
Planning and packing for a camping trip can be a little daunting. These ideas will help. 
Get outside this summer. Better yet: sleep outside! Even if it's just for one night, a camping trip is an affordable adventure that – good or bad – you'll likely remember for some time and you may end up with a funny story to tell. Most all kids love to go camping – new places to explore, new activities to try and license to get dirty. Not to mention, it's healthy for them (and you) to be away from a screen and out in the fresh air.
Getting prepared and packed for a camping trip can be a bit stressful. You can't always predict what you'll need and the thought of forgetting some key piece of equipment can be scary. Fear not, there are plenty of checklists out there to help you make sure you have all the essentials. REI has a huge list of checklists for what to pack for different types of camping and what you should bring to certain national parks. Here's a family camping checklist from the blog Beyond the Tent that includes items to bring for kids.
Are you a first time camper and don't want to invest in all that equipment for what might be a one-time experience? Many state parks – Georgia, Pennsylvania, Idaho to name a few – offer First Time Camper programs. You can rent a tent and basic camping equipment, and the rangers will even help you set it up. Pennsylvania only charges $20 a night! To be eligible for the Georgia and Pennsylvania programs, you have to have never camped in any of their state parks before, if they find you in their database, you're out. Even if you have been camping before, this is a great option if you're flying to that area and don't want to lug camping equipment on a plane, and it's certainly cheaper than paying airline baggage fees.
Find tips and tricks for the first-time camper. 
The wonderful thing about car camping is you can over pack. What you bring is only limited to the size of your car. So bring all the extra rain ponchos, pillows and snacks that you can.
What to Bring for the Kids
If you're worried about keeping the kids safely occupied on a camping trip, don't. There are plenty of things you can do to keep them from whining that they're bored. Bring the bikes for one, since campgrounds are usually a safe place to bike and many have designated bike trails. If your kids are biking around the campground, they're likely to meet other kids on bikes and maybe make some new friends. Fishing doesn't have to be complicated. One time we camped next to a small stream, and my boys spent hours catching little crayfish and guppies. They caught their prey with a couple of tiny fishing nets and placed them in a plastic shoebox-size container. I sat on my lounge chair by the stream and had a relaxing time watching them.
Scavenger hunts are also a great kids' activity. Many campgrounds and state parks offer geocaching programs. If there's nothing like that where you're going, make a scavenger list before you leave home, include things like: Find 10 different types of leaves. How many different types of critters did you spot? How many different types of campers and RVs did you see?
Teens love portable hammocks. They'll enjoy finding new spots to hang around and chill out. If you're not bringing bikes, skateboards will keep older kids occupied.
Find more fun ways to keep the kids busy on a camping trip.
In case it rains and you're stuck inside the tent, bring along a deck of cards or a board game. You can of course, bring some electronics, but limiting the playing time is not a bad idea.
Also, don't forget to bring glow sticks, bug catchers and water toys.
Find free campsites and learn how to keep costs down on a road trip.
If it's a tight budget that's holding you back, find another excuse. If you want to hit the open road, there are ways you can do so for little money. State and national parks are usually the cheapest places to camp, but you can camp for free on some public land and national forests. Check out the U.S. Bureau of Land Management website to find exact locales. You may only have a primitive toilet, but you'll have more cash in your pocket.
If you're ready for a bigger adventure, try backcountry camping. Leave the car in the parking lot and hike back into the forest to a shelter and campsite. A lot of national parks, state parks and national forests can accommodate backcountry campers. Shelters and campsites can range from just a clearing in the woods to an elaborate lean-to with bunks and fireplaces. Because you're hauling everything on your back, backwoods camping takes more careful planning. You'll need some special equipment, some of which can cost a pretty penny. See if you can borrow from friends or check out some secondhand sites like Gear Trade.
Check out these crazy cool ways to spend an evening close to nature.
Perhaps it's not budget keeping you from experiencing the great outdoors, but comfort. Maybe camping isn't your thing. There are several ways you can get close to nature without sleeping on the ground. Vintage travel-trailer parks are popping up all over the country. Roughly the same price as a mid-range hotel, these campgrounds rent refurbished campers that are most often equipped with all the amenities. You can stay in a refurbished 1970s Airstream or 1950s Caravan, pick your decade.
There are also campgrounds that rent more unusual structures like covered wagons, furnished teepees, yurts and domes. I recently stayed in a yurt on a lake in a Georgia state park. It was a bit more expensive than bringing my own tent, but a whole lot easier and we were still able to have a good family camping experience. A yurt is a round tent with a wood frame and a wood floor. The yurt had electricity, but no plumbing. Ours was equipped with bunk beds and a couple of fans to make sleeping fairly comfortable.
If your idea of camping includes thousands of other people and a multi-day line-up of music, take a look at our handy music-fest checklist. And find other tips that will help you plan and navigate from this stage to that stage.
We're crushing on these trends, recipes and DIYs.
Try One of These Winter Crafts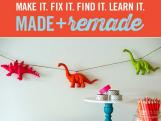 Browse through our archives to discover "why-didn't-I-think-of-that" projects, cool hacks and  genius DIY ideas.
Read Our Previous Posts

Get to know the crafty, creative writers and editors behind DIY's Made+Remade blog. 
Go Behind the Blog