Choosing a color isn't just about personal taste — it's about creating a mood.
According to color expert Kate Smith of Sensational Color, choosing colors for the home has everything to do with how you want a room to feel. "I usually tell people to close their eyes and imagine the room once it's decorated," Smith says. "How does it feel? What are you doing in there? Think about function and feeling, and that will lead you to a color scheme."
It helps to understand the way different colors speak to our brains — and our hearts:
"Red can actually physically stimulate us," Smith says. "It can increase our respiration and heart rate and make us feel more energized." That has both good and bad connotations; red can be associated with anger, of course, but also with love. In the home, red makes a great accent color because of its ability to draw attention (think of a stop sign), but also works well as a bold wall color. America first fell in love with red living rooms thanks to the White House parlor known as the Red Room, and they're still a smart design choice.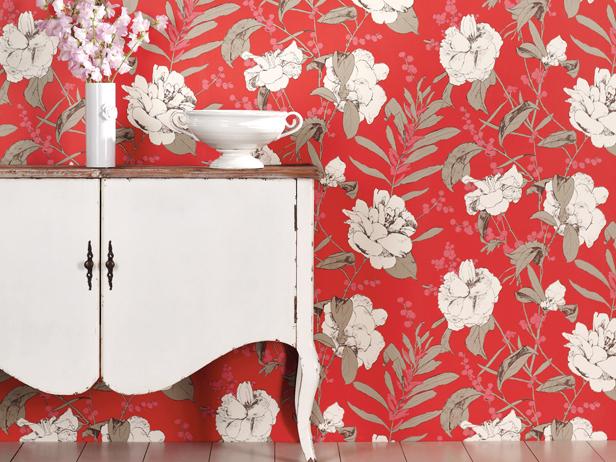 Bold Floral Wallpaper
"I'm seeing more and more florals inspired by historic botanical books, especially in cotton prints and wallpapers," says interior designer Lori Dennis. "It's like chintz in a new way." This isn't Grandma's floral wallpaper: Think large-scale patterns, vibrant blooms and big, bold hues. Photo courtesy of Romo.
Orange is a high-energy color with a sense of fun, although it can be polarizing; people tend to love it or hate it. It's usually a favorite of those who like to be known for their creativity and individuality. "In decorating, coppery oranges — both light and mid-tone—are really coming back into play," Smith says. "Orange blends really nicely with neutrals, so definitely take a second look at it if you haven't thought about it in a while. There are so many tones you can choose from, from pumpkin orange to terra cotta to peach."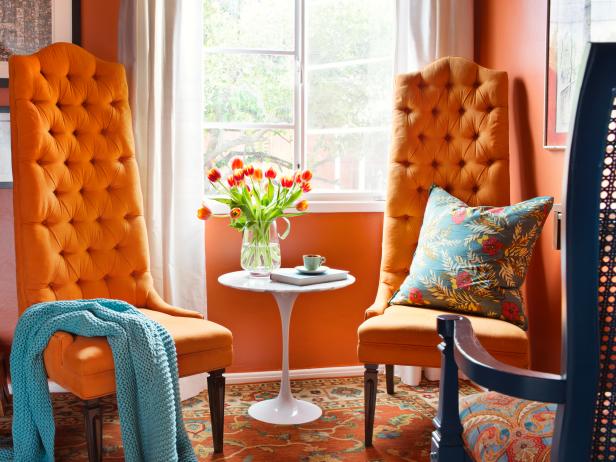 Vibrant Orange Sitting Room
Two orange-tufted, high-back chairs sit against a window with white drapes. A blue throw is on the seat of one chair and a blue floral pillow is on the other chair. A small, white table is positioned between the chairs and used to display a lovely bouquet of orange tulips.
"Yellow is all about optimism and happiness," Smith says. It's a chatty, energetic color, great for kitchens and family conversations; it also has the ability to evoke memory and imagination. Combined with lavender, it's also thought to have healing properties.
Photo Credit: Edward Addeo, Gibbs Smith, Farrow and Ball, Brian D Coleman, Edward Addeo (photographer)
If you want a sense of calm, look no further than green. "The connection with nature means that we associate green with peacefulness and balance," Smith says. "It also has associations with renewal, good health, and positive growth." The human eye can actually see more variations of green than of any other color because of our evolutionary history—surrounded by green in the natural environment, our ancestors had to be able to distinguish the slightest changes in the landscape to protect themselves from predators. (But now that we're not expecting anything to jump out of the bushes, green is a wonderful way to bring the peace of nature inside!)
Blue is everyone's overwhelming favorite for a reason. "It's a constant in our lives, between blue sky and blue water," Smith says. "There's a real trust factor with blue." That's why many of our authority figures wear blue uniforms, and why blue is the most popular color for corporate logos. Blue also slows our heartbeat and respiration, giving it a calm, sedating effect and making it an excellent choice for bedrooms. If you like the idea of blue but want a sense of profoundness — with a little mystery — go with deep shades like indigo and midnight blue.
Purple used to be favored by women, but more and more men say they're drawn to it these days, according to Smith. It's associated with mystery, royalty, and creativity — and even a little eccentricity. But if you use it in the home, choose a shade that leans clearly toward a blue or a red undertone, such as a grayish lavender or a red-violet, which tends to make people more comfortable. True purple (often the top choice of preteen girls) can come on too strong.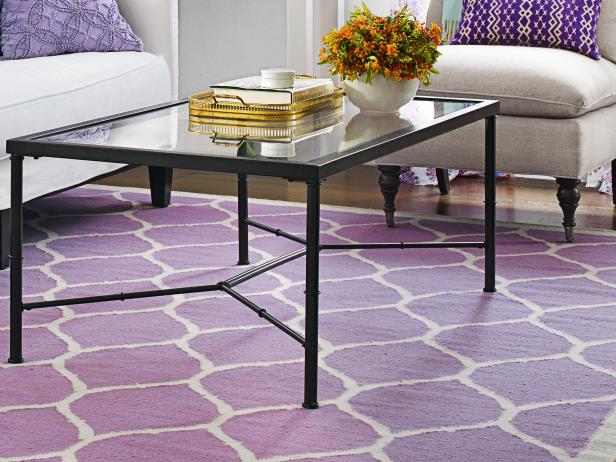 Wool Kilim Trellis Rug in Lavendar
Kilim Trellis 8' x 10' wool rug in lavender, $660, rugsusa.com
"White is all about purity, cleanliness, neutrality, and fresh new beginnings," Smith says. From bridal gowns to picket fences, white conjures a very positive connotation for most of us, even though at its extreme it can be sterile and cold. If you're choosing a white for the home, be aware that there are few true whites; pay close attention to the undertones. "If you want just a hint of color in a room, you can start by looking at whites," Smith says. "Choosing a white with blue, pink, gray, or green undertones can be quite beautiful."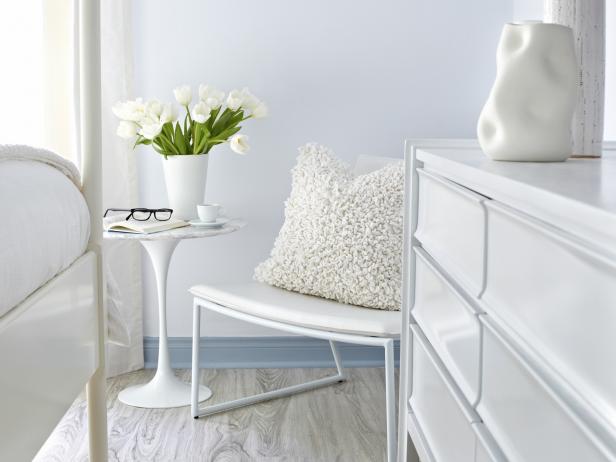 All White Room Corner Seating Area
Varying textures and shapes help make this all white room more than one dimensional. The shag throw pillow and green stemmed white lilies prove to be the center piece of this space. While the design is simple the added textures and modern decor makes this space an elegant one.
Quite literally, pink is the excitement of red toned down with the purity of white. It's sweetness and romance with a touch of innocence, which speaks powerfully to many women, especially as they age. "Pink has a connection to youthfulness and carefree days," Smith says. Although pink has a strong feminine quality, when mixed with a bit of brown or gray it can also be used as a neutral that conveys calm, stillness, and beauty.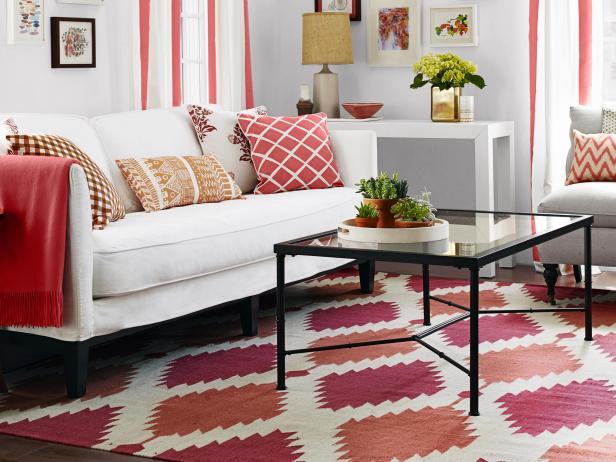 Graphic Pillows Add Pizazz to Eclectic Living Room
On sofa, from left: Jaipur 20" x 20" cotton canvas pillow cover in coral, $64, serenaandlily.com; gingham checkered 20" x 20" cotton pillow in brown, $60, and Boho Aztec 13" x 21" cotton pillow in coral, $50, both zazzle.com; diamond 20" x 20" cotton canvas pillow cover in coral, $64, serenaandlily.com. On chair: Tribal Aztec chevron 13" x 21" cotton pillow, $50, zazzle.com
"Brown grounds us," Smith says. "It's all about reliability, stability, and approachability." Although neutrals frequently go in and out of vogue, warm brown is back in a big way, she says, from soft baby browns all the way to dark espresso shades.
Gray stands for wisdom, intellect, and knowledge, and it's a color we instinctively trust. "It conveys authority and a firm foundation," Smith says. "Gray is a great neutral that you can use without pushing the boundaries too far, but it's still classic, sleek, and sophisticated." Gray in the home used to be far less fashionable, probably because shades available on the market tended toward an industrial, battleship gray. Now, however, gray is much more versatile, taking on brown or blue undertones to work with almost any color you can dream up.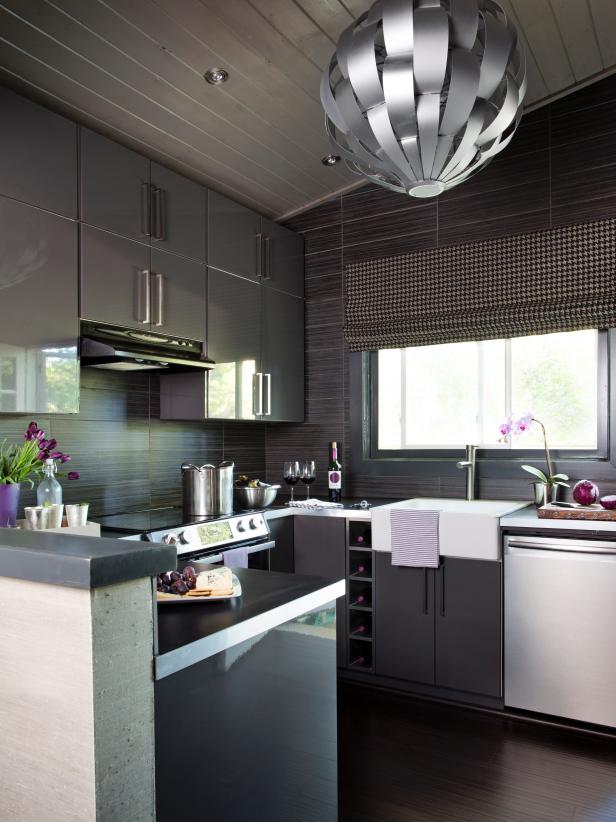 Modern Gray Kitchen
This streamlined kitchen includes sleek gray cabinets, built-in wine storage,a to-the-ceiling tile application, a woven metal light fixture and stainless steel appliances.
People tend to have a strong, primal reaction to black. "There's something very mysterious about the void in black," Smith says. "It feels a little bit dangerous and powerful. People definitely notice it." In the home, black can work a special kind of magic. A black lacquer entryway, for example, can convey formality and grandeur. And contrary to what you might expect, an expanse of black — say, black subway tile in the kitchen — can open up a room. "That lack of color can actually expand your space instead of closing it off," Smith says, "giving it an endless quality."
Black Lacquered Dining Room
The dining room is brimming with drama thanks to lacquered walls and exposed beams. Powder blue Louis XVI chairs soften the strong personality of the jet black walls, while an art deco pendant and sideboard mirror help bounce light around the room.
We love to DIY. You love to DIY. Let's get together.
Most Popular in Landscaping